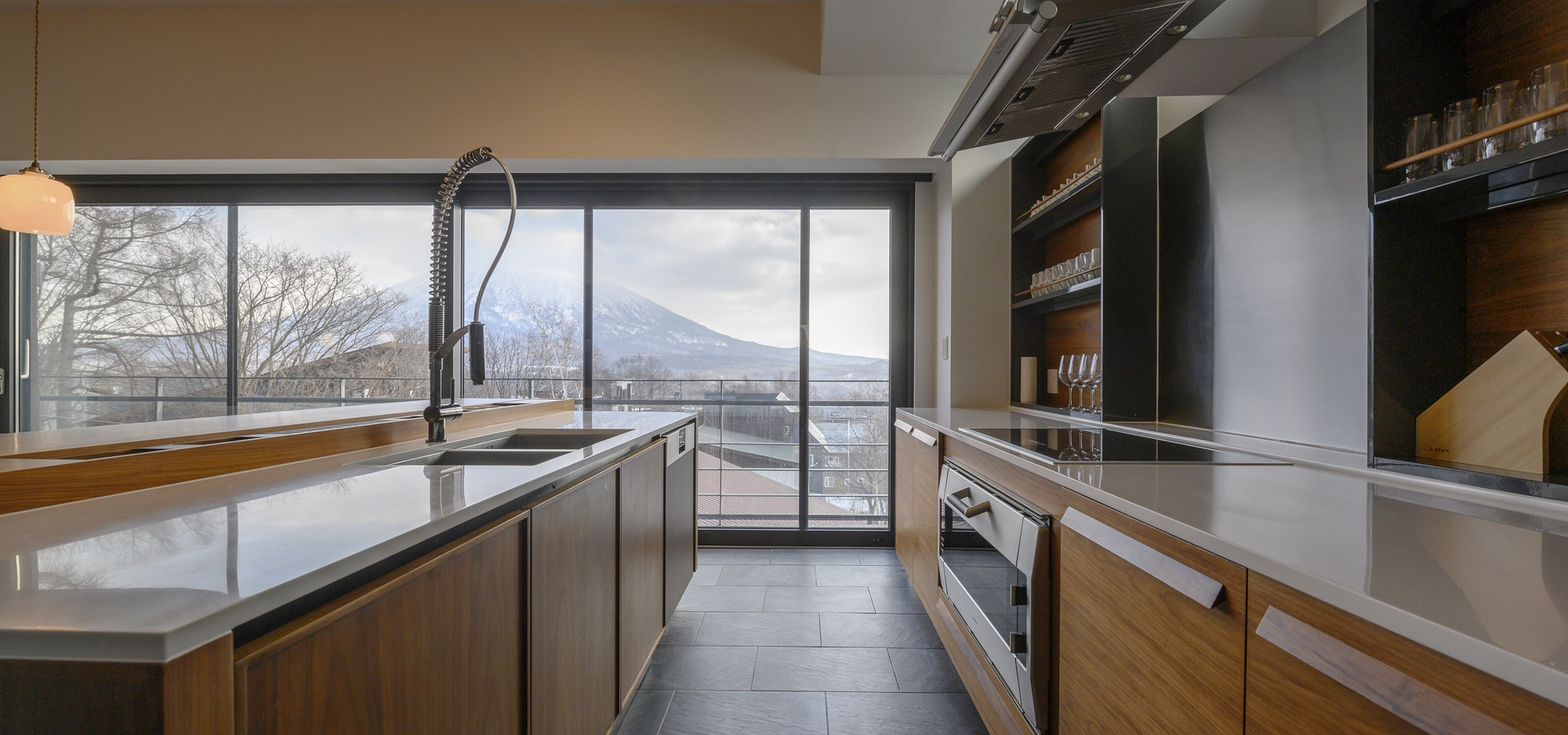 The stunning snowy wonderland known as Niseko, a home to unmatched views, features some of Japan's top skiing spots. This alluring region, tucked away on Hokkaido, Japan's northernmost island, offers an abundance of powder runs, and a variety of mouth-watering après-ski eating options.
As the demand for Niseko accommodations reaches its pinnacle, we are witnessing the rise of opulent options offering a selection of condominium-style units, first-rate service, and ever-impressive amenities. The concept of Niseko accommodations is changing, with a focus on modern Japanese decor, comfort, wellness, and blending in with the natural surroundings. The range of Niseko accommodations has grown to become incredibly fascinating, offering various exciting options to suit varied preferences.
Let's explore the Niseko accommodations that not only live up to the standards of luxury but also provide onsite amenities and a specialised concierge service.
Kozue
If the design aesthetics of your stay matter just as much as the views, Kozue is the perfect holiday stay for you! Inspired by the beautiful surroundings and seamless integration of nature with indoor spaces, the Kozue offers an ideal setting for an unforgettable ski vacation.
With expansive windows that give you breathtaking views of Niseko's magnificent landscape, including Mount Yotei, a riverside location, and perched atop a cliff, this place has it all. You'll also appreciate the exceptional comfort provided by semi-private elevators, premium materials, and a sleek design aesthetic. Each unit includes a dedicated ski storage area, and there's a concierge service available to enhance your experience. Get ready to fall in love with everything Kozue has to offer!
Sekka Sekka
Make long-lasting memories at Sekka Sekka, where luxury and convenience meet in perfect harmony. This stunning four-story holiday house, complete with a basement and an elevator, is nestled in the heart of Hirafu village.
Boasting 5 bedrooms, 5 bathrooms, a spacious living and dining area, a dedicated ski storage room, and covered parking, Sekka Sekka offers everything you need for a memorable stay. With a capacity to accommodate up to 12 guests, it's an ideal choice for large groups travelling together.
The Maples Niseko
The Maples Niseko is a ski-in/ski-out property, ideal for couples, ski buddies, and families. With a selection of 73 units, including Studios, 2-bedroom, 3-bedroom, and 4-bedroom Penthouses, this establishment offers a range of options to suit your needs.
What sets The Maples apart is its commitment to providing a sophisticated condominium-hotel experience. Each apartment and penthouse has been meticulously crafted to harmonise with the surrounding natural beauty, ensuring a seamless blend of elegance and practicality.
Book your stay at The Maples and prepare to enhance your experiences and elevate your sense of contentment.
The Vale Niseko
Located in the heart of Niseko's winter wonderland, The Vale Niseko houses a super luxe and classy collection of 49 separate hotel rooms, studios, one, two & three-bedroom apartments and 2 chic Penthouses. It is a five-star getaway for ski-lovers with a location in Upper Village of Hirafu that is perched right atop the ski run.
The Vale is located near gentle slopes, as it is situated at the base of the Family Run, making it an ideal destination for families travelling with children. After an exhilarating day on the slopes, guests can unwind and savour some après-ski time at the Vale Bar & Grill or simply enjoy the gorgeous views from their terraces.
As the allure of Niseko continues to captivate travellers from all around the world, it becomes essential to have a reliable platform to explore and book the perfect retreat. That is where Luxe Nomad steps in. For those looking for the best Niseko accommodations, Luxe Nomad's extensive selection of hand-picked accommodations ranging from quaint cabins to luxurious chalets, you are sure to find your perfect escape.