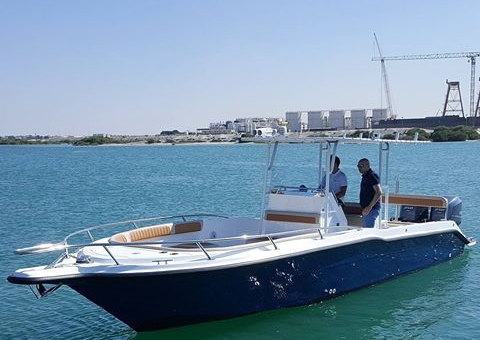 A number of people may think fishing to be a tedious task. But on the other hand, there are also a number of such people who experience the best of time while indulged in fishing. What makes an amazing option for such people in comparison to other adventure activities is something that cannot be explained in simpler words. The combination of sun and cool breeze, the little sea waves, and the chirping of the seagulls around are all that makes a perfect day of fishing. If you are looking forward to having the best fishing experience, one of the options that you should not definitely miss out is that of deep sea fishing in dubai.
Explore fishing in Dubai
Fishing has been a traditional profession in Dubai. Even today, there are many fishermen who have their livelihood depends on what the number of fishes that they have caught that day. But apart from being a professional, fishing has also turned out to be an adventure activity in Dubai. There are a number of residents of Dubai who take fishing to be their favorite pastime while on the other hand there are a number of tourists who get attracted to the fishing adventure activities.
There are two ways how you can go for fishing in Dubai and these by deep-sea fishing and kayak fishing. Whatever type you choose, it is quite important to know the type fishes you wish to catch. Of course, there are a number of people who are not much concerned about the type of fish and just wish to enjoy the act of fishing or are the first-timers. But if you are looking for a particular fish, you need to know the location and spot where you can get them. Of course, your service provider for carrying out the fishing activity with you will be there to help you. But if you wish, you can have extra information about it always.
Here are some of the best spots that you can explore for an amazing fishing experience in Dubai.
Al Garhoud Bridge
Al Garhoud Bridge is one of the most decent spots that you can find for fishing. If you are not taking the help of any service provider and you wish to go DIY, this spot is one such option that you can have. Also, as the spot is quite popular among the residents, you might find a good crowd during the weekend morning. Hence, if you are willing to go for a great fishing experience at this spot, you should try to make it a bit early in the morning. Tialpias and Barracudas are the two amazing fish options that you can get at this spot.
Al Maktoum Bridge
Another famous spot for Tilapias and Barracudas is Al Maktoum Bridge. Apart from being popular among the locals, there is another reason why you should try out this spot for fishing. During extreme hot and humid weather conditions of summer, this spot is still quite relaxing and you can have a good coordination at fishing.
Dubai Creek Park
If you are thinking of combining relaxation along with deep-sea fishing, this is the exact spot for you. Apart from catching up some great dishes here, you can also sit and relax at the park when you return back from fishing. Also, there are a number of amazing shops and joints nearby where you can check in to get food and drinks after returning from an exhausted session of recreational fishing.
Jebel Ali Free Zone
If you are specific about a particular fish such as Hammour or Kingfish, you should definitely head towards the Jebel Ali Free Zone and its nearby seas. The seas near this zone is known to be flooded with such fishes and you can have a great experience catching these fishes while having great fun with your friends and family who have accompanied you in the fishing adventure activity.
Jumeirah Beach
If you are looking towards an adventurous fishing trip that is accompanied with some danger, you could think of this spot. A good number of people consider this spot to be highly satisfying in terms of adventure fishing. You will be amazed by the abundance of fishes like Sultan Ibrahim and Sarracudas here. Also, you might see stingrays swimming in the seawater and hence you should make sure to not to touch the sea much. What makes this spot even more dangerous is the rocky texture. It can be slippery at times and hence you need to take extra care while you are on a trip for fishing at this particular spot.
Though a number of people go fishing with specific fishing boats, a number of people who wish to enjoy life to its fullest also consider going fishing on a yacht. You can have a lavish experience at fishing while you have selected a yacht because you can not only catch fishes of your choice but can also cook them fresh and can enjoy them as lunch. You do not have to worry about bringing them at the shore of carrying them home.
Things to Consider
While deep-sea fishing is quite popular in Dubai, there are a number of things that can turn your experience into a nightmare. You should make sure that you follow the rules and regulations of fishing set by the authorities so that you do not have to face any kind of consequences. Some of the regulations that you should surely follow are:
If you are going fishing all alone, you should make sure that you have a fishing license. Tourists can get help from the service providers who offer deep sea fishing adventure activities.
There are some areas of Dubai where fishing is restricted for conserving the aquatic lives. You should make sure that you do not go fishing at these areas. It is always ideal to either do your research or going through a proper service provider.
If you are abiding by the rules, you can have an amazing experience of fishing at Dubai to cherish always.