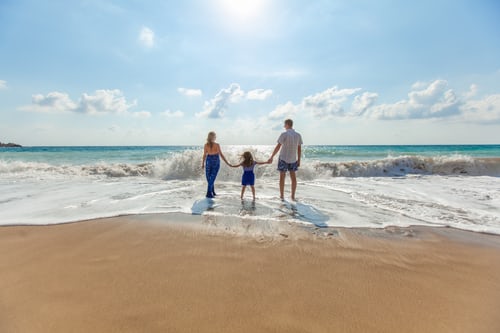 From a diverse and friendly wildlife to some of the most breathtaking landscapes in the world, Australia is an absolutely gorgeous country that offers endless unique experiences the whole family could enjoy, whether you're an adult or just a small kid. However, considering the country's size and faraway location, planning a trip to Australia can take a lot of time and effort, especially when the whole family's involved. So, here are a few handy tips that will help you plan the perfect family vacation to Australia with ease:
When to visit Australia
Like most continents, Australia also has different seasons and a few different climates. The difference here, however, is that the seasons in Australia are opposite to those we are used to in the northern hemisphere. And while some of Australia's northern states might be warm and pleasant all year round, the southern ones tend to have a bit colder and harsher winters.
The summer (December through February) is high season here, which means that the prices typically skyrocket during this period, especially when it comes to flights and accommodation. While Australia's spring (September through November) or fall (March through May) might be a more affordable, yet still warm and pleasant option, the winter (June through August) is ideal if you're looking for great deals.
Planning an itinerary in advance
Before you book your Australian vacation, think about your priorities first, and what type of holiday would suit your family the most. Are you the types that put their trust in a tour guide to help them see the best sights and destinations, or do you like to have your freedom and independence when on a holiday? Do you think spending days on end lounging on the beach is your idea of heaven, or would you rather go on a cruise around Australia that would allow you to see more of this gorgeous country? As long as you construct a loose itinerary in advance, you'll be able to plan the ideal holiday that would make the whole family happy.
Thinking about your priorities
As you simply can't travel the whole of Australia in just a couple of weeks, it might be a good idea to delegate, opting for a fun and quality holiday, instead of an over-crammed schedule. In order to do this, you might need to sit down with your family and talk about your must-see sights, as well as some age-appropriate activities for the kids, in order to create the best itinerary.
To help you achieve this, you might want to follow Australia's Family Travel Guide, which will take you through the best accommodation options, interesting family events, as well as car rentals that will make your vacation that much more convenient.
Setting a realistic budget
Australia is quite a costly country to visit. Not only is transportation, accommodation and dining more expensive than you might be used to, but regular, everyday costs might add up quickly as well. Not to mention that merely one economy ticket to Australia could cost upwards of $1000. For that reason, it might be a good idea to explore Australian prices before you depart, and set a healthy, realistic budget that will easily get you through your vacation. Don't forget to throw in a safety buffer as well, some extra money to use just in case.
Considering an extended stay
While it may not seem like it at first glance, Australia is an incredibly vast and expansive country that could take months to properly discover. So, if you want to see as much of this beautiful continent as possible, it might be a good idea to stay in Australia for as long as your schedule permits. A two-week vacation is the absolute minimum that will allow for a comfortable stay.
Considering the fact that a flight to Australia could often take longer than 10 hours, it might also be a good idea to consider a layover in a scenic location somewhere halfway down the road. Although this plan might require adding two more days to your vacation, it will make long-distance travel more pleasurable and easier to handle, especially when traveling with small kids, while still giving you the opportunity to see and experience a few more destinations along the way.
Talking to the children
If your children are old enough, consider including them in your vacation planning process. Even though parents often think an extravagant experience is necessary for a memorable holiday, the truth is that kids are often more than satisfied with even the simplest of pleasures, such as playing in the park, going on a family picnic or taking a dip in the pool. So, ask your kids what they would like to do, and which activities would make them happy, and make planning your Australia itinerary that much simpler.
With an extended stay and a healthy budget, as well as some fun and interesting activities, any family vacation to Australia can be a beautiful and memorable experience.