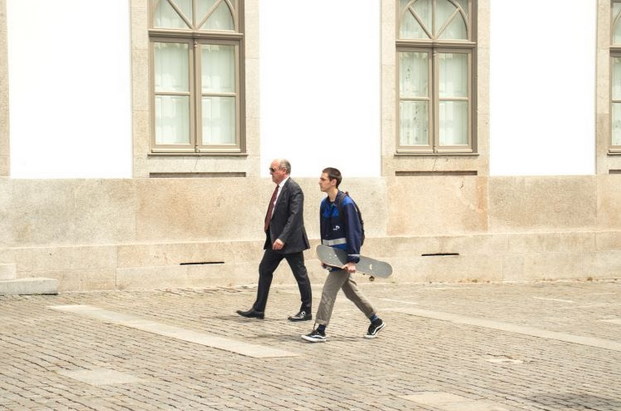 Lately, there's been a lot of talk about "boomers", "Millennials", "gen z" and so on. Apart from the age difference between all of these generations some people claim that these age differences aren't the only thing that makes us so distant from one another. There have also been claims about different economic viewpoints, political stands and the overall lifestyle these generations are leading. 
But we mustn't forget that "boomers" were once young people as well and maybe those differences aren't as huge as they seem at first. But after you've finished reading this article you'll be the judge and have the final say when it comes to the generation gap that's pretty evident. 
So what are the main differences between these generations when it comes to over lifestyle and world view? Let's find out. 


Travel & Lifestyle
One of the key differences between these generations comes in the form of different sets of values. While there were probably numerous boomers who loved to travel and have fun while they were young, in the past decade this sort of became a trend and for some millennials even a major part of their overall lifestyle. Many even choose to get married in some exotic or unusual European cities because it's the experience that counts. 
Around 37% of Millennial bachelors choose to go to the
top European bachelors destination
because they crave adventure, experience and are very curious. They also frequently choose to go to major European music festivals, New Year's parties and so on. While on the other hand, boomers love to have a sense of security and don't often choose to travel very far. Or to have their celebrations abroad. 
This all comes to the fact that these generations have a very different understanding of what's valuable in life. For boomers, that's a stable income and the occasional vacation, while millennials will always choose travel and experience over these "old" sets of values. 


Education
Millennials are some of the most educated people in the world right now. They are nearly 40% more educated than their parents and grandparents. Furthermore, millennials are the second generation in which more women have got their bachelor's degrees when compared to men. And we shouldn't even get started on many online courses that people finish every day. 
It only goes to show that not only do Millenials value travel and experience but also knowledge. That's probably one of the main reasons why so many of them want to experience life fully. To turn every stone and see what's beneath it. 
Not only that but with the expansion of the internet Millennials and people more than ever have access to unlimited sources of knowledge, often for free. So, it's no wonder that they have a thirst for adventure and unique experiences.
 
Work & Money
Because Millennials have such a thirst for adventure, experience, and knowledge many of them choose not to be limited by a 9 to 5 job. Something boomers can't quite grasp. People who still live with their parents and are freelancers know the feeling. 
Many boomer parents even continually ask their Millenial kids ``when
are you going to get a real job?
". So they (Millennials) sit there and try to explain to their boomer parents that they
do
have a real job, but it seems that no matter how hard they try they simply can't get it. 
On the other hand, boomers are known to be loyal to the company they work for. They believe that company values are their values as well and stay loyal 'till retirement. And when you think about it, there's a certain kind of bliss to this kind of thinking. They are also known for being major team players and had a sense of community. 
Because so many Millennials work remote jobs, there's a lack of this kind of feeling. They can in a sense be a part of a community but because they often work from home, coffee shops or some other place, it's kind of a solitary lifestyle. Just you and your laptop. 
Health
In the past couple of years, there's been an increase in the number of people that are very health conscious. Meaning they have a gym membership, try to eat healthily, don't smoke, don't drink and are overall pretty healthy. But boomers and Millennials have a different perception of health. 
For boomers being healthy means not being sick, you know, like with the flu. They don't watch what they eat, how much they eat and their exercise mainly consists of walking to the store. While this is a broad generalization and there are always exceptions to the rule, it's none the less true. 
Millennials are the first generation ever that demands food transparency. They want to know what they are eating, where did the food come from, how are the workers being treated and so on. Some, 30 years ago you couldn't even imagine having gluten-free, sugar-free vegan sweets but now they are all over the place. Because Millennials believe that being healthy means staying in shape with physical exercise and consuming healthy food. 


Family
Millennials are much slower when it comes to forming their own household and starting a family. Around 67% of boomers were married and had kids between the ages of 25 to 37. This limit has changed and millennials are a part of this shift that's later marriage. 
This is probably due to the fact that like we said before they want to experience life fully. They want to travel, have all sorts of experiences, finish university and then maybe start thinking about marriage. 
Furthermore, many millennials are likely to remain in their parent's homes for a much longer period when compared to previous generations. They are also having kids much later than their parents and grandparents. And according to Pew Research, their prediction is that a quarter of adults will have never been married by the time they reach their 40s. 
So, that's kind of strange, but we are yet to see the results of this major shift. 

Conclusion
Hopefully, this article has shown you that there are things that we can learn from each other and that every generation has its perks and faults. So, what do you think are the biggest differences between these generations?