There are many times we will take an off-road trip. This can be much fun on with our ATV or another off-road vehicle. Whenever we take any long trip, whether an offroad trip or just a long trip by a motor vehicle there are a few things we need to do before we get on the road.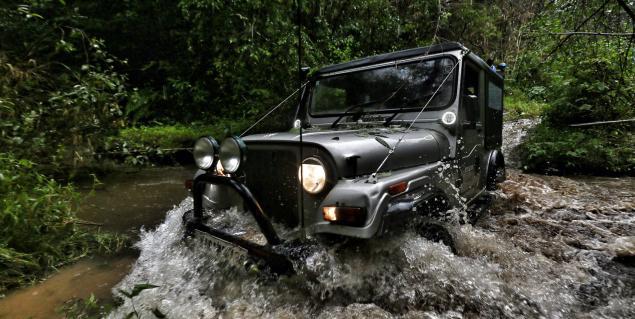 These safety checks will help ease our minds that we will not have a tyre blowout while on the road. A tyre blowout can cause serious injuries to us. This is no more true in a motor vehicle or on an offroad vehicle like an ATV.
What to Check on a tyre:


*  The depth and Warn Spots
Tyre Pressure
Checking the tyre pressure in your tyres will help to improve fuel efficiency. Most newer model vehicles will have a Tyre Pressure Monitoring System (TPMS). Most of us have learned to depend on the TPMS to alert us when our tyres are losing air. This is not a good idea. The TPMS is not designed to let us know our tyres are losing air immediately. The TPMS will not alert us our tyres are losing pressure until they are at least 25% or more low.
By this time we could be losing fuel faster. Under Inflated tyres can lead to many problems including lower fuel efficiency. It can also lead to a blowout. This can cause a serious accident. This should be looked at on your off-road vehicle and the vehicle you drive to work.
The Depth and Warn Spots
When our tyres begin to wear down this can lead to a blowout as well. To check the depth and worn spots on your tyres, you will need a quarter and a penny. The quarter should be used to check the depth of the tread. When checking the depth of the tread you should take a US quarter and turn it upside down. By this we mean George Washington's head should be facing you and it should be upside down. If you stick the quarter in between treads and can see all of Washington's head, it is time to replace the tyres.
To check the warn spots, you will need a US penny. Like the quarter, the penny should be upside down. When checking for worn spots you do not want to see all of Abraham Lincoln's head. If you do, it could be a sign of an alignment issue or another problem. This is a sign that the tyres should be replaced, soon.



The Sidewalls
To check the sidewalls on your tyres look at the tyre and check for bulges or other signs of wear and tear. The tyre sidewalls can become worn from a number of things. We run into curbs, hit potholes, and much other debris on the road. This can lead to a tyre blowout. Off road tyres should be checked just before every beginning of the journey. It is safe to be well aware of the condition of your vehicle and its parts.
If we are on our off-road vehicle and have a blowout, this could lead to a serious, even fatal injury. Out on the highway, the same is true. Our tyre can blow out and cause a serious or fatal motor vehicle accident.
Check the Age of the tyre
Each tyre United States tyre manufacturer is required by the federal government to put a stamp on the tyre of when they were manufactured. The stamp is usually the last set of four numbers. If, for instance, the last 4 digits are 1518 this would indicate the tyre was manufactured in the 15th week of 2018.
It is an excellent idea not to go by the date on your purchase receipt. The tyre might have been sitting at the tyre shop for a few weeks or months prior to you buying it. The United State National Highway Traffic Safety office recommends changing your tyre every six years. This is regardless of the wear and tear on the tyre. The same precautions should be taken of your offroad vehicle. The tyres can sit and become dangerous to the driver, regardless.


As a final note, you should never buy a used set of ties. It could be eye appealing to buy a used tyre, but it also can be a little dangerous. If you are buying a pre-owned vehicle from a private seller you should look at the tyres. Taking a quick glance at the tyres is an indication of how well the owner kept up with other maintenance needs for the car. If at a glance, the tyres look like they are fairly new and there is visible tread on then this could be an indication you will not be buying a used vehicle that you need to dump much money into.