Written by

Louise Zarmati, Lecturer in Humanities and Social Sciences, Faculty of Education, University of Tasmania
Captain James Cook arrived in the Pacific 250 years ago, triggering British colonisation of the region. We're asking researchers to reflect on what happened and how it shapes us today. You can see other stories in the series here, and an interactive here.
Approaching the 250th anniversary of Cook's first journey to the Pacific, The Conversation asked readers what they remembered learning at school about his arrival in Australia.
Most people said they learnt Cook "discovered" Australia – especially if they were at school before the 1990s.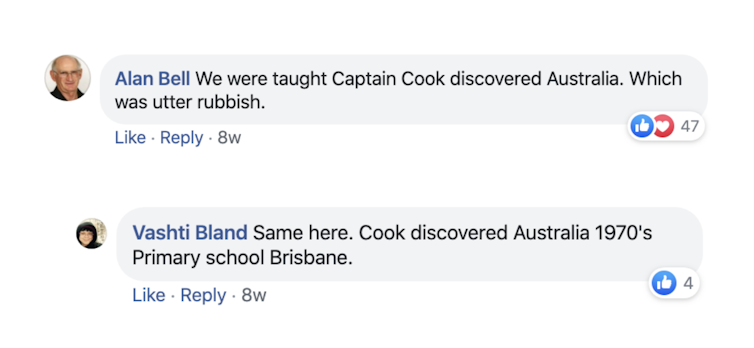 Authors: Louise Zarmati, Lecturer in Humanities and Social Sciences, Faculty of Education, University of Tasmania
Read more https://theconversation.com/captain-cook-discovered-australia-and-other-myths-from-old-school-text-books-128926