Written by

Nicole Gurran, Professor of Urban and Regional Planning, University of Sydney
Staying home and social distancing are now essential to control the spread of COVID-19. Suitable accommodation for quarantine and isolation are critical, but Australia's broken housing system leaves us all exposed.
By now, almost every Australian will have thought about the coronavirus pandemic in terms of their own housing. For many home owners, this is an economic concern. They are dangerously in debt after a 20-year housing boom. Renters face greater uncertainty.
Read more: Why housing evictions must be suspended to defend us against coronavirus
But it's people in overcrowded, informal or no housing at all who are most exposed. Crowded housing conditions are bad for all occupants, largely through the increased risks of infections, as WHO Guidelines on Health and Housing clearly identify.
Expose one, expose us all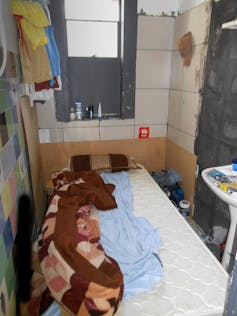 City of Sydney/AAP
The increased risk of COVID-19 infection will have impacts on both the residents of crammed dwellings and the rest of the community. Improving the housing conditions of the most marginalised members of our society is an important biosecurity measure.
The number of Australians who are homeless grew dramatically from 2011-2016. The largest increase was people living in severely overcrowded dwellings.

Authors: Nicole Gurran, Professor of Urban and Regional Planning, University of Sydney
Read more https://theconversation.com/homelessness-and-overcrowding-expose-us-all-to-coronavirus-heres-what-we-can-do-to-stop-the-spread-134378