Written by

Komali Yenneti, Honorary Academic Fellow, Australia India Institute, University of Melbourne
Australia is a "land of climate extremes". This is especially true for our cities, which have become hubs of extreme summer temperatures. This past summer was the second-hottest on record for Australia, following the 2018-19 record, with average maximum temperatures more than 2°C above the long-term average.
Frequent and long heatwaves are having serious impacts on energy consumption, public health, labour productivity and the economy.
Read more: After a summer of extremes, here's what to expect this autumn
Even without global warming, cities already face a problem — the urban heat island effect, whereby inner urban areas are hotter than the surrounding rural areas. Urban heat islands are caused by factors such as pollution, energy consumption, industrial activities, large dark concrete buildings, asphalt roads and closely spaced structures.
Evidence from Australia's major cities shows average temperatures are 2-10°C higher in highly urbanised areas than in their rural surroundings.
Read more: Urban growth, heat islands, humidity, climate change: the costs multiply in tropical cities
Governments and policymakers can use a variety of cooling strategies combined with community engagement, education and adaptation measures to cool Australian cities.
1. Green infrastructure
Green infrastructure includes parks, street trees, community gardens, green roofs and vertical gardens. In tropical and subtropical climate zones, like much of Australia, green infrastructure is a cost-effective cooling strategy.
Read more: Requiem or renewal? This is how a tropical city like Darwin can regain its cool
Evidence suggests a 10% increase in tree canopy cover can lower afternoon ambient temperatures by as much as 1-1.5C, as the chart below shows. Similarly, in parks with adequate irrigation ambient temperatures can be 1-1.5°C lower than nearby unvegetated or built-up areas.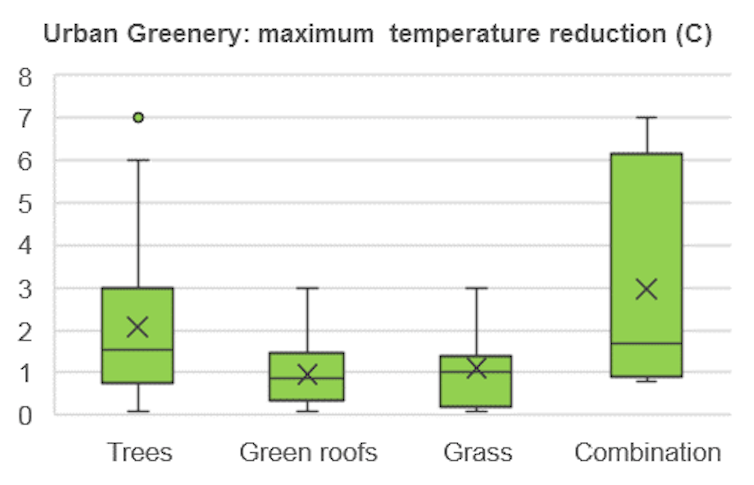 Komali Yenneti et al,

Author provided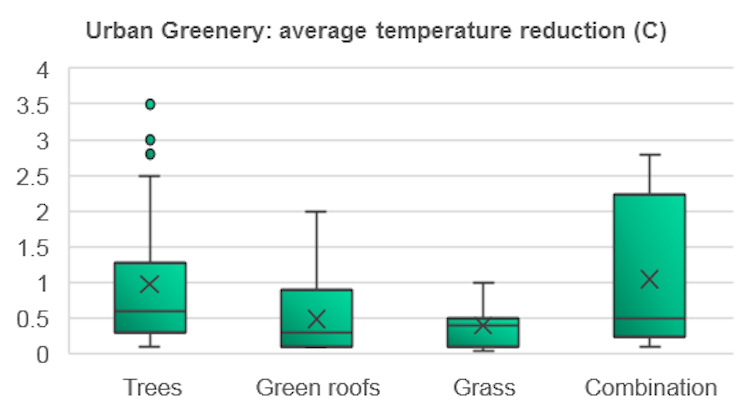 Authors: Komali Yenneti, Honorary Academic Fellow, Australia India Institute, University of Melbourne
Read more https://theconversation.com/after-another-hot-summer-here-are-6-ways-to-cool-our-cities-in-future-110817