Written by

Omid Tofighian, Lecturer, University of Sydney
The GM picks me up from the airport. I call him the GM because after the PNG Supreme Court ruled the Manus Island immigration detention centre illegal, this man was able to leave the prison and find work as the general manager of a lodge in Lorengau town. Behrouz Boochani has arranged for me to stay at that lodge.
The GM's Manusian colleague and another refugee accompany him. Driving into town we see police blocking part of the road beside a school; some locals are dispersing, others are gazing over at a cluster of trees.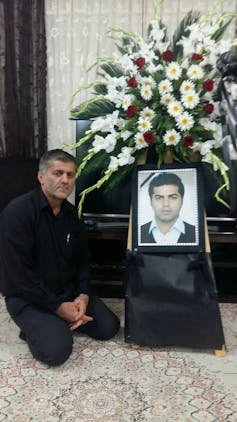 Supplied/AAP
I find out afterwards that the body of Hamed Shamshiripour has just been discovered among those trees beaten and with a rope around his neck.
Hours later, I meet Behrouz for the first time at the central bus stop in Lorengau. I always imagined him holding his smart phone – an inseparable union. A Kurdish journalist, writer and refugee from Iran, Behrouz has been incarcerated on Manus for five years. Since the start of 2016 I have been translating his journalism, communicating with him through WhatsApp.
During this time, his phone has been a lifeline to the outside world. He has shot a film and written articles on it – texting them to those beyond the prison fences – and now his book, No Friend but the Mountains.
We greet each other as he finishes a phone call. Australia's border regime has stolen prime years of his life – he is weary and famished, but proud, vigilant and resolute. This is despite having had nothing to eat all day, the heat and sweat, being traumatised at the loss of a friend and the responsibility of reporting and communicating with the Australian and international media.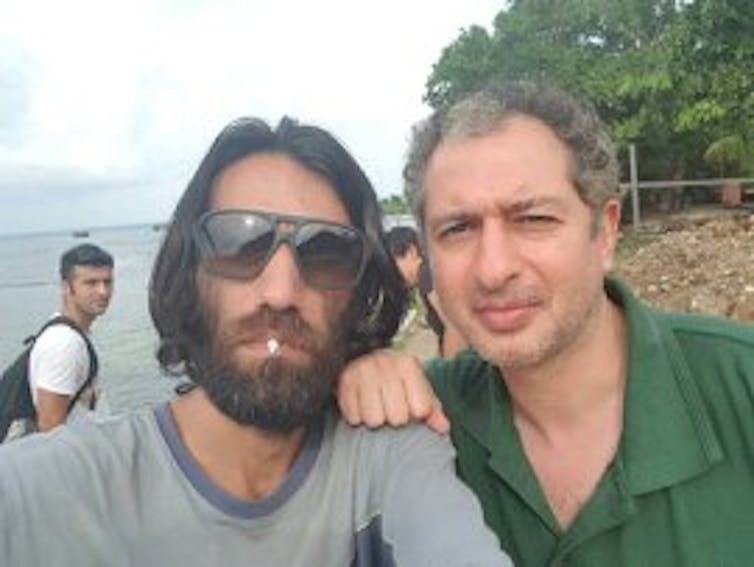 Author provided
Over some days we get to know each other personally for the first time, and I meet others and translate articles in response to this latest tragedy. Then after the intensity, stress and anger have faded a little, we begin reviewing the chapters of No Friend but the Mountains. I have already translated about 80%.
Behrouz began writing from the very beginning of his exile and incarceration; he persevered after his phones were confiscated twice and stolen once. I began translating in December 2016; for one year I translated as he wrote using his smart phone.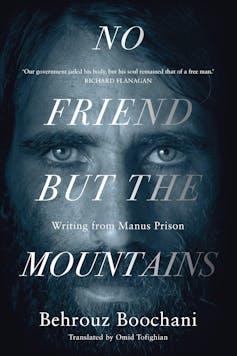 Authors: Omid Tofighian, Lecturer, University of Sydney
Read more http://theconversation.com/truth-to-power-my-time-translating-behrouz-boochanis-masterpiece-101589