Written by

Ana Silkatcheva, Curatorial Researcher, Nicholson Museum; Research Assistant, Museum & Heritage Studies Program, University of Sydney
Islamic art and culture is seldom on display in Australia's museums and galleries, so the National Museum of Australia's current exhibition, So That You Might Know Each Other: Islamic Faith and Culture, is welcome.
The exhibition brings together over 100 objects of the 18th to 20th centuries from Muslim communities around the world, in conjunction with the Vatican's ethnological Anima Mundi Museum and the Sharjah Museums Authority.
A media release makes the goal clear: "Inspired by a verse from the Holy Qur'an, the exhibition's title invites visitors to learn more about each other's lives, religions and cultures in a spirit of intercultural respect and dialogue".
This comes at a critical time, with the latest (2017) Scanlon Foundation Mapping Social Cohesion Survey showing that 25% of Australians have negative attitudes towards Islam and Muslims.
Read more: The invisibility of Islamic art in Australia
The exhibition space is divided into three geographical sections: Islam in Africa, Islam in the Middle East and Asia, and Islam in Australia, with each regional category accompanied by a map highlighting the individual places from which objects have been sourced. A large world map is projected onto the centre of the gallery floor, emphasising the ubiquity of Islam as a major world religion.
As expected in any show of Islamic art, many of the objects are spectacular. Festive clothes dazzle with their gorgeously bright colours and intricate embroidery, giving the lie to the common perception that Islamic dress is all black and dreary.
From a mosque in China, a set of cloisonné enamelled vessels decorated with religious inscriptions in Arabic demonstrate the relevance of Islam outside its Middle Eastern origins. A pearl merchant's scales and grading equipment give an insight into the workings of that once important industry in the Gulf countries.
Qing Dynasty cloisonné vase with Islamic inscriptions, early 18th century. Vatican Anima Mundi Museum inv. 122028. National Museum of Australia
Despite the beauty and novelty of the objects, the exhibition misses opportunities to make Islamic cultures comprehensible. While some labels do add useful cultural context, the objects are largely disconnected. with no common thread between them. Ultimately, this manner of display tends to work against the stated goals of the show.
Although the variety of objects and the wide distribution of their source communities alludes to diversity within Islam, their isolated presentation harks back to the "cabinets of curiosities" of old: objects remain devoid of their cultural context, their original values enigmatic.
Read more: Friday essay: the Australian Mosque
One exhibit in particular demonstrates the issue well. A colourfully decorated textile from Nigeria is stretched flat across a wall, its function hinted at only by the label: "embroidered trousers with anklebands". As I overheard, the nearly two-metre span of the waistband suggested to at least one little boy visitor that the wearer must have been very corpulent indeed. Purchasers of the catalogue, which includes some excellent essays, are enlightened that the trousers were actually worn by someone of regular size, as a photograph shows them with the waist gathered. But without such a visual explanation at the exhibit itself, the average visitor struggles to see the connection between the appearance of the object and its named function.
Table with geometric and arabesque decoration. Morocco, late 19th-early 20th C Arar wood, metal, pigments, varnish Vatican Anima Mundi Museum Inv 112566 National Museum of Australia
At times, reasons for object groupings are unclear. If there is a meaning to the juxtaposition of a walking cane, perpetual calendar and traditional wedding costume, or a dagger with scabbard and a pair of bathhouse sandals, the labels offer no assistance to understanding it.
All this leads to a fossilisation of living cultures. Given these objects were produced in recent centuries, they are not leftovers from an ancient and storied past, but continue to hold meaning for contemporary communities.
In our current political climate, making culture relevant and comprehensible is especially important for exhibitions of Islamic art, and exhibition audiences need more "scaffolding" in interpretation to foster the active development of those necessary connections.
The Islam in Australia section is more successful. Historical photographs and video help to bring the objects to life, showing similar specimens in active use at the time of their significance. A cauldron and bark paintings illustrating the processing of trepang (sea cucumbers) attest to trade contacts between Aboriginal people and Indonesian Muslims from Makassar. Camel paraphernalia, including a pack saddle, nose peg, bell, and hobbles underscore the toil of the "Afghan" (actually Indian and Pakistani) cameleers in our deserts.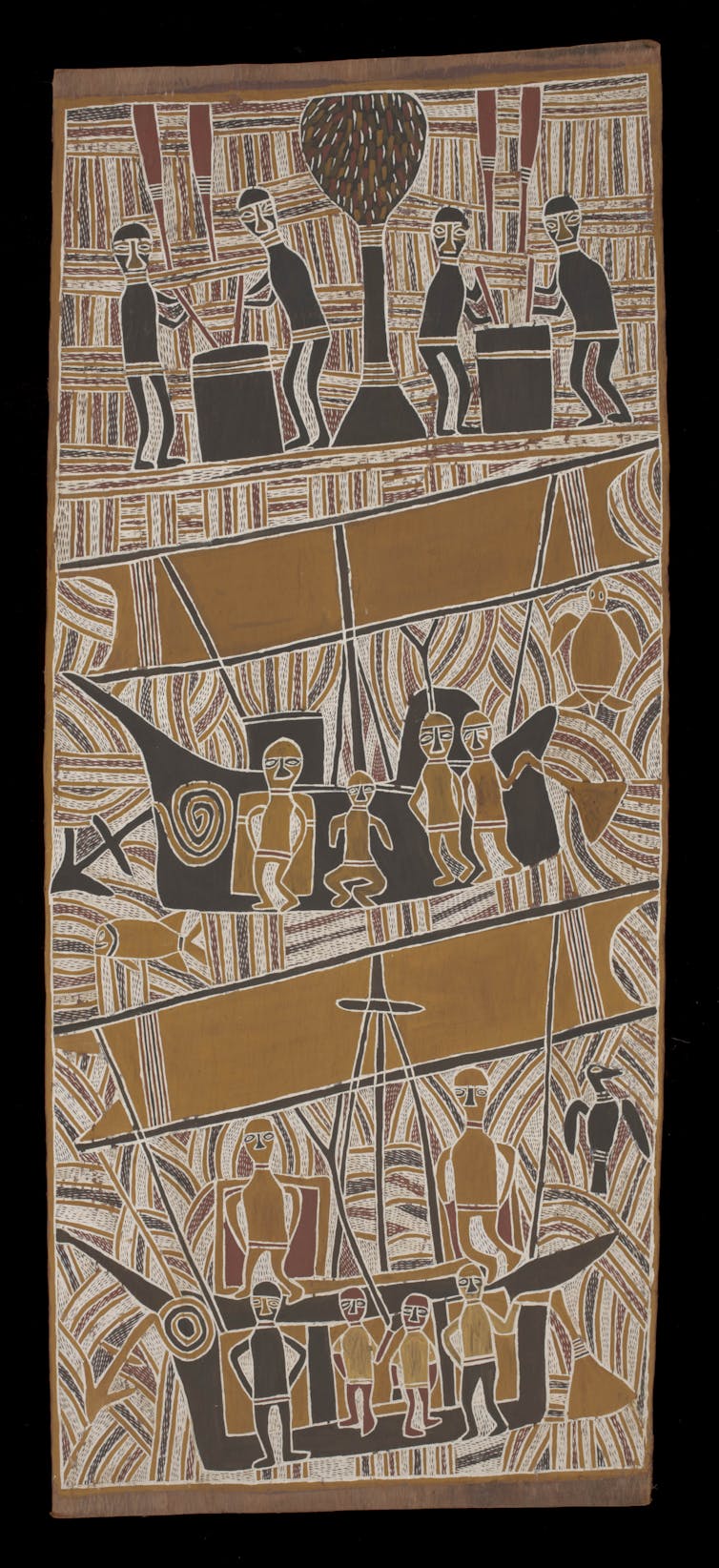 National Museum of Australia
The associated events programme also comes to the rescue. A series of Marvellous Motifs art-making activity sessions appears aimed at making explicit the common thread between the objects that had been hidden from the audience in the display. Here, a focus on geometric motifs, arabesques and vegetal scrolls throws a light on all those underlying elements that make Islamic art a cohesive category.
The Souq – A Festival of Culture, scheduled for the closing day of the exhibition, intends to bring people together through shared experiences of food, shopping, and cultural performances. Such events can powerfully demonstrate and emphasise all the common ground we share despite our differences, fascinating as those are.
According to research, Australian Muslims consider events like this to have great potential for success in building social cohesion and promoting intercultural dialogue.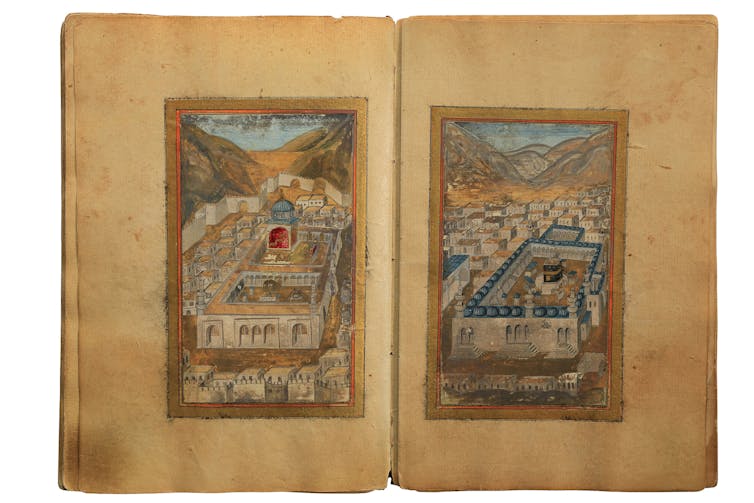 Dala'il al-Khayrat (Guidelines to Blessings) By Abu Abdallah Muhammad ibn Sulayman-al-Jazuli. Ottomon Turkey, 19th C Paper (polished), black ink, opaque pigments, leather, gold, written in Al Naskh script Sharjah Museum of Islamic Civilization, Sharjah Museum Authority, 2006_2181 National Museum of Australia
Given the tendency for Islamic art to be all but invisible in this country, the National Museum must be applauded for its initiative in displaying Islamic art and culture within the Australian cultural sphere. But the sobering figures on Australian attitudes to Muslims and Islam highlight the need for interpretation and engagement around Islamic art to be carefully constructed. If displays are crafted in ways that assist exhibition audiences to understand the message, our community only stands to benefit.
So That You Might Know Each Other: Islamic Faith and Culture is showing at the National Museum of Australia until July 22.
Authors: Ana Silkatcheva, Curatorial Researcher, Nicholson Museum; Research Assistant, Museum & Heritage Studies Program, University of Sydney
Read more http://theconversation.com/islamic-art-at-the-national-museum-is-spectacular-but-misses-opportunities-to-bridge-a-cultural-gap-99364