Written by

Brendan Scott, Senior Lecturer (S&C), Murdoch University
Every year, thousands of people travel to high-altitude environments for tourism, adventure-seeking, or to train and compete in various sports. Unfortunately, these trips can be marred by the effects of acute altitude sickness, and the symptoms vary from person to person. To understand why people are affected differently, we have to look at how the body is affected by altitude.
Read more: From Kilimanjaro to Everest: how fit do you have to be to climb a mountain?
How is 'altitude' different to sea level?
Air is comprised of different molecules, with nitrogen (79.04%) and oxygen (20.93%) making up the majority of each breath we take. This composition of air remains consistent, whether we are at sea level or at altitude.
However, with altitude, the "partial pressure" of oxygen in this air (how many molecules of oxygen are in a given volume of air) changes. At sea-level, the partial pressure of oxygen is 159 mmHg, whereas at 8,848m above sea level (the summit of Mt Everest), the partial pressure of oxygen is only 53 mmHg.
At high altitudes, oxygen molecules are further apart because there is less pressure to "push" them together. This effectively means there are fewer oxygen molecules in the same volume of air as we inhale. In scientific studies, this is often referred to as "hypoxia".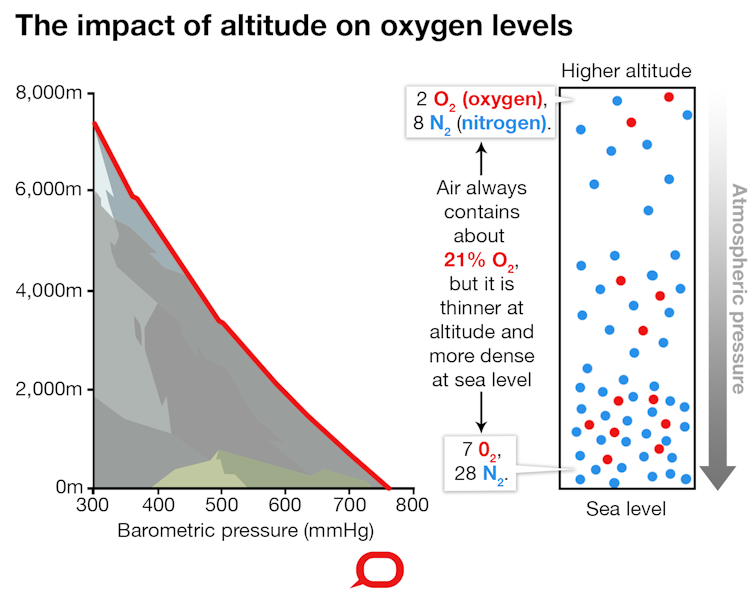 Authors: Brendan Scott, Senior Lecturer (S&C), Murdoch University
Read more http://theconversation.com/how-does-altitude-affect-the-body-and-why-does-it-affect-people-differently-95657