Written by

Sue Thomson, Director, Educational Monitoring and Research Division; Research Director, Australian Surveys Research Program, Australian Council for Educational Research
A report released today by the Australian Council for Educational Research (ACER), the managers of the Program for International Student Assessment (PISA) in Australia, explores Australian students' sense of belonging. This has been shown to play a big part in academic success at school.
Australian students, on average, reported a poorer sense of belonging at school compared to students across the OECD. A lower proportion of Australian students than the OECD average said they "feel like they belong at school".
Why does this matter?
For some students, a sense of belonging is indicative of educational success and long-term health and wellbeing. It has also been found to promote positive attitudes towards students' learning.
What's more, students who feel part of, and accepted by, their school community are not only more likely to participate in school activities, both academic and non-academic, but will be actively engaged in these activities.
What were students asked?
PISA 2015 asked students to rate their reaction to these six statements on how they feel about school:
I feel like an outsider (or left out of things) at school
I make friends easily at school
I feel like I belong at school
I feel awkward and out of place in my school
other students seem to like me
I feel lonely at school.
Student responses (strongly agree, agree, disagree and strongly disagree) were combined to construct the sense of belonging index. This allowed us to compare Australian students with their OECD counterparts and with their peers in different states and territories, socioeconomic groups, and between genders.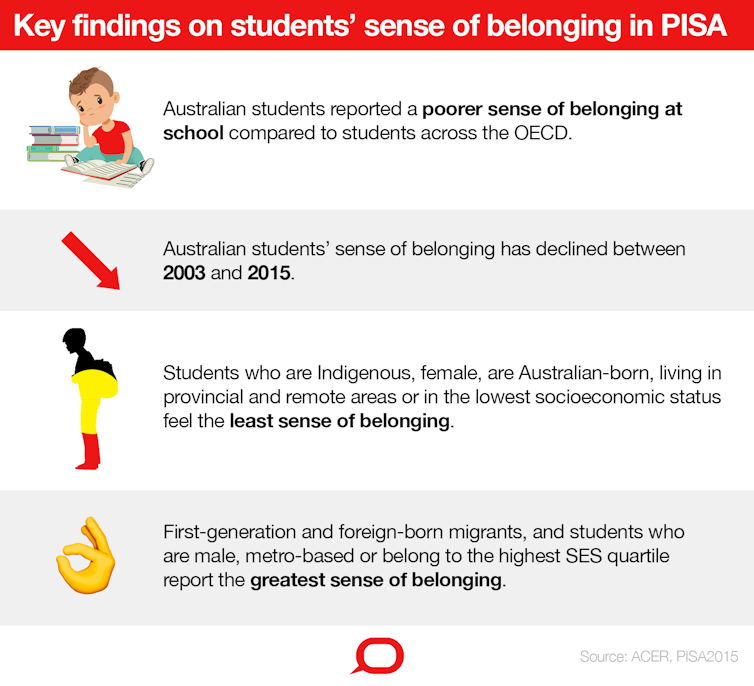 Authors: Sue Thomson, Director, Educational Monitoring and Research Division; Research Director, Australian Surveys Research Program, Australian Council for Educational Research
Read more http://theconversation.com/many-australian-school-students-feel-they-dont-belong-in-school-new-research-97866