Written by

John Blaxland, Professor, Strategic and Defence Studies Centre, Australian National University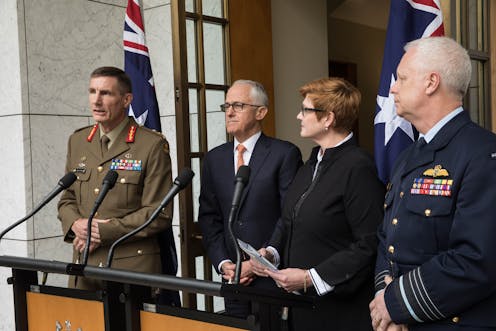 On Anzac Day, Prime Minister Malcolm Turnbull commemorated the centenary of the battle at Villers-Brettoneux, where Australian soldiers defended against the German spring offensive of 1918. The opening of the Sir John Monash Centre honoured the celebrated commander of the Australian Corps in France at the tail end of the first world war.
So you would be forgiven if it appeared the Australian Defence Force was still orientated towards all things European. Indeed, in recent times, Australian forces have fought alongside many of those with whom we will commemorate the events at the Monash centre. France, Britain, Canada, New Zealand and the United States, among others, have been close partners in operations in Afghanistan and Iraq for the past two decades.
But the geostrategic context Australia faces in 2018 has changed markedly since 1918, let alone 2001, when Australian forces were committed into action in Afghanistan in the so-called global war on terror.
Australia increasingly is having to engage closely not just with close and trusted partners but with its own neighbours.
A new defence chief, major challenges
The current Chief of Army, Lieutenant General Angus Campbell was announced last week as the next Chief of Defence Force. Campbell has vast experience in military operations, including as a commander with the United Nations in East Timor and commander of Australian forces on operations in the Middle East.
Read more: Media reporting on women in the military is preserving a male dominated culture
His time as the senior officer running Operation Sovereign Borders earned him some controversy for efficiently and effectively implementing the government's "stop the boats" policy.
But the experience helped reinforce to him the significance of Australia's relations with its immediate neighbours, most notably Indonesia and Papua New Guinea. Campbell understands that operations far away tend to be ones of choice, while those closer to shore potentially present greater challenges for the nation.
The challenges ahead
Later this year, the ADF will assist with the APEC Forum in Port Moresby. Elements of the army, navy and air force will be assigned to provide critical security and other support for the smooth running of the forum, and to counter any potential crisis.
Beyond that, the Bougainville referendum is expected to be held in 2019. This was a date set 20 years ago, picked as a means to defuse tensions and postpone the inevitable question of autonomy or independence for the people of Bougainville. It is a particularly sensitive issue for Papua New Guinea, and managing bilateral relations over this could prove problematic.
In the Philippines and other parts of Southeast Asia, concerns about regional terrorist initiatives and a possible repeat of the circumstances that led to the battle of Marawi have prompted the ADF to look to engage more closely with counterparts in the armed forces of Australia's neighbours.
Defence Cooperation Program activities are on the increase. These include partner exercises, training programs, ship visits, exchanges and various educational and training forums.
Across the Pacific, the prospect of human-generated or other environmental crises or disasters will continue to demand close attention from the ADF and Australian aid agencies.
Beyond such environmental challenges, the prospect of increased power contestation is focusing the minds of security policymakers on the importance of bolstering ties in places like Vanuatu, Tonga and Fiji. Partly in response, the Pacific patrol boat program is being revamped. Australia is supplying a fleet of new patrol boats with associated training, logistics and other related support included.
Read more: Angus Campbell to head Australian Defence Force
The "Pacific Quad" also is emerging as a significant and growing force. This grouping includes French forces in New Caledonia, working on occasion alongside US, New Zealand and Australian forces, in anticipation of growing environmental and other security challenges where cooperation will be vital.
Another "Quad", involving Australia, the United States, Japan and India, will likely attract attention as well. It may emerge as a significant body in shaping how to respond to the dramatic, rapid and unprecedented build-up of Chinese military force projection capabilities. This build-up includes modernised and expanded navies, air forces and human-constructed islands.
The spectrum of non-traditional and conventional security concerns in and around the Indo-Pacific suggests Campbell's focus will be on managing relations with counterparts in Southeast Asia and the Pacific. At the same time, Australia's legacy of involvement in Iraq and Afghanistan means that an enduring but carefully calibrated military footprint can be expected in both those countries.
Meanwhile, key challenges will revolve around managing security concerns in Papua New Guinea, terrorism-related concerns in Southeast Asia, a potential unravelling on the Korean Peninsula and contestation in the East and South China Seas. There will also be the seasonal, expected, but still devastating natural disasters in the Pacific.
With so much of concern nearby, a substantial military commitment alongside allies in Syria is unlikely. A peacekeeping force contribution is possible, though, if a political solution is ever reached.
Ties with the United States can be expected to remain wide, deep, intimate, strong and enduring. Indeed, while not willing to say so publicly, most of Australia's neighbours remain uneasy about China's military assertiveness and look to Australia to remain closely engaged with the United States.
Despite the tweets emanating from the White House, insiders in Canberra see a significant and enduring overlap of interests and concerns with Washington. That is unlikely to change in the foreseeable future, and Angus Campbell knows this well.
Authors: John Blaxland, Professor, Strategic and Defence Studies Centre, Australian National University
Read more http://theconversation.com/as-a-new-defence-chief-comes-in-australia-must-focus-its-attention-on-its-neighbours-95053