Written by

Katherine McFarlane, Senior Lecturer, Centre for Law & Justice, Charles Sturt University
UNDER EMBARGO TIL FRI MORN, PLS DO NOT PUBLISH YET
The Australian Institute of Health and Welfare has released a new report showing that one in 32 Australian children received child protection services in 2016-17, with 74% being repeat clients.
The report also noted that the number of children receiving child protection services rose by about 25% over five years, which may "relate to changes in the underlying rate of child abuse and neglect, increases in notifications, and access to services, or a combination of these factors."
It follows the Royal Commission into Institutional Responses to Child Sexual Abuse's final report, which included 409 recommendations to make institutions safer places for children.
One of the Commission's most striking findings was that Australia's alternate care systems cannot protect children from abuse.
Today's Australian Institute of Health and Welfare (AIHW) report, titled Child Protection 2016-2017, reinforces that some fundamental changes are needed to redress this situation.
What's in today's report - and what's not?
The report notes that in 2016–17, the national recurrent expenditure on child protection and out-of-home care services was $4.3 billion, up 8% from 2015–16.
A significant proportion of this money went to provide alternate care to the 47,915 children (as of June 2017) who were in out-of-home care. These are children who cannot live with their families because of abuse or neglect, parental incapacitation or illness.
These children are mostly young and highly vulnerable. The AIHW report noted that across Australia in 2016–17, infants were most likely to have received child protection services, while those aged 15–17 were least likely. The median age of children receiving services was eight.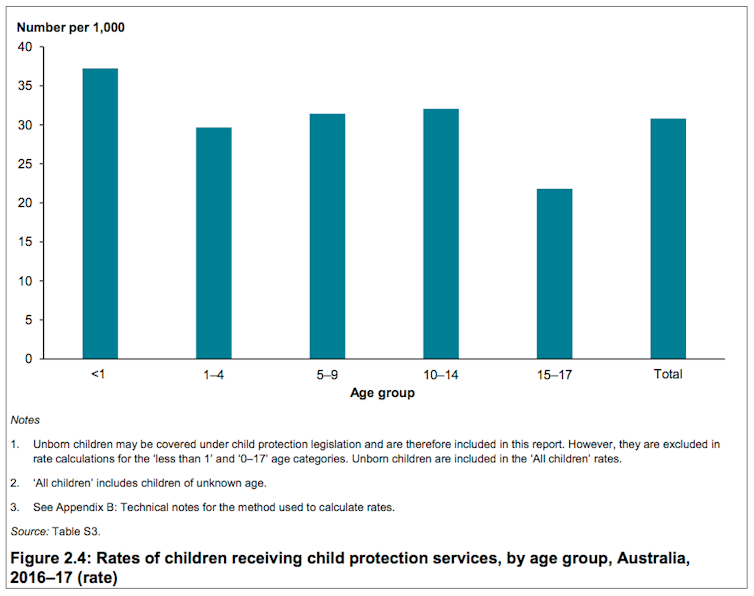 Authors: Katherine McFarlane, Senior Lecturer, Centre for Law & Justice, Charles Sturt University
Read more http://theconversation.com/child-protection-report-lacks-crucial-national-detail-on-abuse-in-out-of-home-care-93008