Written by

Christopher Pettit, Professor of Urban Science, UNSW
Beyond the benefits of dockless bike sharing for people's mobility and health, these services are producing an ever more useful byproduct: journey data. Mapped through global positioning system (GPS) devices on the bikes or via Bluetooth using GPS data from users' smartphones, the journey data that operators collect could be a powerful tool for city planners and policymakers, possibly even a valuable commodity.
Further reading: Bike-sharing schemes might seem like a waste of space but the economics makes sense
Each trip taken on a dockless bike is recorded in a database. At UNSW's City Futures Research Centre, we have been working with Bicycle Network's Riderlog app data. We have mapped more than 120,000 journeys and are exploring how the data can be both used and protected.
We have been able to create Bicycling Dashboards for all the capital cities of Australia, an example of which is shown below. The dashboard can show riders' behaviours and movements across each city.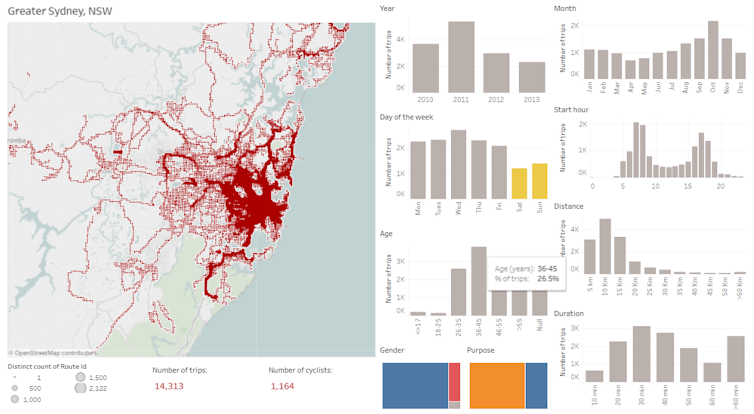 Created by Dr Simone Z. Leao, City Futures, UNSW

,

Author provided
Dockless, the next big disruption?
Dockless sharing schemes use bikes that are self-locking and tracked through GPS. Using a smartphone app, riders can pick up a bike, use it, then essentially leave it at their destination.
In an era of smart cities and ubiquitous computing, dockless bike sharing adds another layer of connection through digital platforms and smartphone apps to navigate and interact with the built environment. Our dependency on these new and useful technologies is driving their disruptive impacts.
Technology-based services are reshaping how city residents and visitors access essential services such as transport and housing. Bower and Christensen first coined the term disruptive technologies in 1995.
The two disruptive technology pinups are Uber and Airbnb. Uber has disrupted the business model of the taxi industry, while Airbnb has disrupted the short-term accommodation market. In the last 10 years both have exploded globally and now hold formidable market shares in more than 100 cities across the world.
The new kid on the block is dockless bikes.
A key advantage in bike sharing
An interesting point of difference to other city disruptors is that there is not one dominant dockless bike market leader. In Australia, over just a few months, we have seen the arrival of at least six operators: Reddy Go, OBike, ofo, mobike, Earth bike and Airbike.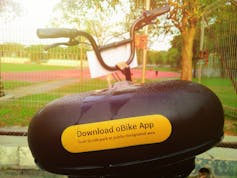 shahphoto/Shutterstock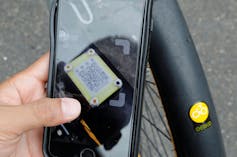 Authors: Christopher Pettit, Professor of Urban Science, UNSW
Read more http://theconversation.com/they-know-where-you-go-dockless-bike-sharing-looms-as-the-next-disruptor-if-key-concerns-are-fixed-88163