Written by

Daily Bulletin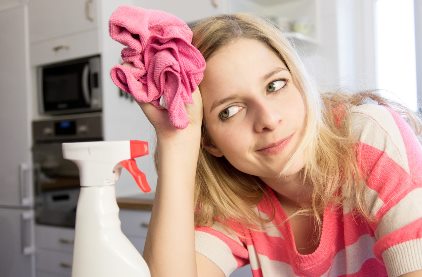 Having been both a landlord and renter, I can tell you there is a great sense of foreboding and angst before a renter hands over the keys on both sides. For the landlord, you often have not viewed your beloved property in months or even years. You're terrified of what has happened to your house in that time, so you are on alert for any trace of destruction.
For the renter, there's a lot of pressure to hand your property back exactly as you found it, and your bond money, which is considerable, is at stake. With these tips I can help you minimise your landlord's unease so they open their claws and release your bond so you can use it for more interesting things.


1. First impressions

On entering the property, it is imperative that you give the perception that the property was well taken care of. Your landlord's senses will be heightened, so make sure your property is impeccably clean. It's best to employ a cleaning service such as Whizz home cleaning services, as everyone's standards of cleanliness will vary.
If your house is fresh smelling and sparkling clean it may let some minor indiscretions go under the radar. Make sure windows, walls and carpets are thoroughly cleaned so your landlord is pleasantly surprised.
2. Make a list
Get out your condition report and look for anything not on the list that is broken or ruined beyond normal 'wear and tear', to rectify as many of these as you can yourself. Anything larger leave to a professional. For just a few dollars, putty can patch smaller nail holes you might have left, and for under ten you can take a sample of your wall paint to a paint store, where they can match it for small touch ups.
3. Exterior
Have your garden quickly polished up, lawns mowed, paths broomed and outside of the house washed down (or at least hosed down). Your landlord will make a decision about how you have cared for their house before they've stepped inside and you don't want a few stray leaves and cobwebs tainting their view before they've even stepped into the property.
4. Return everything to it's previous state
Make sure you return all keys and household items.
Give yourself plenty of time to get everything together, clean up as much as possible, and repair furnishings where necessary. On top of having to move all your belongings and trash in time, you need to put the house back exactly as it was with remotes, curtains and anything else left intact. It always takes a lot longer than you imagine and you don't want to be stressing at the last minute to get it all together if things get lost amongst your own belongings.
5. Be there
Go through final inspection with landlord or real estate agent before you hand over the keys. This way you have the opportunity to rectify anything small that may not be up to standard, or dispute anything that you believe was preexisting or that you see as reasonable wear and tear. Landlords are often happy to negotiate with you to let you rectify anything not up to par, it saves them the hassle of making claims on your bond and having to fix it themselves.
Your bond is a considerable amount of money, but just as important is having a good referral for future rentals. It's worth investing time to make sure you leave your house in good condition. Most landlords will be happy to negotiate with you to arrive at an agreement if your property is damaged in any way as long as you are courteous, upfront and make an effort. Like most things in life, a bit of effort and respect go a long way.