Written by

Scott Morrison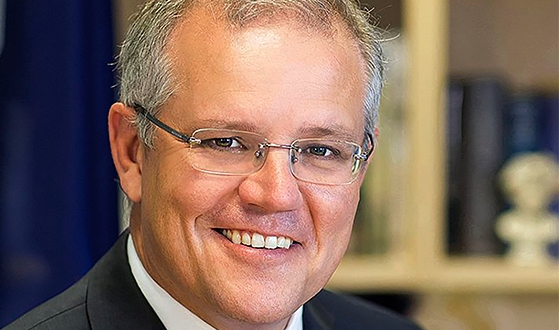 Belt and Road Initiative; Law and order in Victoria; Queensland infrastructure; Power prices; Paris Agreement; Immigration; Negative gearing.
ALAN JONES: Prime Minister, good morning.
PRIME MINISTER: G'day Alan.
JONES: Prime Minister, just getting the message across before we go onto this other stuff. Daniel Andrews, the Premier of Victoria, has signed up to a secret agreement with China on a global infrastructure program. Has that been discussed with your Government?
PRIME MINISTER: It hasn't been discussed with me, no, and that was a bit of a surprise when I saw it the other day. You know, we've had a very consistent policy on the Belt and Road Initiative now for years and we don't have an MOU with the Chinese Government on those things. We're getting on with business with China as you know, I mean Marise Payne will be up there, she is on her way up there today and Trade Minister Simon Birmingham, he has been there. You know, China is a very important business partner to Australia and that's going well and that's great. But we've always had a very consistent position on this and we've always been clear about it and when these things happen, then that creates mixed messages and it would have been helpful I think is they had been a bit more engaging on that.
JONES: Have you spoken to Andrews?
PRIME MINISTER: No I haven't, he hasn't spoken to me about it either.
JONES: But he's signed an MOU, he's signed an MOU – a Memorandum of Understanding – without raising this with the Federal Government and won't release the details.
PRIME MINISTER: Well he should, and he should be upfront with the Victorian electors, he's in the middle of an election at the moment. He doesn't seem to have even explained it to his own Labor colleagues. I mean, foreign policy is the domain of the Commonwealth Government. I'd like to give him a few tips on how he should be running his police force down there because if you're living in Victoria, he hasn't been doing a pretty crash hot job on that. So if we want to start going over each other's lines and giving advice about how we should run each other's shows, how about having a police force in Victoria like the one we have in NSW. That might do a lot to give safety to people in Victoria.
JONES: Prime Minister, you're past involvement in tourism – and this is of interest to all Australians – the Gold Coast is an important destination. I note you've tipped in $112 million of federal money for this what I think is the 3A project for the Light Rail and that'll take it from Pacific Fair down to Burleigh Heads.
PRIME MINISTER: Yep.
JONES: Surely there's got to be infrastructure money to knock down Coolangatta Airport in the interests of tourism and build something that is international, and then to get the Light Rail down to Coolangatta Airport. I mean how… why is that impossible?
PRIME MINISTER: Well first of all on the Light Rail, that's the next stage. I think there are plans to take it all the way down. Now we've put $112 million as you say to get it down to Burleigh, going from Broadbeach down to Burleigh. Now we've put our money in, the state government yet hasn't put their money in. It's a bit like, you know, what we've been trying to do with Pines River up north on the Bruce Highway. I mean, we've put our money in and we've been trying to get the state government to do it for years. And so I've just announced up here today – we're in Rockhampton today – we're putting $800 million into the ring road project up here in Rockhampton which will be enormously important for their future economy and how things are going to operate up here. And as you know, we've put the investment into the pipeline project to secure Townsville's future water supply, that's $200 million. So we're investing in the infrastructure that is going to make a very big difference to Queensland and we want the state government to pony up as well.
JONES: Sure, but I'm just saying, as a former tourism bloke, Coolangatta Airport, this is a mecca, the Gold Coast. People come from all over the world to go to the Gold Coast and it's just a mess. A mess. Why can't there be infrastructure money to rebuild Coolangatta Airport?
PRIME MINISTER: Well the owners of the airport I'm sure if they want to take it further would put forward proposals and they'd discuss that with the state government in particular and with the Commonwealth as is necessary. I mean, it is a very important part of the infrastructure of the Gold Coast. The Gold Coast is going to continue to be a very big city.
JONES: Absolutely.
PRIME MINISTER: And the light rail, which we have already invested in. This will take our investment to about $570 million in that Gold Coast project and you know, it's a linear city, it's not like Sydney or Melbourne or Brisbane for that matter. It's a long strip as we know, and what it didn't have was a spine in terms of a public transport spine, and that's what we've been investing in. Now you know, it's the biggest investment our Government has made in light rail anywhere in the country and I thought it was a very… the right place to do it, because you've got to build the infrastructure for the people and that's what we're doing there. And Coolangatta Airport, you know that will continue to grow and take international flights and if there's further work that needs to be there I'm sure the Gold Coast Council and the state government will get together and start working on that project.
JONES: Can I just make this point to you, because the bus is about campaigning. You're starting on the campaign trail, obviously they are now voting in America as to the future of Donald Trump. But his campaign was nothing if it wasn't an attempt to differentiate in a big, big way how he was different from his opponents. Now, I don't know whether you have noted or your staff have pointed out to you the recent provincial elections in Canada in the biggest province, Ontario. Now there was a bloke who was almost, I mean I have to say, incoherent in speech but nonetheless the Ontario economy was fantastic. Unemployment terrific, the lowest for several decades, GDP growth was 2 per cent, but the Ontario Financial Post wrote, "When voters looked at the economy this time, they plainly couldn't get past one aspect of it that was actually in horrible shape – energy affordability." Now this Kathleen Wynne was the Liberal leader – the equivalent for my listeners to the Labor Party – and the Financial Post, "Despite a favourable economic situation in Kathleen Wynne's favour, it was her Party's epic mismanagement of the electricity file in particular that dominated her opponents platform and captured voters' minds. Meanwhile, her cap and trade system of carbon dioxide taxes was slowly making most other forms of energy needlessly more expensive as well. Liberal clownery on electricity prices almost defies description. Between 2008 and 2016, Ontario's residential electricity costs grew by more than 70 per cent." Now, ours have grown by more than 100 per cent.
In terms of differentiating yourself from the other side, why wouldn't you say simply well look, we're out of Paris, instead of just saying we're going to go after the big generator companies. We're going to slash billions of dollars from the subsidies, get rid of these renewable energy subsidies and you've made a massive differentiation from the other crowd.
PRIME MINISTER: Well Alan, we are getting rid of the subsidies. The subsidies are going out.
JONES: 2020.
PRIME MINISTER: What we don't have…
JONES: 2020.
PRIME MINISTER: Is a reductions target that actually goes to 45 per cent. I mean, 26 per cent doesn't make any difference to electricity prices at all, we've talked about that before. A 45 per cent emissions reductions target, which is Labor's plan if they're elected, then that will see an increase in electricity prices greater than what we saw from Julia Gillard's carbon tax. So that's the difference. There'll be higher electricity prices under Labor and they'll have a renewable energy target of 50 per cent.
JONES: It's just that Paris, the name, the word Paris is a metaphor for hanging onto a past which has failed us. They are saying if you could just get out of this Paris thing, which is non-binding, but it is a metaphor and while ever you hang onto Paris and the signatories to Paris, people say, "Oh well he's clinging to the past." To carve a new future, right.
PRIME MINISTER: I'm not though, Alan. I'm not stuck in the past. I'm not interested in symbolism, I'm not interested in metaphors, I'm interested in electricity prices going down and what I'm telling you that 26 per cent we're going to hit in a canter, it's not going to make any difference to electricity prices. Angus Taylor is…
JONES: Then you don't need Paris, rip it up.
PRIME MINISTER: Well Paris is also important to all of our Pacific neighbours, Alan, as I have discussed with you before. This is a very important issue within our own region and there are concerns…
JONES: Why, because global warming… what, because global warming is going to wash away the islands in the Pacific? That's crap.
PRIME MINISTER: Well Alan, you're entitled to that view and they're entitled to their view where they live.
JONES: What, do you think that's going to happen?
PRIME MINISTER: That's not the point Alan.
JONES: Do you think that Bondi Beach is going to finish up at Bathurst?
PRIME MINISTER: No I don't think that Alan, I don't think that at all. But what I am saying is we have real strategic issues in the Pacific and the south-west Pacific, and all of these things have to be managed. I don't think there's any value, any value at all on electricity prices, it's not going to change electricity prices one jot. Absolutely one jot.
JONES: No, but do you think all these rent-seekers in the Pacific should get money that you've said you're not going to contribute to Paris. We've already tipped in $200 million. They're rent-seekers, they just want money.
PRIME MINISTER: No I don't think that's very respectful to the Pacific Islands, Alan, I really don't, and I don't share that view. They're part of the world in which we live here and we've always been doing the right thing by them and we think back to Papua New Guinea, they did the right thing by us when it came to our Diggers. So we have a very special relationship with the Pacific and we need to, for our own interest as well as that it's part of the community and family of nations we live in in this part of the world. We do the right thing by them, they'll do the right thing by us.
JONES: Ok two ones. The other things I talk about a major differentiation. Will you be cutting back, publicly and significantly, because we've got the world's highest per capita immigration intake. Are you going to reduce the rate of immigration? This is a big issue out there, it's all my correspondence, that's what they're talking about.
PRIME MINISTER: Alan, what our immigration policy is going to be, they are going to be built from the ground up. You've heard what Gladys has been saying in NSW, you've heard what has been said in other states and what our immigration policy should be is the sum of the number of people that our infrastructure can support. And instead of doing a top-down approach, what I'm doing with the states and territories now is saying, "You tell me how many people you can accommodate in your state and around your state." And our immigration numbers will be based on how many people those states can support with the infrastructure and services they can provide.
JONES: So people listening to you will say well therefore it's got to be cut because they know that they can't accommodate what they've got now.
PRIME MINISTER: Well we'll do the sums. In Sydney and in Melbourne I think that's true.
JONES: When will you have them done?
PRIME MINISTER: Well the immigration programs are set in every Budget, Alan, but what happens here, I'm up in North Queensland, Rockhampton – Central Queensland I should say – North Queensland later today. But they say they can take another 10,000 people here in Rockhampton with the existing services and infrastructure they have. In Adelaide, they want more people… and the jobs. That's why we're putting the ring road in at $800 million. In Tasmania, their population is increasing and they want to increase it more. In South Australia, it's the same. In Western Australia…
JONES: Do you think that's what the people want, is that what the public are telling you?
PRIME MINISTER: That's what they're telling me in those states Alan, it is.
JONES: Ok. Righto, I want to get something before we go. Negative gearing, this is another big, big issue out there. There's two big issues, population and Paris are two big issues. Negative gearing and stealing money from retirees. We'll talk again next week I know but can I have a word from you on those two issues, negative gearing and Labor and stealing the money from the retirees.
PRIME MINISTER: Well, on negative gearing and increasing the capital gains tax by 50 per cent too, by the way, that's a lose-lose. It's a lose if you own a home and it's a lose if you're renting a home because your rent will go up and the value of the home you're in or own as an investment property will go down. Now the Labor Party seems to think this is the best time in the world to do this because, you know, the market's soft. Well, that's what they thought about the mining industry when they came up with that stupid idea of the mining tax.
The Labor Party has a knack of finding the worst possible time to hit people with ridiculous taxes. And on the self-funded retirees, and retirees more generally, I mean there are literally a million people who are going to be hit by this $5 billion tax on retirees who did nothing other than buy Australian shares through their tax refund, they get some extra money. I mean, there's thousands of people.
JONES: Right, we'll start there next week. We'll start there next week. You go, I've got to go and thank you for your time, talk to you next week.