Written by

Malcolm Turnbull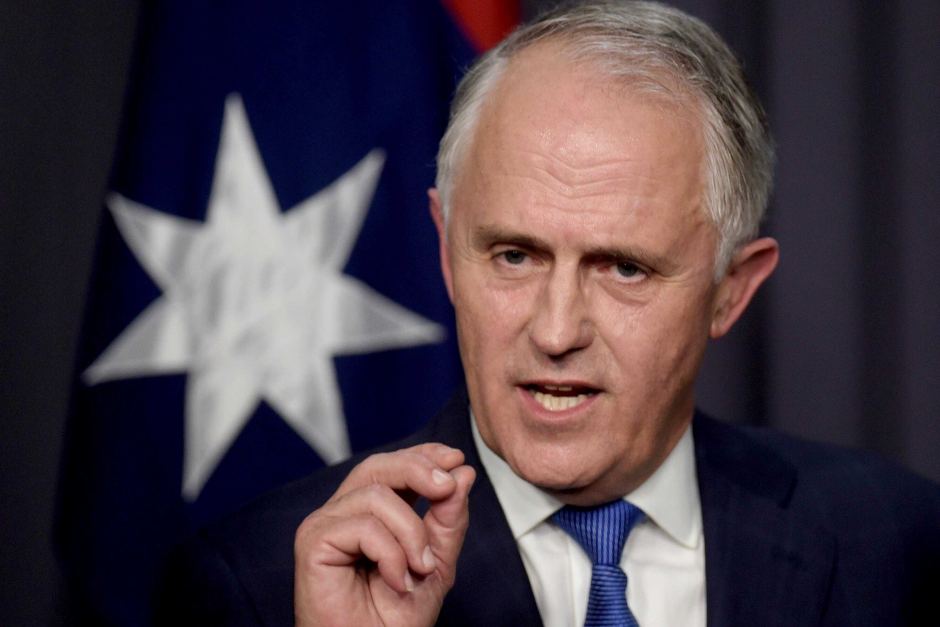 Well the Party Room today has today overwhelmingly supported the National Energy Guarantee, and as a consequence, we are one step closer to cheaper and more reliable energy.
This policy is part of our suite of measures that are already seeing us turning the corner on electricity prices - but there is a lot more to do.
We had a very good discussion this morning with Rod Sims, the Chairman of the ACCC and author of that excellent report, whose recommendations we are seeking to implement and above all of course, recommendation #4. Well, there's a number of them that are of equal merit, but recommendation #4 is of particular merit.
But we've had a good debate in the Coalition Party Room, overwhelming support for the National Energy Guarantee whose object is cheaper, cheaper, and more reliable energy and at the same time of course, meet our commitments to reduce emissions in accordance with the Paris Agreement.
I want to thank the Minister for his management of this issue and his advocacy and design of the National Energy Guarantee and I'll now ask him to add to my remarks.
MINISTER FOR THE ENVIRONMENT AND ENERGY, THE HON. JOSH FRYDENBERG MP:
Well thank you, Prime Minister.
The Turnbull Government has a laser-like focus on reducing power bills and the National Energy Guarantee will help deliver that, reducing the household average family's power bill by $550 a year and even more so from business. That's why this policy, developed by the experts, backed by business and energy consumer groups and supported by modelling has the strong support of our Coalition Party Room.
Now, Bill Shorten talks a big game. He says he wants to see people's power bills come down, but he has a policy which will do exactly the opposite. It will send people's power prices up and it will reduce the reliability of the system.
Now, we have held up our part ever the bargain. Now it's time for Labor to uphold its part of the bargain.
It needs to support the legislation in the Parliament to make the National Energy Guarantee a reality and the states need to support the National Energy Guarantee and its legislation, which will go through the State Parliament.
This is an important national reform and it's in the best interests of all Australian energy consumers.
JOURNALIST:
Your comment that there was an overwhelming majority in the party room this morning that supported the policy; that majority not withstanding, five MPs are reserving their rights on crossing the floor. What's your message to those MPs? The Government's now resolved its policy, are you sanguine about your own MPs crossing the floor during this parliamentary debate or are you not?
PRIME MINISTER:
Always, always. But the concerns were expressed across the board about prices and we share those. Everything, everything we're doing is seeking to bring down energy prices. The National Energy Guarantee, of course, addresses one part of the puzzle, it addresses the cost of generation. But of course, you've got poles and wires, you've got retail costs, you've got green schemes; it's a complex business.
Now, what we're seeing already is our policies having the result of bringing down retail prices. We've seen very big reductions, thanks to our policies in wholesale generation costs, and we expect to see more and we will do more.
Our commitment is to use every single lever available to us, one of which is the NEG, to bring down energy prices. That's our commitment.
Now, as Josh said, Bill Shorten has only a plan for higher electricity prices and a less reliable system. The time has come for him to support the National Energy Guarantee; its been designed by the experts, it has the broadest support of any energy policy, any energy policy in my time in politics and possibly a lot longer than that.
So now is the time to provide the certainty and the investment climate that is going to see more generation and lower prices.
JOURNALIST:
When will the legislation be introduced?
PRIME MINISTER:
It'll be introduced in this sitting fortnight.
JOURNALIST:
Prime Minister, what did you say to some of your colleagues who warned of the dangers of locking in emissions targets, and perhaps the minister would also like to talk about that?
PRIME MINISTER:
I'm not going to go into what was said in the Party Room but, as you know, the emissions reduction trajectory - 26 per cent reduction from 2005 levels by 2030 - it will be the subject of legislation and that means, to change it, you would need an amendment bill to be passed.
Labor wants to have it done by regulation so that the Parliament would not have a voice.
Now, we believe in democracy. We believe the Parliament should have a say in this and so if we legislate that, then a subsequent government - whether it's of our side of politics or the other - would have to persuade both Houses of Parliament to make any change to it, and that is a great security.
JOURNALIST:
I'm asking about your colleagues though, Tony Abbott, I believe who again ventilated this notion that there was a danger inherent in mandating emissions targets?
PRIME MINISTER:
Well, I've provided the answer to you there.
The Labor Party, it's the Labor Party that wants to not legislate for the emissions reduction trajectory because they want to be able to change it and increase it with the stroke of a pen, and that is exactly what they would seek to do were they ever to form government.
JOURNALIST:
Can I ask the Energy Minister to just take us through the next steps before this actually comes to pass. So how many more steps, how many more hurdles are there to go?
MINISTER FOR THE ENVIRONMENT AND ENERGY:
We'll be having a telephone hook-up this evening with the states. After which - consistent with their agreement at last Friday's meeting - the draft exposure of the state legislation will be released for comment, that goes for a period of a month - and that's a statutory requirement - then there will be any amendments that will be needed to be made. And the intention is that all states can agree to the final state legislation implementing in the National Energy Guarantee before Victoria goes into caretaker mode at the end of October.
And let me make it very clear, let me make it very clear - the Australian Energy Market Operator has said that in Victoria last year, there was a 43 per cent chance of load-shedding, which is a euphemism for blackouts. Victoria has the second highest electricity prices in the country. It's time Daniel Andrews stopped walking both sides of the street and put the interests of Victorians first and the businesses of Victorians first, and he would do that by signing up to the National Energy Guarantee before he goes into caretaker mode.
JOURNALIST:
Now that you've concluded this Party Room process, there may be some who cross the floor, but what's your message to them about the sort of public criticism they're entitled to make of what is now a settled Government position?
PRIME MINISTER:
Well David again, I'll discuss matters with my colleagues directly rather than through your good offices. Thank you for the kind offer.
But, this is a policy which has been the subject of extensive consultation. It's been discussed at Coalition Party Room meetings on a number of occasions now and we have received overwhelming support for it. It's the policy of the Government and it will deliver, as the experts have advised, and as industry advises - which is why they're urging us to get on with it - it will deliver not just more reliable power, but cheaper power.
We want to see the corner that we have turned on electricity prices, that to continue. We want people's bills to keep coming down.
JOURNALIST:
[inaudible]
PRIME MINISTER:
Sorry?
JOURNALIST:
Should your colleagues stop bagging it?
PRIME MINISTER:
Again, I'll address my counsel to my colleagues directly.
JOURNALIST:
When will that money will start to flow through, that $530, can you give a rough period in time when customers or consumers will start to see that reduction, that long promised reduction?
MINISTER FOR THE ENVIRONMENT AND ENERGY:
Can I say something, PM?
PRIME MINISTER:
Yeah, sure.
MINISTER FOR THE ENVIRONMENT AND ENERGY:
Which is that CEO of Power Shop has already said that companies are factoring in the implementation of the National Energy Guarantee and this is taking form in lower power prices in the forward market. So it's actually already having an impact even though the policy hasn't been legislated.
Now, there's policies coming in from 2020 but we know that the reliability mechanism is also coming in from 2019. And we do need that reliability mechanism urgently because we need to smooth out the volatility in the market.
JOURNALIST:
So what you're saying is that $530 won't come in until 2020, but you're saying it's starting to be in effect now?
MINISTER FOR THE ENVIRONMENT AND ENERGY:
What I'm saying is there's already an impact from the National Energy Guarantee.
JOURNALIST:
Because people are going to be saying when is this going to happen?
PRIME MINISTER:
If you look at the forward price of wholesale electricity, you'll see it is coming down and that is because, naturally, the market is anticipating this reform, which will provide a certainty and a climate which will see more investment in generation and you're seeing plenty of evidence of that.
JOURNALIST:
Prime Minister, just from my inquiries and those of others, there's about five to ten naysayers this morning. Even if half of them made good on the this threat to cross the floor, they could kill this in the lower house. How important is it for Labor, in your view, to at least support it through the lower House and have the fight in the Senate?
PRIME MINISTER:
Well, look, the Labor Party has to decide whether they want to support cheaper and more reliable electricity. We have got to bring an end to the years of ideology and idiocy which have been a curse on energy policy for too long. And that is why industry - whether you're talking about big industrial consumers or small business, consumer groups are calling on Government - Governments, and Oppositions to get behind this policy.
We need to get a certain environment so that people will invest and that's really the question for Bill Shorten. Bill Shorten wrote to me last year, and in the middle of last year, and urged me to adopt a bipartisan approach - a non-political approach to energy policy. Well, he's got everybody lined up supporting - industry, consumer groups - supporting the National Energy Guarantee.
Now is the time for him to support it and vote for it.
JOURNALIST:
Labor won't accept the 26 per cent. Are you happy to have a fight with them at the election on targets?
PRIME MINISTER:
Absolutely. Look, you know, we should legislate the 26 per cent target and then if Labor wants to go to the next election and argue for a higher target, they should do so. And we'll gladly have that debate with them because if you were to have a higher target than 26 per cent, it would increase costs on consumers.
We welcome a clear-cut political debate on the cost of power.
Now, Labor has policies that will increase the price of power. We have policies in place which will not just reduce power costs in the future, but are reducing them today.
Remember it was my action as Prime Minister that resulted in the gas shortage on the east coast being resolved and that is one of the big factors that brought down the cost of wholesale generation. It was Josh's legislation that got rid of the Limited-Merits Review which, of course, reduces the ability of the owners of the poles and wires to game the system with endless appeals
In every area you look at, we are seeking to reduce costs.
Look at the action we talk with the retailers, when we hauled them in and said: "too many people are on your standard offers, you're taking advantage of them". And they wrote to them and hundreds of thousands of people have switched their plans and are now - to more competitive plans or switched suppliers - and are now paying less for electricity.
Every single element of the supply chain for electricity is being addressed by us to reduce the cost for families and businesses. That's our commitment and we are demonstrating that our policies are working.
JOURNALIST:
Prime Minister, Delta electricity said today if you proceed with the ACCC recommendation #4, they're going to go ahead and pursue a clean coal-fired power station. What's your response to that, would you welcome that?
PRIME MINISTER:
Certainly. Well, we welcome more generation, particularly more dispatchable generation, more firmed or base load generation and of course, a coal-fired power station would - a HELE plant - would meet that description. But so would other technologies.
The recommendation #4 is in the ACCC is completely technology agnostic and so what it would do, the way we will operate it - and we intend to implement this - is to provide support in terms of the out years.
Let me explain what it involves, just to be clear. So, the proposition is that a new generator - if they secured a number of commercial and industrial customers for, say, the first five years - then faces the problem of how do they cover themselves or give assurance to their bank for years six to 15? And what Rod Sims recommended was that the Government could provide what he called an 'off-take'; others would call it a 'put'. But basically a contract where the Government would say: "we'll take that power from you or cover you for the cost of that at a very low price", not something the equity investors would want to see. They'd probably have lost all their money by that stage, but something that would cover the banks. And that enables then those long-term investments to be made. It would only be available to entrants other than the big operators, the big gentailers, like AGL and Origin and so forth. So it promotes competition, it promotes more dispatchability - but it's technology agnostic. And as Rod Sims was saying today he's seen expressions of interest from people in gas, in coal, in renewables firmed by gas or hydro or batteries, a whole range of technologies. So it's technology-agnostic and it is designed to get more competition, more generation and lower prices.
That's what we're about; lower prices for electricity.
Thank you all very much.