Written by

Daily Bulletin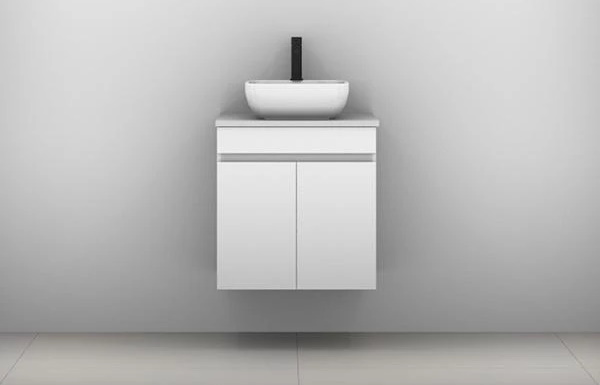 Counter vanity basins have become increasingly popular because of their minimalist design and versatility.
Counter vanity basins will best emphasize the furniture you already own, keeping the sink in harmony with it.
They are available in a wide range of sizes and styles, so they are suitable for any bathroom aesthetic.
It is generally most convenient to install the above counter vanity basins with a vanity unit that matches the tap style as they can be paired with any style of tap.
It's easy to see why you'd want a counter vanity basin in your bathroom but what should you know before buying one?
What is an Above Counter Vanity Basin?
The above counter vanity basin is a basin mounted onto a flat surface.
If you plan to install an above counter vanity basin in your bathroom, be sure to take the time to learn what you should know before purchasing one surface. You can use an old table, a wall-mounted basin shelf, or even drawers.
The above counter vanity basins typically sit on top of the bathroom vanity.
One of the biggest differences is that counter vanity basins do not have to attach to the wall behind them. They resemble the old washbowls that were used in the early ages.
These vintage-style basins look especially attractive in period homes, but you can also find modern interpretations that would be comfortable in any designer showroom.
Like all basins, counter vanity basins generally look like a large bowl though can come in a variety of shapes and sizes.
Why Should You Prefer Buying Above Counter Vanity Basins?
Where you can buy any kind of basin available, you should prefer buying an above-counter vanity basin.
The major reason here is that it does not cover a lot of space, hence you will be able to manage your towels and toiletries easily.
Not just this, the above counter vanity basins are also can be installed easily without any fuss. Also, the small toddlers in your house will not reach the basin above which is an additional benefit to it.
Moreover, with the above counter vanity basin, you don't need to worry about your toddler reaching the sink to open the taps and flooding the entire bathroom.
What Are The Different Kinds of Above Counter Vanity Basins?
The above counter vanity basins are of different types and they come in different shapes depending on the needs and preferences of people.
So below we have mentioned different kinds of above-counter vanity basins.
Oval Above Counter Vanity Basins
Oval above counter vanity basins are the ultimate modern luxury.
These classy yet minimalist oval basins evoke a sense of elegance but in a very subtle way.
By pairing these above counter vanity basins with a minimalist style in the bathroom and neutral colors, you can create the spa-like feel that many people are seeking for their bathrooms.
Your bathroom will stand out from the crowd with this unique design. Despite its delicate appearance, the basin is strong and smooth.
Round Above Counter Vanity Basins
Consider a counter-top basin that is round if you are looking for something even more modern.
This vanity basin makes your home's bathroom feel like you are at a luxury hotel or boutique spa.
Simple in appearance, but anything but in impact, this basin is the perfect addition to any modern bathroom.
Besides being smooth and strong, it is also kind to your bathroom and fits perfectly in there
Rectangular Above Counter Vanity Basins
This rectangular above counter vanity basin is the perfect addition to your bathroom space.
The ultimate luxury that these rectangular basins create is the ultimate convenience--and all for a very reasonable price.
With its smooth, curved corners, it doesn't look harsh and is just the right size to wash your face without flooding the bathroom.
Similar to the two basins above, it is durable and strong and is a perfect fit for those who require a rectangular basin.
There are a variety of separate taps that are available that you can easily select depending on your preferences and add to the basin.
How to Install A Counter Vanity Basin On Your Own?
While installing a counter vanity basin will not require you to have rocket science skills, some basic DIY skills are required.
It's important to check the basin's mounting instructions since some require special drilling.
You'll also need to drill a drain hole in the counter and install some basic plumbing.
You're better off getting a professional in if you're unsure or not very DIY-inclined, as their work is usually much better and they'll guarantee a more attractive finish.
How Do I Fix The Above Counter Basin?

Now a question may arise, how can you fix the basin above the counter?
The simple answer to this question is with the help of a "waste plug".
With the waste plug, the long shaft goes through the basin and under the counter to hold the basin in place, and then the large fitting nut secures the basin under the counter.
To prevent water from sinking underneath the basin and standing stagnant on the counter, silicone is applied around the basin's edge once it is secured.
Where Can I Mount the Counter Vanity Basin?
Counter vanity basins can be mounted to virtually any flat surface, under the condition that drain holes have been drilled - this can again be done by a professional or by yourself.
Additionally, it's important to consider the height of the unit as the basin itself will add to its height and potentially cause the whole thing to be too high to comfortably use.
With a vanity unit that includes a basin, you can simplify the process and leave yourself with a functionally better-looking finish.
Alternatively, you can select a vanity cabinet coupled with the basin of your choice, rather than the cabinet alone.
If you opt to mount the sink on something that wasn't originally designed to have one, remember that drawers may not open or function - however, they do help decorate the front of the sink.
You will have to also make sure that the plumbing is accessible from the back of the building.
Conclusion
Having a wide range of options available can make it difficult to choose but still as you will be using it daily, you will have to make the choice that works best for you. Moreover, you need to remember that you are not going to replace your basin every three or four months like you swap your toothbrush. To ensure that you get a better option you always ask for a professional plumber who can help you to assist in choosing among the options available.