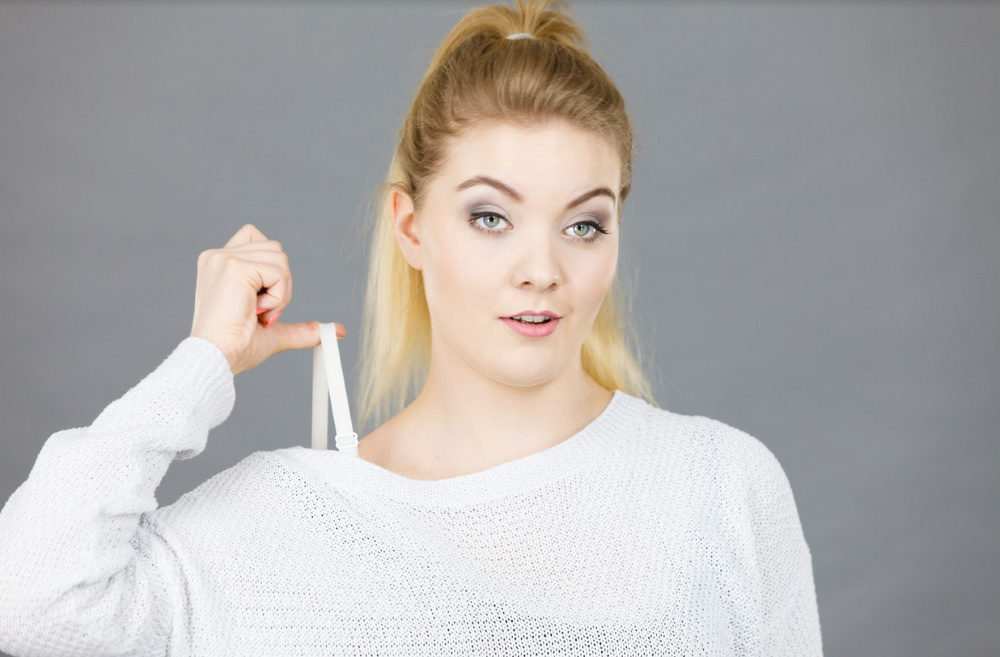 Lingerie is a clothing item that has been traditionally and conventionally thought to be concealed from the outside world. However, in the modern days, more and more women want to appear edgy yet elegant by adding a teasing detail of their lingerie. Gone are the days when lingerie had to be covered under t-shirts and baggy knits. 
Think of that time you went to buy a new bra. While you were shopping for a great looking bra, the thought might have crossed your mind, 'why bother no one really is going to get a view of this detailed and creative bra?' 
The question then leads you in the wonderland, is it worth buying an item that is not a major part of your wardrobe?
If the bra is a great fit and is also comfortable, then what's stopping you? Thanks to the quality of the fabrics, you can definitely invest in great quality lingerie, without any second thoughts. If you have been searching for a great excuse to buy that expensive bra, now you have one. 
Whether you prefer to wear a subtle looking bra underneath a translucent top or you want to wear a body suit with a skirt; you have numerous styling and creative ways to do it. There are several chic ways to incorporate sexy lingerie in your daily looks.
Let's now take a look at how to use lingerie as part of your daily outfit. 
One way that you can add a bit of sophistication and elegance is by wearing a bra underneath an transparent top. This look is simple to pull off and also makes you look uber stylish. 
What's more, is that the style can work with multiple looks such as pairing it with jeans for that casual look. 
How About that Slip Dress? 
If there's one thing that takes you back to the 90s, it's the T-shirt under a slip dress. Those days are back with the trend catching on at a rapid pace. One of the great benefits of this style is that it is extremely simple to master. 
The style is super comfortable and is a great look for warm days. 
What's more is that this style could even be a reason to do a boudoir photoshoot. 
Do you have beautiful blazers and have been wondering how to even look sexier in them?
 Try wearing them with your camisole. This look is definitely polished and sophisticated.
If you're looking for an office look, wear your blazer and camisole with dark khaki pants. Avoid wearing fabrics that are too lacy. You can even spruce things up with an elegant necklace or pendant. 
Note also however you can also pull off a casual look by wearing it with a pair of frayed jeans. 
Let's face it, there are plenty of gorgeous body suits that deserve to be shown off. It's a great outfit when planning a fun night out with the girls and can add a bit of glamour. 
To get that casual look, you can wear the body suit with a nice pair of jeans. On the other hand, if you are looking for a more elegant and office look, you can pair the body suit with a skirt. 
No matter your preferred style, the bodysuit works on all body types in every which way. 
Another sassy way to make your lingerie part of your wardrobe is to make use of that robe. You can wear it on top of the camisole for a casual yet stunning and sophisticated look. It's a great choice when planning to stroll through town and enjoy the warm sun. 
Furthermore, you can wear your tight-fitting blue jeans with heels. Oh, and don't forget to put on trendy sunglasses, while you are at it. This is one type of lingerie that you will be comfortable in regardless of your age. 
When buying lingerie to incorporate into your daily wardrobe there are few things that you need to consider such as:
Always take an advice of an expert regarding the right fit.

Make sure you go for top quality fabrics.

Ensure it's lingerie that you actually love. After all, you'll be wearing it.

When cleaning your lingerie always hand wash it. This will help it last longer. 

Get new lingerie for the season.

You can always go for bold colors. You don't need to limit yourself to neutral colors.
Final Thoughts
There are so many stunning lingerie designs that it's seems shameful to keep it all hidden. Luckily times and styles are changing, and now you can show off your lingerie by making it a part of your daily wardrobe. Don't be shy to experiment as you can still achieve that stunning and sophisticated look, without talking things too far.