Written by

Barney Whistance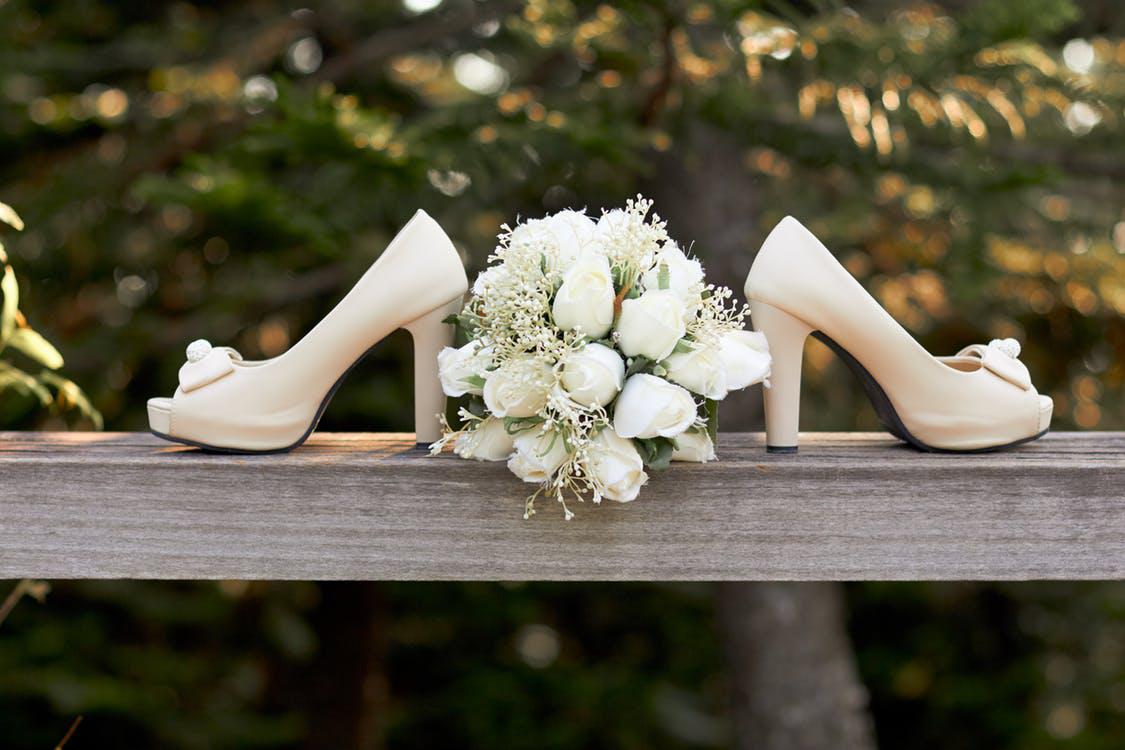 Aren't your excitement levels touching the sky when the wedding is around the corner? After all, it's everyone's big and memorable day. From dresses to shoes, jewelry, makeup, everything has to be on fleek, making you look nothing less than a diva.
Many people have an obsession with shoes and for them, hunting for the perfect wedding shoes is nothing less than a challenge. To define perfect shoes, it's all about comfort, style, moderate price, and amazing design. So, before going for a shoe shopping spree, have a look at these tips on how to choose the perfect wedding shoes.


Keep Up on Your Budget
One of the most important things is your budget since everything revolves around it. The perfect pair of shoes depends on how much you're willing to spend. Hence, after determining your range, you can go ahead with your wedding shoe hunt.
If you have a whopping budget, then there's no need for going anywhere else except for the designer brands. They have some mesmerizing collection of wedding shoes, helping you choose the perfect one. Don't worry; many other brands are at your service by providing you with an equally alluring collection of wedding shoes, without costing you an arm.
You can take a dig at Badgley Mischka bridal shoes since they have an exclusive collection. Remember, not to go out of the budget because no one foots the bill for others.


Look Over Your Dress
Have you ever thought what about would happen if your shoes don't match the outfit? It won't be anything less than crises. Thus, you have to be super careful with this. If possible, take your dress along while going for shoe shopping, ruling out any chances of mistakes or blunders. Otherwise, take a picture of your dress, letting you choose wisely.
Fashion sense is the key; only then you can determine what suits your dress. For instance – getting a shimmery red pair of shoes with a white dress can look awful. The two things are unlikely to go along well; instead, a shimmery silver pair of shoes with a white dress would look a lot better and stylish at the same time. So, make sure to take some friend along or ensure returning shoes is possible.


Consider the Venue
A traditional wedding or destination wedding, location is the front-page. Everything has to be in accordance with the venue, whether it is selecting a dress or shoes. You can't wear an off-shoulder dress to an open-air setting in chilly weather. Similarly, you can't wear heels if the wedding is on the beach.
Likewise, if it's an outdoor location in a garden, wearing pencil heels seems impossible. They are likely to dig deeper into the ground, especially if the soil is wet. You can opt for block heels or wedge heels. Furthermore, in chilly weather conditions, open shoes would do nothing but numb your feet.
Hence, hunt for some fancy coat shoes to save your feet from the brisk winds. Considering all these minor details becomes crucial when it comes to choosing the perfect wedding shoes.


Settle for Nothing but Comfortable Shoes
Do you know what causes swelling on the feet? It happens because of the uncomfortable shoes you have been carrying all day. Indeed, you don't want this to happen on your big day. Therefore, no matter what pair of shoes you select, make sure to try it out and walk a little. It helps you to look over for any signs of itching or if the hard sole is bothering you.
Many people have assumption heels are uncomfortable. This is so not true. There are so many brands offering some comfortable pair of heels for you to walk freely. Keep in mind; you have to wear wedding shoes all day long, instead of going crazy over stunning designs, make sure they're comfortable and fit you properly.


Color & Design
The availability of a variety of designs makes it very chaotic to choose the perfect wedding shoes. It's quite obvious that the design of your shoes has to match your dress. Alongside this, make sure it complements personal style too. You can opt for embedded, fancy, simple, heels or shimmery and delicate coat shoes. It's up to you.
Also, not to forget the color because choosing the right color is equally important. It's okay to play with colors, but don't end up making fashion blunders. After all, many of you want something unique for the shoes. Feel free to choose from a variety of available colors and designs, keeping in mind your dress. If you want to keep up with the trends, then opt for nude colors since they are the newest wrinkle.


Determine the length of heels
There's nothing gauche in looking taller than your partner, but a few women don't prefer it. So, if you're one of those, figure out the length of your heels. For instance – if your partner is super tall, then feel free to wear 6-inch heels too. If not, choose the right length.
Apart from this, the length of the dress is also important; wearing super long heels can make your dress look short. Besides, long heels are mostly for professional, someone who has a habit of flaunting heels. If you're new to this, make sure to look for a lower length to make yourself feel comfortable and easy.


Wrapping up
Weddings are nothing less than a Chinese fire drill. There's so much on the plate to manage from choosing the dress to shoes, accessories, and whatnot. To make this journey a little easy for you, above are mentioned some tips on how to choose the perfect wedding shoes. It can surely help you out in choosing the best shoes for your big day.