Written by

Tess Sanders Lazarus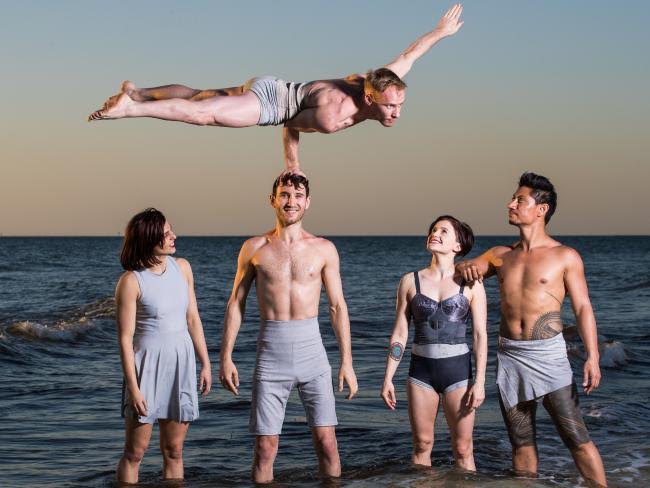 Straight off the back of a 56 show international tour through France and Switzerland with its award-winning show, Knee Deep, Casus Circus is wowing audiences at this year's Adelaide Fringe Festival with their newest show 'Driftwood' which they are performing at the Menagerie in the Royal Croquet Club until March 19.    Audiences are finding the new show spectacular and are impressed by the troupe's ability to deliver yet another awe inspiring blend of human movement and story telling.  Casus won Best Circus and Physical Theatre at last year's Fringe Festival and are expected to be recognised for this year's show 'Driftwood'.
The Brisbane company are Australia's premier human circus and are highly regarded nationally and internationally for their quality productions.  Their new show 'Driftwood' features their trademark breath-taking acrobatics and boundary-pushing choreography.  No stranger to the international stage, founders and co-Creative Directors Jesse Scott, Lachlan McAulay and Natano Fa'anana along with Abbey Church and Kali Retallack and their production of Driftwood have already achieved wonderful reviews.
Driftwood is a 60-minute-long show which aims to make its audience feel what it is like to be human. It is about the human existence and how so often, people find themselves drifting apart only to be pulled back together again. Specifically, it is a circus show about the current of life and how humans are shaped by the people they encounter.  Casus ensemble members rely only on their own bodies to create art that wows and often leaves audiences breathless.  Drawing on their physical prowess and artistic inspirations, Driftwood is a production not to be missed.
"It explores the journey of a piece of wood, or a number of pieces of wood and observes how it would drift and collect or bunch up, then break away or float off independently," said company co-founder and co-creative director, Natano Fa'anana.
"We adapted that into a context in our lives, and then acrobatically. From that came the show, which is playing with how five friends connect with each other, break away and then support each other."
Originating in Brisbane, Casus Circus came together five years ago.  Since forming, the troupe has very quickly developed a reputation for creating inspiring shows using more than just physical skill.  They are respected for their ability to weave in life stories and everyday circumstances which mould and shape our lives. 
"We enjoy pushing boundaries, limitations or edges of what is physically possible and we make sure there is always a level of humanity and sincerity in our works," Natano Fa'anana added. 
Casus Circus are performing at the Menagerie in the Royal Croquet Club until the 19 March 2017. Tickets can be booked at www.adelaidefringe.com.au/fringetix/driftwood