Written by

Scott Morrison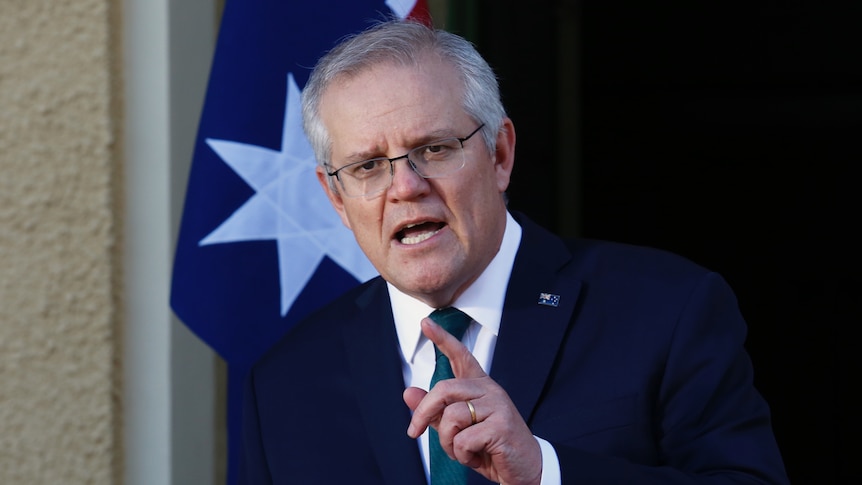 PRIME MINISTER: Good afternoon, everybody. Some more difficult news today in New South Wales, and I will be returning to that very shortly. But, I want to continue to encourage all Australians that we're going to beat this. We're going to get on top of it. We're never going to give up in our battle against COVID in this country. We have had so many successes, compared to so many other countries around the world, by persevering and pushing through together. I will return to that in a second with an update on some of those issues. But, I just wanted to say, after hearing that news in New South Wales today, I know that, once again, your hearts would have sunk for a moment, and perhaps longer, but let's lift them up again because we are going to get through this and we are going to beat this.
Can I also acknowledge today, today is Vietnam Veterans' Day. Some 60,000 Australians served in the Vietnam War, including over 15,000 national servicemen. 521 Australians lost their lives in that conflict, and over 3,000 were wounded. This is also the 55th anniversary of the Battle of Long Tan, Australia's most costly battle in Vietnam. On that day, in 1966, 17 Australians were killed in action and 25 more were wounded. But, we all know that those who fell there, and were wounded there physically, the wounds that came and were endured over a lifetime for so many, when they returned to Australia, were also incredibly devastating. And, I want to acknowledge those wounds inflicted on many of our Vietnam veterans, including by some of their fellow Australians, when they came home. That was not the way to do that, and it should never be the way that we receive Australians back after they've served in our name wearing our uniform under our flag. Families also paid a heavy price from that conflict as veterans returned home. Families were broken. People were broken. Lives destroyed. It is a very, very sad chapter, but as we know, in the events that we've been talking about in recent days, we will be challenged in similar ways as a nation as we deal with the very disturbing situation in Afghanistan, which I'll turn to in a short moment.
I also want to acknowledge the ongoing contribution of Vietnam veterans to our broader community, and I particularly want to thank them for the way, as veterans, they've aided the cause of so many other veterans, particularly those veterans of more recent conflicts, providing that mentorship and that stewardship and that support, and today, of all days, I know veterans will have that sense of solidarity about what they've experienced, regardless of what the conflict was. And, on a day like today, I know those Vietnam vets can be of great support to our veterans from Afghanistan.
Last evening, Australia's operation to commence evacuating Australians and visa holders, Afghan nationals, and others from Kabul commenced. We were able to get our first flight in last night and enabling us to transfer also in key personnel from the Department of Foreign Affairs and Trade, Home Affairs and Defence to facilitate the evacuation of citizens, residents and visa holders, Afghan nationals, from Kabul. This was the first of what will be many flights, subject to clearance and weather, and we do note that over the back end of this week there is some not too favourable weather forecast.
The operation involves everything from establishing that contact with those who are in Afghanistan, particularly closer to Kabul, to ensure that they can be in a position to be at the airport in order to be evacuated on the flights as they come into Kabul. To process their embarkation, and to get on to those flights. This is not a simple process. It's very difficult for any Australian to imagine the sense of chaos and uncertainty that is existing right across this country, the breakdown in formal communications, the ability to reach people, and we are doing this directly ourselves. Groups like the IOM are no longer able to assist us with that task, and so we are doing that directly. And, we're doing it working with the local Afghan communities here in Australia, in order to assist us in making all those contacts, and the Foreign Affairs Minister can speak further to that. The transfers are done to our base in the Emirates, where capacity has already been established, with medical support available, to both receive and provide that medical support, and to process their further onward transfer to Australia. And, in addition to that, we've made arrangements with state governments around the country, over and above existing caps, for those who have been transferred back to Australia to be quarantined in appropriate facilities to support their quarantine.
Last night, that first C1-30 went in, bringing in those Australians who are facilitating things on the ground. I have to stress how important that is - to get people on a flight and get people on the ground to process this. This will be done in as orderly a fashion as is possible in these circumstances. We need to be very clear who's getting on our planes, who's going to our base, and who's going to come and live here in Australia. We have to be very, very clear about that, and we are taking all the sensible precautions, but moving urgently to address the very real need in these very stressing conditions.
There were, that plane touched down at our base in the Emirates at 10.40am Canberra time today. There were 26 people who were on board that flight. That included Australian citizens, Afghan nationals with visas, and one foreign official who was working with an international agency. I remind people that we are working with other agencies, working with other governments, like-minded and others, to address their needs as well as our own, and we're seeking to maximise the use of all the flights from all the countries that are going in and out of Kabul. One additional C1-30 and two C-17s are being prepositioned to join that existing C-130 to support those regular flights out of Kabul in the days ahead and for as long as we can continue to operate those flights to get people out.
We intend for those numbers to increase on future flights. But, as is the experience of other countries who have been engaged in this process, these initial flights are challenged by having officials on the ground to go through that proper process. I can confirm the security situation at the airport has improved, and more broadly across Kabul, and that is supported particularly by the presence of US and UK troops on the ground being able to take control of the airport. It still, though, remains an incredibly challenging environment in which to operate. And, I want to thank all of those who are involved in these operations, those flying the planes in dangerous territory, those who are going onto the ground, those who we sent in last night in the dark to be there, be overnight. We were able to get others in through a partner flight last night as well, to increase the number we could have there, to be able to be supporting those operations on the ground, to get people onto these planes. They are doing Australia a great service. It reminds me of those Foreign Affairs officials, Marise, who got in a car and drove to Wuhan at the start of this crisis. One the daughter of a former Prime Minister, I note, who went and did that job. Our Foreign Affairs officials, our Home Affairs officials, our Defence people, indeed, I've seen it so many times now. Their professionalism, their dedication to service, their commitment to this country is extraordinary, and they have moved swiftly and courageously. And, I want to thank them for what they're doing for their fellow Australians and our cause right now.
Now, the issue of resettlement has come up in previous days, and it is a matter that the Government has been considering now for, for some time. What I can confirm is this though - and I have a very clear message on this - we will only be resettling people through our official humanitarian program going through official channels. We will not be offering a pathway to permanent residency or citizenship. We will not be allowing people to enter Australia illegally, even at this time. Our policy has not changed. We will be supporting Afghans who have legitimate claims through our official and legitimate processes. We will not be providing that pathway to those who would seek to come any other way. That is a very important message. The Government's policy has not changed, will not change. But, I can confirm that since we came to Government some 8,500 Afghans have been resettled in Australia. We have been continuing to process through our official humanitarian program, working through the legitimate channels, some 8,500 Afghans into Australia, ranging from about 1,300 a year, up to about 1,900 a year, and we are going to continue to do that. We will be ensuring this year that we believe we'll be able to provide around 3,000 visas. Now, that's more than double what we've been doing, and in some cases triple what we've been doing, in the current year. And, we do believe we'll be able to do more than that. You would have heard other countries talk about figures of 5,000. I note that some are talking about figures of 20,000. But, can I tell you, there are no clear plans about that. Australia is not going into that territory. What we're focused on is right here and right now, and we believe working with the local community here, we are reaching out to the UNHCR, and the Foreign Minister will probably make mention of that. We are working through the channels that were so successful in bringing people out in other hazardous situations in the past. I've spoken to Paris Aristotle today who worked closely with us on those arrangements. He'll be working closely with the Minister for Immigration, Minister Hawke, to ensure that we are working with those communities to ensure that we can be able to establish the bona fides of individual applicants.
I already mentioned to you yesterday that the files of those who proved not to be locally engaged employees had already been transferred to be assessed under that refugee and humanitarian program. That is already occurring. So, Australia, at the very least, through our official channels, will be processing, we believe, at least 3,000 in the current financial year, and we believe more can be accommodated potentially within our existing arrangements. COVID has meant that the process of running our refugee and humanitarian program, like all of our visa programs, have been running at lower levels, and so we can accommodate these additional numbers, but within the existing processes.
I also confirm that those who are IMA's, those who have not come to Australia the right way and are on temporary visas in Australia, they will not be offered permanent residence in Australia. That will not change. I want to be very clear about that. I want to send a very clear message to people smugglers in the region that nothing's changed. I will not give you a product to sell and take advantage of people's misery. My Government won't do it. We never have and we never will.
Let me turn now to the issue of the COVID-19 pandemic, and then I'll ask the Foreign Minister to make some remarks on the matters I've already raised. It was difficult news today in New South Wales, but we won't let it beat us. And, there's good reasons why, because Australians are making such strong progress on what we need to do about it. We will reach one in two Australians who have had their first dose, we believe probably tomorrow. In fact, we may even be there today because of the lag in the reporting of the numbers. One in two Australians have had their first dose. That's what we're achieving. 40 per cent over the age of 50 have been fully vaccinated. 273,000 additional doses just yesterday. That's 273,000 rays of light coming in from the end of that tunnel that I talked about yesterday. We are going down that tunnel and every vaccination shines light for Australians to see. And, I want to thank those 273,000 Australians yesterday, to create those rays of light, those rays of hope.
Tasmania, just like Ariarne Titmus, leading the leaderboard when it comes to vaccination. One third double dose vaccinated in Tasmania. Well down Tassie. Almost 200 doses, as I said yesterday, in this country happening every single minute. That's what's being achieved. 1.6 million vaccinations in just a week now, 1.6 million. And, just so, for those of us, all of us who've been going through what has been a difficult last two months, this is what you've achieved in just two months. We've gone from 4.5 per cent double dose vaccinations two months ago to 27.5 per cent. We've gone from 5.1 per cent to our 50s to 40 per cent, and we've gone for over 70s from 7.5 per cent two months ago to over 50 per cent, 54 per cent today. That's what you're achieving, Australia. I know it's tough to go through each and every day and hear that news, but be encouraged that what you're doing every day, staying at home, staying in place out there in western New South Wales, doing all of those things, is making a big difference. Getting vaccinated, getting tested. That is taking us closer and closer to 70 per cent and 80 per cent every single day. So, thank you, Australia, keep going.
In relation to western New South Wales, happy to take questions on that later. But, can I send a big thank you to Riverbank Frank. What a legend. How good's Riverbank Frank - out there sending those messages that we were talking about yesterday, showing that leadership he has displayed across his life as an elder in that community. Thank you very much, Riverbank Frank. ADF are now out there supporting those efforts, been very close cooperation between the New South Wales Government and the Commonwealth Government in working through those issues. Of course, the focus of so much of the effort is on Sydney, and particularly in western Sydney and south western Sydney. But, there is a real challenge out there in western New South Wales and people are working very, very closely together to address what is a, you know, a very difficult situation. But, I'll pass you over to the Foreign Minister.
SENATOR THE HON. MARISE PAYNE, MINISTER FOR FOREIGN AFFAIRS: Thanks very much, PM. And, as the Prime Minister said, we're very pleased that the first Australian airlift from Afghanistan successfully landed this morning, having left Kabul International Airport at about 7.20am our time today, and there will be more flights in coming days. We're working closely with our international partners to make arrangements for those flights.
I particularly want to thank the ADF and the officers from the Department of Foreign Affairs and Trade and Home Affairs for that successful work in what is a very complex and challenging environment at Hamid Karzai International Airport, and in Kabul more broadly, and particularly in cooperation with the United States and with other partners. We also acknowledge those partners who have secured the airport under difficult circumstances, enabling those flights to go in and out. It is very difficult and continues to be very difficult for people to get to the airport and to access the airport. The Australian team on the ground is working with our allies at the airport on the process for subsequent flights. Our consular team at DFAT is in regular contact with Australians and New Zealanders who are registered with us to provide advice as it becomes available. We are, and we will continue, to help our neighbours in the region with their citizens as and when we can in terms of their need to depart.
This, of course, was the first flight in, in what is, as I said, a complex and fluid situation. We have been contacting as many Australians and visa holders as we can and supporting their efforts as we are able to to get through the checkpoints and to get to the airport, and then into the airport. That work will continue and is our focus and our priority in terms of the coming days. We have to and we are staying in very close contact with all of our partners to enable this. We have said before, and I would reiterate, that we do seek and urge the Taliban, all parties, to allow and assist with safe passage out of the country for those who are seeking to leave.
In terms of the refugee and resettlement matters to which the Prime Minister referred, we will work and are working with our counterparts, with the UNHCR, with other agencies, in the coming days and weeks on what is a very challenging international problem. The meeting of the UN Security Council yesterday, chaired by India, also discussed these issues at some length, and the Secretary-General made very clear the humanitarian focus and priority of many around that table. We will continue to engage in those discussions and to work with them as we determine the assessments that the Prime Minister has referred to. Thanks, PM.
PRIME MINISTER: Phil.
JOURNALIST: [Inaudible] separate topics. First with relation to, regard to New South Wales, are you as confident today as you were a couple of weeks ago when you were in the Lodge, that the economy should avoid a recession, a double dip recession? And, on an unrelated matter, can I ask for your reflections on the decision by BHP to hive off its oil and gas concerns to Woodside? Do you see a broader message there on the environment, on climate change?
PRIME MINISTER: Sure. On the first one, the advice that we've received not only from Treasury, but also the Reserve Bank, that the comments the Governor and others have made, the expectation is as follows. We get the country to those levels of vaccination. We open up the country. The economy comes back strongly. And so the sooner we achieve that, the sooner that's realised. And that should address the very issue that you've raised. That's why it's so important that we maintain this pace on vaccinations. I said yesterday, Australia, in a 7 day period per capita, that is stronger than what the UK had achieved. So the vaccination programme is hitting those very high level marks now. And that continues then, whether it's myself or the Treasury Secretary, the Treasurer, of course, the Governor of the Reserve Bank, others who are examining these issues, they know that once you are able to release these restrictions, then we see the economy come back very, very, very strongly. And that would be my expectation, because that's what we've seen before. Now, the timing of these things, that's a separate issue. But at this pace, then, you know, I do remain optimistic. I do remain confident in the Australian economy because there is no issue with the Australian economy. There is an issue of the impact of COVID-19 and the restrictions that are holding that economy back. But as soon as we're able to release those, that's why the national plan, that's why getting the 70 per cent and 80 per cent and following through with a national plan and the confidence that national plan gives, I think, to businesses to look ahead and plan. And the discussions I've had with our major banks reflect this. They're revealing to us that they're working closely with their customers and they're seeing the same thing, that businesses are looking after their balance sheets as best as they can and putting themselves in a position. So the big difference between this time this year and say when we go back to May, April of last year is there was so much uncertainty. As I said at the time, we were looking into a COVID abyss with complete uncertainty as to what that would mean and how things would play out. Now, there's certainly still uncertainties, but people know that once you get the restrictions out of the way, the customers come back, the businesses come back, and businesses from what their bankers are telling me, are understanding that and are planning for that outlook. 
On the other matter, I mean, I welcome the announcement. I welcome the combination of those two great, those two great entities, to provide a real focus in this sector. And as I was saying to Richard Goyder last night, I think this provides another point of example, whether it's in that sector, in the petroleum sector or whether it's in our mining sector or in our agricultural sector about the transformations that Australian companies are achieving as they go down their path of being profitable on energising Australian industry and at the same time reducing emissions. These companies, I think, will be showing the world how this is all achieved. And I know that's a core part of their mission. Yeah, I'm just going to move across.
JOURNALIST: A matter of detail, the broader issue, how many people do you think the Australian forces are going to be able to bring out of Afghanistan and how long is that likely to take? Secondly, the Taliban are giving certain assurances. Can they be trusted? And can you see your Government or a future Australian Government ever recognising a Taliban Government in Afghanistan? 
PRIME MINISTER: Well, in answer to your first question, we will bring out as many people as we can as quickly and safely as we can. And that's what we're doing. And I will be updating you, along with the Foreign Minister, on the progress of that mission that is currently underway, as I have done today, and will update you on that once, you know, each of these flights have been completed. And we'll give you that, we'll give you that information. But our goal is as many as we can, as safely and as quickly as we can. On the other matter Mark, remind me? 
JOURNALIST: The Taliban, certain assurances, can you trust them, are these people you can work with? Will you ever recognise the Government?
PRIME MINISTER: I'll add to my answer. I'm making no assumptions, absolutely no assumptions about any commitments that are being given to others. I'm working on the basis of getting people out as quickly as I can and as safely as I can. I will welcome a better environment, but I'm not counting on one in terms of my planning and our sense of urgency in the activities we're engaged in right now and making sure we do those as swiftly as we can. As for the broader diplomatic situation in the future. Well, I know their form and I'm acting on the basis of their form. Marise. 
SENATOR THE HON. MARISE PAYNE, MINISTER FOR FOREIGN AFFAIRS: Prime Minister, we are obviously engaged with like-minded partners on these issues. No government has been formed, remains to be seen what, what form and membership that government has. And I would also say a request for trust is usually met by an expectation that trust is earned.
JOURNALIST: Just without seeing the numbers, do you have a clear idea of where the people are that you are trying to get out and where they are, I'm assuming that most of them are in Kabul? How difficult is it to get across Kabul at the moment? And do you have assurances that they'll have safe passage to the airport? And I'm assuming that outside of Kabul, it's going to be almost impossible to get anyone from there to that airport? 
PRIME MINISTER: Well, I'll ask the Foreign Minister to respond to that. We can't, it's impossible to over assume any certainty here, I should say it is a very uncertain environment. It's an incredibly uncertain environment, and it changes every day right across the country. We do know that there's been movement of peoples from across Afghanistan into Kabul. We do have an understanding of those we are seeking to contact and we are seeking to do just that. But it is not easy. That's why I'm pleased that we have been moving on this now for many, many, many months. As I said, you don't get 430 people out of Afghanistan and process them, get them through health and security checks. Do all of those things, confirming their identity. I think we have to also explain to Australians that we're dealing with people who worked for us not last week, but they may have worked for us four years ago or five years ago. And we knew where they were then. And we may not have heard from them for a very long time. And we don't know what they've been doing in that intervening period in what has been a very unstable situation. So it isn't just a matter of people coming along and presenting, you know, a payslip from the Australian Government saying, I used to work for you. I wish it were that simple. It is not that simple. It is incredibly complicated. And that's why we've been so meticulous in working carefully through that process that those we bring to Australia, we know who they are, we know what they've done, and we want to be there to support them. And we brought family members with them as well. And we're working through this in a very painstaking way. That's why I said to you yesterday, there will be, it's a very difficult thing to give an absolute guarantee, and particularly as you work out across the whole country. But, Marise?
SENATOR THE HON. MARISE PAYNE, MINISTER FOR FOREIGN AFFAIRS: Thanks, PM. Kabul, as I have said, is obviously a very complex and fluid environment with a whole range of security issues, including the establishment of multiple checkpoints around the city, which are broadly Taliban controlled, the engagement of the Afghan National Army around the perimeter of the airport as well. So we are working closely with the US, particularly the UK, others, Germans included, to try to improve or address those security challenges, as it were, those checkpoints particularly, and then the security in terms of access to the airport. And there needs to be a balance, obviously. And we expect that balance will be achieved between the security of the airport perimeter and the ability to enter the airport to depart. But yesterday there were multiple kilometre long traffic queues outside the airport. At one point, people were having to be lifted over gates into the airport. It is extremely challenging. So we will continue to, to use the officials that we have on the ground who are well linked in with particularly the US and the UK to address those. In terms of numbers and on where they are. The majority of the people with whom we are in contact and who have sought our support are in Kabul, but not all of them. So for Australians and for visa holders, the majority are there. The difficulties of moving around Afghanistan have only been increasing in recent weeks as we have, as we have all seen, and we will continue to engage with, with those people. We also have an increasing number of Australians who have registered in with DFAT in Afghanistan from relatively low numbers just a fortnight ago to much higher numbers. And we're managing those cohorts as well of Australians and their families. 
JOURNALIST: Prime Minister, Qantas has now introduced mandatory jabs for workers. Would you encourage other companies to do the same? 
PRIME MINISTER: Well, they're decisions for those companies, but I commend Qantas for the way they went about it. They surveyed their members, their staff. Found almost, I think 90 per cent of their own staff had either been vaccinated or intended to be vaccinated. They talked to them. They worked it through. They have a reasonable position to be able to make this request. And they've gone about it, I think, in a very engaged way. And they've come up, I think with a fair and and well intentioned direction. So I wish them well with that. But I think they've shown, I think, the right model about how you go about this. And I welcome the fact because many of those employees are, you know, live in the Shire, in my electorate, and I know across my own community that people out there are getting vaccinated and understand the importance of that. And so I welcome the fact that so many Qantas employees understand the importance of it without even having to be asked. And I think that's what we're seeing. See there are certain circumstances where this may be necessary and the companies will move in those areas. But what I do know is I have great faith in Australians that they know what they need to do and, you know, they are doing it. And by tomorrow, one in two Australians would have actually gone out and got their first jab. All we had to do was ask them to do it. I have great faith and trust in them. I have great confidence in them doing the right thing. Michelle.
JOURNALIST: Two brief questions. The question of vaccinating young people, children, is now becoming urgent. Do you have any update on when the ATAGI advice is coming? And secondly, have you now had to abandon your hope of being in the United States for the ANZUS celebration in September?
PRIME MINISTER: Well, we had no official plans on that latter matter. 
JOURNALIST: Hopes? 
PRIME MINISTER: Well, we can have hopes and I think that's reasonable. But COVID tends to have other ideas about these things. And there are many international meetings and engagements that aren't possible to be done this year and we all understand that. But we will find, we will find our own way of dealing with those issues and we'll continue to work through, you know, the international commitments that we have and work those through, I mean, Quad meetings, things like this, there are aspirations for those as well. But we'll see how those play out. 
Now, you are right to say that the issue of the vaccination of children is, of course, an important issue. The TGA has provisionally approved the use of Pfizer for Australians aged between 12 and 15 years and on ATAGI's advice, the advice we have already received from ATAGI, this has now been opened for those with underlying medical conditions, Aboriginal and Torres Strait Islander children and those living in remote communities. Now, ATAGI along with their UK counterparts is now considering the expansion of this to all 12 to 15 year olds. If ATAGI provides that advice, planning is already well underway. This is a matter that we've dealt with regularly, both at National Cabinet in terms of the state based systems for potential school based vaccination programmes, and the work is already underway on how that could be done and planned together with the Commonwealth and the state and territory administrations. And, and we, it's not too far away, is my understanding. But equally, we're talking about the vaccination of our kids. And I want to be very sure about the medical advice we're getting about that. To Senator Gallagher, I can understand she's terribly upset about the fact that one of her own children has been affected with COVID. Any parent I can understand that would be absolutely heartbreaking, and I wish Evie and the family all the best for a speedy recovery. I'm going to do three, one, two, three. 
JOURNALIST: Prime Minister, the situation in Kabul indicates that anyone that is not in that city is going to be unlikely to be evacuated. Is it these people that you were talking about yesterday when you said we may not get everyone that we would like to bring to Australia? And if that's the case, how can we say we did all we could, given we've known as far back as November when the US indicated it was withdrawing from Afghanistan, that we had people in these regions that may need our assistance. 
PRIME MINISTER: What I'd simply say, that's exactly what we were doing. We have been aware of this and that's why we were progressing. That's why since January, 470 were able to get through. As I said, it's not a simple process. It takes months and months and months to go through that proper process of identifying individuals, the security issues that need to be considered in terms of people who are coming from such an area of the world and they're coming to Australia and with their families. And so Australians would expect me and the government to take all the necessary steps as we process those claims. And we have and we've done it very promptly. 430, having then been visaed, not just visaed, but then brought to Australia. So this is not a simple exercise that can be done in a couple of weeks. This is an exercise that takes months and months because people are in all parts of the country. They have had all sorts of experiences. They've moved around. They may have come in contact with other influences within the region and we need to be aware of those things. There are of course, medical issues, which were complicated, particularly by COVID, in terms of getting the support for people to have those medical assessments and checks. I mean, there's tuberculosis in Afghanistan and so we have to be conscious of those issues. So we have been moving with great haste for some time now to bring Australians and Afghans out of Afghanistan. And we have achieved a great deal in the full knowledge that we would have to do that swiftly, given the deterioration in the environment that we were seeing. Remember, it was the Australian Government that closed down its mission in May. That decision was criticised. We decided to do that because we knew and we got our own people out. In recent days and weeks, other foreign missions have been trying to evacuate their own diplomatic staff. We'd already done that in May. We'd already got our ADF out. We'd already moved. And 430 Afghan nationals also out before any of these events even occurred. So I would say the Government has been responding, has been on the front foot, just as we have been over these many years. 1,800 Afghans and their families already living here in Australia and some 8,500 brought here, living here under our humanitarian programme. And that says a lot about the way we have acted towards Afghanistan.
JOURNALIST: Prime Minister, the Foreign Minister overnight said there are only seven people able to get on the German flight out of Kabul because of the Taliban presence at the airport. We've managed to get twenty six people out. Can I ask of Australia's intended evacuees, how many now are actually at the terminal? Can you give us an idea of that? Is it only a small number of them, is it more than we think, can you give us an idea of the numbers? How are we going to get them in? 
PRIME MINISTER: I'm not going to go into operational details, because I don't think that's wise. We're working closely with all of those who are seeking to get to these evacuation flights. Now that we've got people on the ground that we've been able to get in over the last 24 hours, that's great. They're going to assist us with that. DFAT is working through their channels every day. The Foreign Minister might want to comment on this, but providing those sorts of, providing those sorts of details, I'm not going to put anybody at risk about where they are, we know who we are seeking to get out [inaudible]. And that's why we're moving with the utmost haste to do that. Marise did you want to. Sorry I was going to Andrew. 
JOURNALIST: Thank you. Just on firstly, what cooperation have you managed to extract from the states? Because when it comes to quarantining the returnees, because I understand, my understanding is Queensland and Tasmania are not offering to help. Maybe you could clarify that. And secondly, just following up Mr Riley's question, I understand that an approach by Australia in the past has been that while we might recognise the state, as we have done previously with Afghanistan, Fiji, Cambodia, I think there might be one other nation, we don't, we might not necessarily recognise the legitimacy of the government. What are the pre-conditions for us to recognise a Taliban government and does that include the treatment of women? 
PRIME MINISTER: Do you want to start on that one, Marise?
SENATOR THE HON. MARISE PAYNE, MINISTER FOR FOREIGN AFFAIRS: Thank you. That was very formal, but Mark's question was, was certainly I think one I responded to before. I'm not going to speculate about those matters. They will be the subject of international discussions, as they have already been in terms of the engagement at the U.N. Security Council. We will continue to talk with partners. And I think the Prime Minister's made our views fairly clear. 
PRIME MINISTER: And on the other matter, no, Queensland, are supporting and participating. And this is a matter we'll discuss again on Friday at National Cabinet to confirm a number of those arrangements. Of course, in Tasmania, they don't run international flights normally from other parts of the world, and their facilities are different to what's available in other states and territories, but that it, wouldn't be because of any reluctance to want to assist and I have no doubt the Tasmanian Government will provide whatever help they can to assist in this effort. There's been a spontaneous and ready response from all the states and territories, and I'm grateful for that, as indeed through the National Resilience Facility at Howard Springs as well, which will be playing a role in these repatriations. We were taking people out of Kabul, taking them through our base in the Emirates where we are, where we are expanding that capability to be able to have people there, as we work through their medical checks as well and their welfare and seeing they're okay. And then for onward transfer to Australia, that's the channel. There are not people sort of going there for any other purpose then onward travel to Australia. That is the way that our operations are working. And we'll have further discussions about that on Saturday, sorry on Friday, but we already have ample, ample capacity to deal with the flights that we have arranged. 
JOURNALIST: So first Darwin and then dispersed? 
PRIME MINISTER: I haven't said where they are flying to. I've said where the capacity will be and that all states and territories are providing whatever support they can. 
JOURNALIST: Prime Minister, I just want to get a sense of how significant the security situation was on the ground, sorry, how significant the security risk was on the ground at the airport. We're hearing reports that a former ADF interpreter was actually shot in the leg by the Taliban during the operation. Is there any truth to that? Do you know if there was any kind of skirmish around the Australian efforts?
PRIME MINISTER: I'm not going to comment on reports of that nature. What I'll simply say is this. Kabul is a dangerous place and we've got Australians operating in a very dangerous environment to get their fellow Australians and those who've helped our cause over a long period of time and to bring them to safety in Australia. And they're all heroes. Thank you.