Written by

Danielle Wood, Chief executive officer, Grattan Institute
At Friday's National Cabinet meeting, our nation's leaders put some meat on the bones of their 4-stage plan to reopen Australia.
The plan includes target vaccination thresholds and some details on restrictions that might be lifted at each stage. So far so good.
Read more: Vaccination rate needs to hit 70% to trigger easing of restrictions
But the plan raises two major concerns.
First, the reopening threshold is low. We won't know until we see the modelling, but it looks like the National Cabinet is taking a gamble that the outcomes of re-opening will be at the more rosy end of plausible scenarios.
Second, many important details are still missing, including the timing of each stage and, crucially, the steps the government is taking to get more jabs in arms.
The vaccine coverage thresholds for re-opening look low
The key stage of the plan is stage C. In stage C, the government commits to no more mass lockdowns, and vaccinated Australians can leave the country and return without quarantine.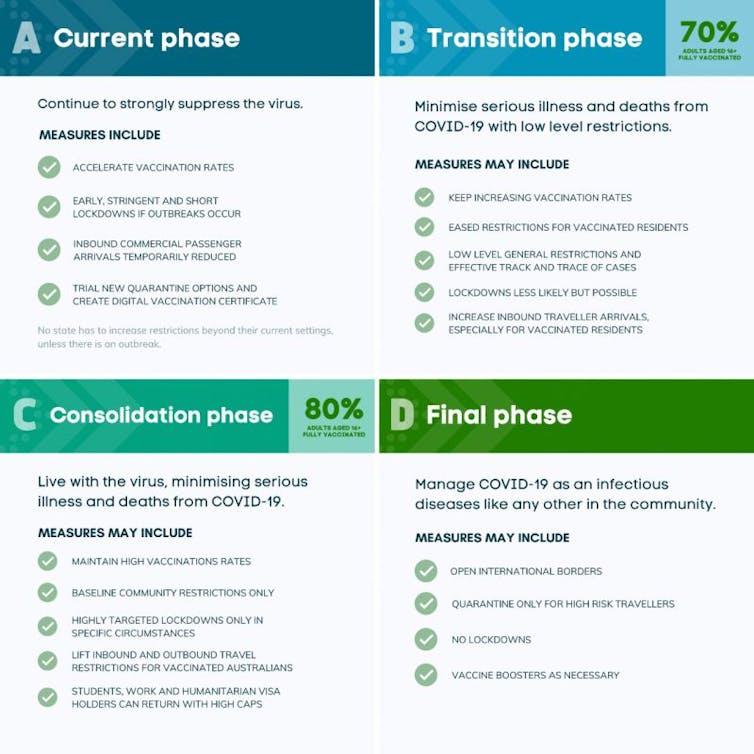 Authors: Danielle Wood, Chief executive officer, Grattan Institute
Read more https://theconversation.com/national-cabinets-plan-out-of-covid-aims-too-low-on-vaccinations-and-leaves-crucial-questions-unanswered-165447