Written by

Apisalome Movono, Senior Lecturer in Development Studies, Massey University
In the world of research and scholarship, being published in academic journals is crucial to both the advancement of knowledge and the careers of those involved.
In particular, the peer review process that determines who and what is published is integral to ensuring reliability and quality in academic research. As the University of British Columbia's Professor Sarah Hunt (from the Kwakwaka'wakw nation) has said, "It's really about who we cite in our work, whose work we hold up, which really validates and legitimises that as knowledge".
Unfortunately, for many Indigenous scholars, academic publishing and peer review present more of an uphill battle than for academics in general, in part due to the attitudes and practices of some reviewers.
It's true that strides have been made towards decolonising academia in some places. Universities in Aotearoa New Zealand, the Pacific, Australia and Scandinavia, for example, have sought to increase the number of Indigenous academics they employ and to support their research work.
But despite strong Indigenous cohorts within our southern hemisphere universities, Indigenous academics are still a minority. These universities also have poor retention rates for Indigenous scholars.
Read more: Traditional knowledge helps Indigenous people adapt to climate crisis, research shows
The recent publication Ngā Kete Mātauranga: Māori scholars at the research interface highlighted numerous constraints facing Māori scholars, who comprise only 5% of academic staff at Aotearoa New Zealand's universities despite representing 17% of the general population.
As one of the editors, Professor Jacinta Ruru, lamented, "Māori academics are lonely, isolated and struggling to be heard."
The problem with publishing
While issues of racism and unconscious bias within some of our higher learning institutions are gradually being addressed, there has been little attention given to decolonising academic publishing.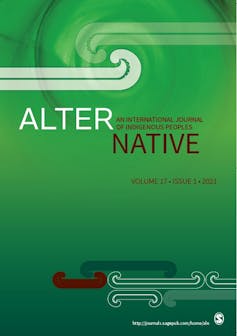 Authors: Apisalome Movono, Senior Lecturer in Development Studies, Massey University
Read more https://theconversation.com/indigenous-scholars-struggle-to-be-heard-in-the-mainstream-heres-how-journal-editors-and-reviewers-can-help-157860