Written by

Dr Jamie Q Roberts, Lecturer in Politics and International Relations, University of Sydney
Alice! A childish story takeAnd with a gentle handLay it where Childhood's dreams are twinedIn Memory's mystic band,Like pilgrim's withered wreath of flowersPlucked in a far-off land.
What is it that draws us back to Alice's Adventures in Wonderland (Alice for short), both individually and collectively? What is it that makes Alice, in the words of literary critic, Harold Bloom, "a kind of Scripture for us" — like Shakespeare?
For we are drawn back. Since the publication of Lewis Carroll's story, in England in 1865, it has never been out of print and has been translated into around 100 languages.
There have been numerous movie adaptations and many other works inspired by the story. Perhaps the greatest is a little-known, 1971 short film by the US Department of Health, Education and Welfare encouraging children not to do drugs.
One fears the film might not have had the desired effect: while the speed-addicted March Hare provides a salutary example of how poorly things can go on his drug of choice, the Mad Hatter's performance on LSD is a little too compelling.
Beyond the page and screen, a quick Google search reveals Alice-inspired art — from graffiti to Dali — tattoos, music, video games and shops.
Alice has strong mainstream appeal; this was entrenched by Disney's 1951 movie Alice in Wonderland (which is also responsible for people getting the title of the book wrong). However, Alice has become iconic for many subcultures, especially those with darker proclivities. Try exploring "zombie Alice" or "goth Alice", or watching the new Netflix series, Alice in Borderland, which is set in Tokyo. (Alice is big in Japan).
And this brings us again to the beginning of the conversation (Alice reference here for the boffins): What draws us back?
Read more: Guide to the Classics: The Secret Garden and the healing power of nature
Striking a blow against the adult world
The story begins with bored, seven-year-old Alice sitting on a riverbank with her older sister. Alice doesn't care for the book her sister is reading because it doesn't have pictures. She falls asleep and follows a dapper but flustered rabbit down a rabbit hole and into Wonderland.
In Wonderland she moves through a series of surreal vignettes in which she verbally tussles, but struggles to connect with, a stream of characters, such as the hookah-smoking Caterpillar, the Duchess, the Mad Hatter, the Cheshire Cat and the Queen of Hearts.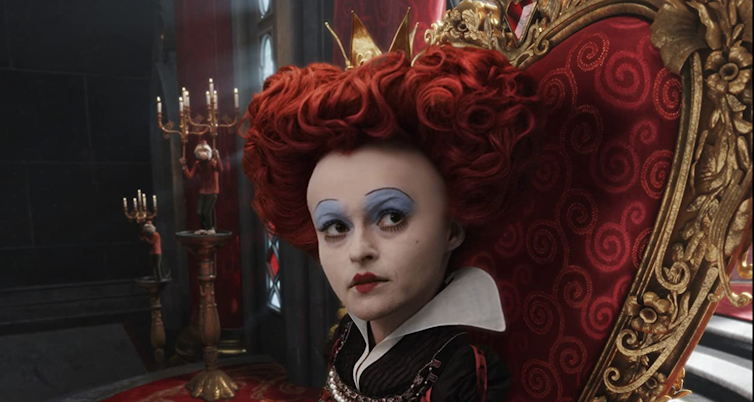 Disney Enterprises Inc
We are drawn back to the book by the first-rate banter between Alice and these memorable characters. Consider the following from the Mad Hatter's tea party:
"Then you should say what you mean," the March Hare went on."I do," Alice hastily replied; "at least — at least I mean what I say — that's the same thing, you know.""Not the same thing a bit!" said the Hatter. "You might just as well say that 'I see what I eat' is the same thing as 'I eat what I see'!""You might just as well say," added the March Hare, "that 'I like what I get' is the same thing as 'I get what I like'!""You might just as well say," added the Dormouse, who seemed to be talking in his sleep, "that 'I breathe when I sleep' is the same thing as 'I sleep when I breathe'!""It is the same thing with you," said the Hatter[.]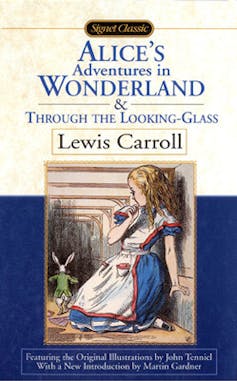 Authors: Dr Jamie Q Roberts, Lecturer in Politics and International Relations, University of Sydney
Read more https://theconversation.com/guide-to-the-classics-alices-adventures-in-wonderland-still-for-the-heretics-dreamers-and-rebels-152816