Written by

Samuel Alexander, Research fellow, Melbourne Sustainable Society Institute, University of Melbourne
Based in Melbourne, we set out to find new ways of seeing and understanding aspects of Australian urban life in the 21st century. We did this by walking the city without preconceptions, open and ready to absorb what the streets and sidewalks had to teach.
In search of disturbance and enchantment, we moved, journeyed, observed, discovered, wandered (and wondered), got lost, found ourselves, listened, smelled and meandered through the main streets and back alleyways, the CBDs and suburbs, the parks, cemeteries, buildings and cultures of Melbourne.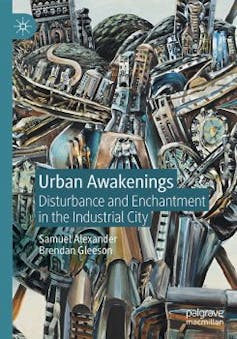 Authors: Samuel Alexander, Research fellow, Melbourne Sustainable Society Institute, University of Melbourne
Read more https://theconversation.com/tramping-the-city-to-find-enchantment-in-a-disenchanting-world-150938