Written by

Janna Thompson, Professor of Philosophy, La Trobe University
In 2017, when a biology professor in a state college in Washington protested against a proposed day-long ban on the presence of white students on campus, radical students shut the campus down.
The ban was part of a yearly college event designed to give black and minority students and staff a separate space in which to discuss the issues they face. Tensions were high that year. White nationalist groups had invaded the campus, targeting black students and members of staff.
The comments by the professor, Bret Weinstein, and his opposition to the colllege's equity programs, led to campus protests against him. In protest against the failure of the college administration to quell the students, he resigned from his job.
Helen Pluckrose and James Lindsay, the authors of the new book Cynical Theories: How Universities Made Everything about Race, Gender, and Identity – and Why This Harms Everybody regard Weinstein as a victim of an ideology they call Social Justice Theory.
They hold humanities departments responsible for bringing it into existence, and their aim is to explain why it is so pernicious.
Read more: Is 'cultural Marxism' really taking over universities? I crunched some numbers to find out
Social Justice Theory
Pluckrose, a US magazine editor who describes herself as an exile from the humanities, and Lindsay, a mathematician and writer on politics and religion, were participants in the controversial 2018 Grievance Studies project, which aimed to discredit gender and race studies by submitting hoax articles to academic journals.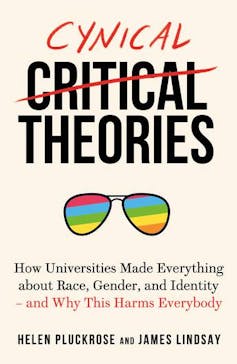 Authors: Janna Thompson, Professor of Philosophy, La Trobe University
Read more https://theconversation.com/friday-essay-a-new-front-in-the-culture-wars-cynical-theories-takes-unfair-aim-at-the-humanities-148524