Written by

Anthony Jorm, Professor emeritus, University of Melbourne
Federal health minister Greg Hunt has unveiled a A$48.1 million COVID-19 mental health plan, featuring A$7.3 million for research and data collection, A$29.5 million for outreach to vulnerable people, and A$11.3 million for communication and other outreach programs.
This is on top of the A$1.1 billion Medicare package to tackle mental health and domestic violence, announced in March, which included funding for telehealth mental health services by GPs and mental health practitioners.
Is the funding needed?
Mental health experts have warned of a "second curve" of mental ill-health in the wake of the COVID-19 epidemic. This will result from widespread anxiety and depression, both about the disease itself and the knock-on social and economic effects of the lockdown.
Read more: We need to flatten the 'other' coronavirus curve, our looming mental health crisis
Modelling has predicted that suicides could increase by 25-50% per year for up to five years, if urgent action is not taken.
It is hard to rely on any prediction with confidence, given this situation is unprecedented. Recent research from the Australian Bureau of Statistics indicates that the mental health effects of the pandemic are not dramatic so far. The graph below shows data from a national survey of symptoms carried out in April 2020, compared with earlier national survey data collected in 2017-18.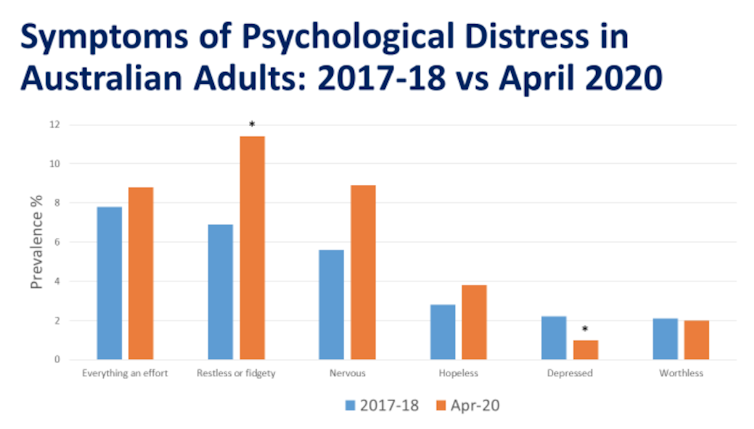 Authors: Anthony Jorm, Professor emeritus, University of Melbourne
Read more https://theconversation.com/the-government-will-spend-48-million-to-safeguard-mental-health-extending-jobkeeper-would-safeguard-it-even-more-138778