Written by

Peter Tregear, Honorary Principal Fellow, University of Melbourne
Review: Platform Papers 61: Criticism, Performance and the Need for Conversation, by Alison Croggon (Currency Press)
"Pay no attention to what the critics say", quipped the composer Jean Sibelius in 1937, because "there has never been a statue set up in honour of a critic."
Well, as music critic Alex Ross has observed, that's not quite true, even if Ross does go on to conclude that the small number of statues to critics that do exist around the globe are merely "the exceptions that prove the rule".
And yet, the work of a first-rate critic can be as important to the appreciation and understanding of a work of art (or performance) as our immediate experience of it.
Good critical writing can (among other things) prompt us to reflect on the quality (or otherwise!) of that experience, provide us with an historical context, and help draw our attention to the kinds of formal, social, political, and aesthetic content it might have.
A new platform paper by Melbourne-based novelist, poet and theatre critic Alison Croggon (Criticism, Performance, and the need for public conversation argues, indeed, that were critics to disappear from our public life altogether we would surely miss them.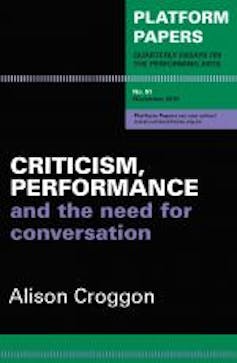 Authors: Peter Tregear, Honorary Principal Fellow, University of Melbourne
Read more http://theconversation.com/alison-croggon-and-the-arts-critic-as-an-endangered-species-126600