Written by

Dr David Challis, Postdoctoral researcher and sessional tutor, University of Melbourne
In the market parlance of boom and bust cycles, the Australian art market has long been leaning towards the latter. Over the past decade, it has performed very poorly. According to Australian Art Sales Digest, the combined volume of secondary market sales through Australian auction houses was $107 million in 2018. This amount has remained essentially unchanged for the last ten years and is 39% lower than its apex in 2007. Prices for Australian artwork in the secondary market have followed a very similar pattern.
Commercial art galleries, traditional representatives of artists' new work, are struggling to counteract declining foot traffic. There are fewer now than there were ten years ago, with several new closures, such as the landmark Watters Gallery in Sydney, announced in recent years.
Struggling artists
This decline in demand has of course resulted in a disheartening reduction in the incomes of many of Australia's visual artists. Lowensteins Arts Management, accountants to more than 4,000 Australian artists across all creative disciplines, has calculated incomes for "established" visual artists decreased by 15% between 2010 and 2017.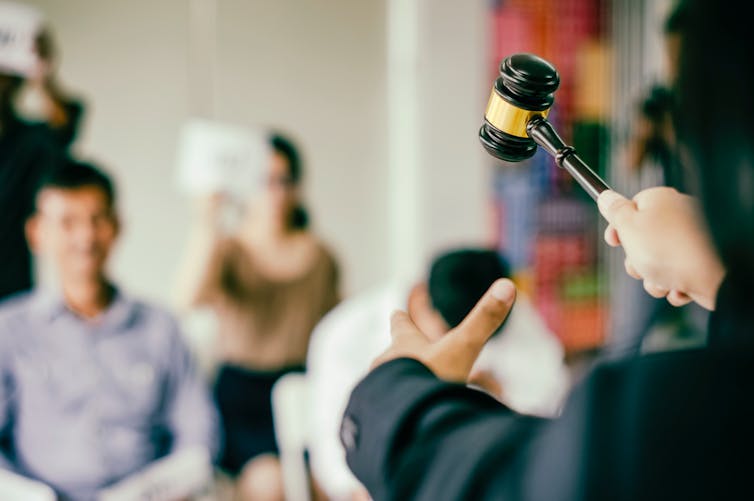 www.shutterstock.com
Incomes for "mid-career" artists fell by 4% over the same period. Interestingly, "emerging" artists benefited from a gain of 109% in their incomes - but these incomes were very low to start with.
Media commentators and industry operators commonly blame this underperformance on the economic disruptions brought about by the global financial crisis. Certainly, the immediate drop in auction sales experienced in 2008 can be attributed to the loss of wealth and confidence that was endemic across the globe at that time.
However, the recently released The Art Basel and UBS Global Art Market Report 2019 shows that art market sales in the United States, the epicentre of the GFC, have increased by 38% in the decade since 2008, with global art market sales increasing by 9% over the same period.
Given Australia's experience of the GFC was less severe than most other industrialised countries, it's time to start identifying and dealing with the specific factors responsible for declining demand in the local art market and the consequent impact on visual artists' livelihoods and careers.
Unintended consequences
Prior to 2011 in Australia, collectable and personal use assets, such as artworks, were cost effective for self managed superannuation funds (SMSFs) to own because they could be leased to the fund's members, stored in their private residence and insured under their house and contents insurance.
Concern SMSF members might be tempted to gain a benefit from these assets before their retirement by displaying them, as opposed to simply storing them, led to the prohibition of this practice in July 2011.
Despite politicians from both sides promising these legislative changes would "not act as a disincentive for SMSFs to invest in Australian art", the new requirements for collectable assets to be stored offsite and independently insured resulted in a substantial increase in the cost of owning artwork through a SMSF.
The following chart illustrates the impact on SMSF demand for collectable assets. While SMSF balances have increased from A$395 billion in June 2011 to $715 billion in March 2019, SMSF investments in the collectable asset class have fallen from $713 million to $371 million over the same period.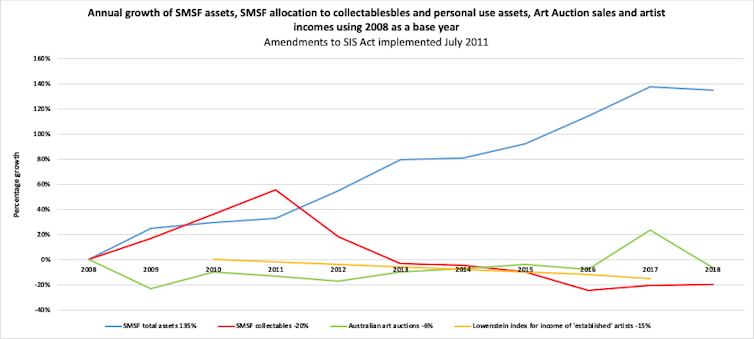 Authors: Dr David Challis, Postdoctoral researcher and sessional tutor, University of Melbourne
Read more http://theconversation.com/friday-essay-the-australian-art-market-has-flatlined-what-can-be-done-to-revive-it-122932