Written by

Paul McGreevy, Professor of Animal Behaviour and Animal Welfare Science, University of Sydney
As Australia prepares to farewell the beloved racehorse Winx in her final race this weekend, it's interesting to look at the factors that contributed to her incredible success.
This magnificent mare's extraordinary career reflects her impeccable genetics, rearing, training, strategic rest periods, and race riding. Optimal heart, lung and muscle function also play a part.
But what about something we refer to as her "economy of locomotion" during high-speed galloping? This is the energy cost of travelling a particular distance.
Read more: Vets can do more to reduce the suffering of flat-faced dog breeds
This can be compromised during a race, both by behavioural factors such as "pulling" due to overexcitement, and by any bias in the horse towards one side over the other, known as structural asymmetry.
We don't know whether Winx has perfect structural symmetry. But her trainer and regular riders would have a strong sense of the mare's balance during track work and races.
A matter of left and right
Bilateral symmetry in animals refers to the balance of structures, such that they are mirror images along the body's midline.
Asymmetry is a disruption of the left-right balance that may be associated with factors such as abnormal anatomy, chronic lameness, or laterality (a preference to use one side of the body rather than the other).
In horses, there is now evidence from laterality studies of differences in and between populations due to age, training, handling, breeding, sex, arousal and anatomical proportions, such a ratio of head length to leg length.
Racecourses vary from state to state
Horse racing in Australia is rarely done only in a straight line. In New South Wales and Queensland, for example, horses race in a clockwise direction, whereas in Victoria they race anticlockwise.
Winx has raced and won mostly in NSW but has also won four Cox Plates (Victoria), so clearly she can cope with both track directions.
For many others, race direction can matter and may risk injury to a horse.
On bends, it is common for horses to use the left leading leg when galloping in an anticlockwise direction, and vice versa. But, because of asymmetry, many horses have a preferred leading leg. So, depending on the state, the bends favour some horses more than others.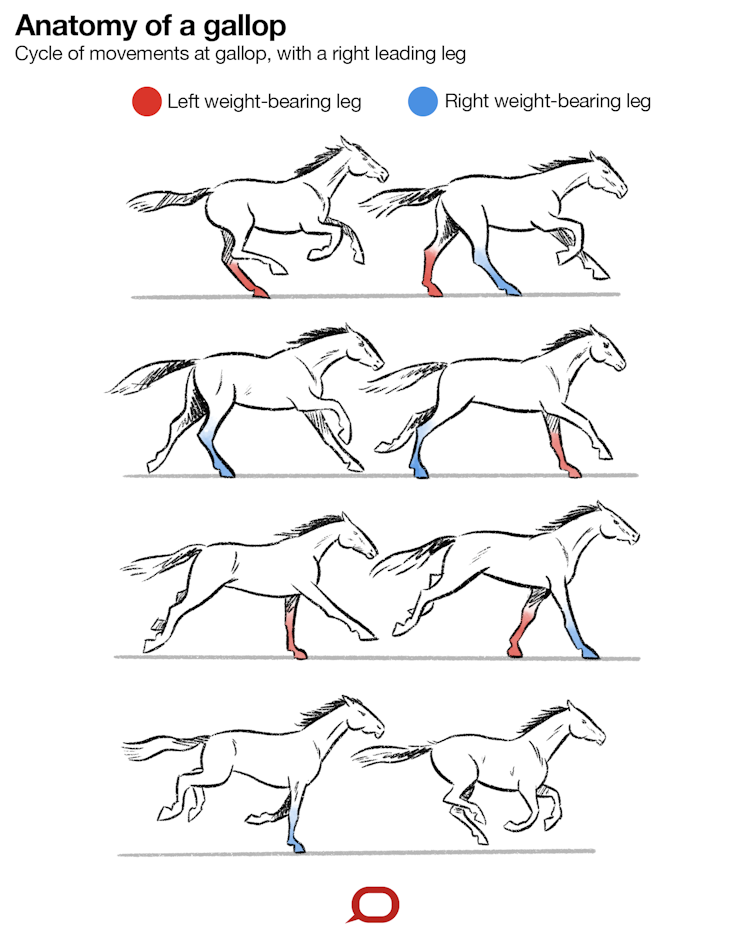 Authors: Paul McGreevy, Professor of Animal Behaviour and Animal Welfare Science, University of Sydney
Read more http://theconversation.com/the-success-of-winx-shows-the-value-of-symmetry-in-race-horses-115148