Written by Maggie Kerrigan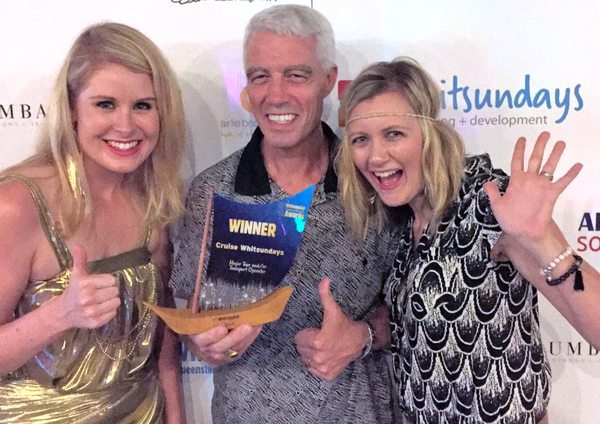 For the second year running Cruise Whitsundays has been named the top Major Tour and/or Transport Operator in the Whitsunday Tourism and Business Awards.
Cruise Whitsundays' CEO Nick Hortle, pictured here with staff Alyce Carter (left) and Danielle Krista, said the company was delighted with this year's win and proud to be part of the tourism community in the Whitsundays where the future was looking bright for the sector.
"Our region is privileged to have the icons of the Great Barrier Reef, 74 island wonders and the No. 1 beach in Australia, Whitehaven Beach. We are seeing on-going increases in visitor arrivals, not only from throughout Australia but also from around the world with increasing numbers also arriving by cruise ship. All of this is very exciting for the economic growth and development of the Whitsundays."
Following last year's Whitsunday awards Cruise Whitsundays went on to win gold in the Major Tour and/or Transport Operator category of the Queensland Tourism Awards. The company now qualifies to enter the state-wide awards again this year.
Mr Hortle said Cruise Whitsundays was one of the largest marine tour and transport operators in Australia with over a dozen vessels out on the water providing resort connections and 16 tours showcasing the best of the Whitsundays region and the Great Barrier Reef, including the Reefsleep experience where visitors can overnight some 75 kms out on Hardy Reef.
"If Cruise Whitsundays was an airport, we'd be in the top 20 busiest in Australia," he said. "We've carried nearly 630,000 people in the past year and that's more passenger movements than our local Hamilton Island Airport and Whitsunday Coast Airport, as well as being more than airports at a number of tourism destinations such as Alice Springs and Ayers Rock.
"All of our staff are passionate about the Whitsundays and I thank each one of them for their commitment to providing outstanding customer service every day. Their dedication is what leaves a lasting impression with our guests."
Award winning 'Cruise Whitsundays' is an experienced maritime operator offering a range of Day Cruises and Island Resort Connections as well as tailor-made activities for the conference, incentive and Weddings market. Cruises visit the Great Barrier Reef, Whitehaven Beach and islands. 'Resort Connections' provide services between island resorts to and from the mainland and airports.