Written by

NewsServices.com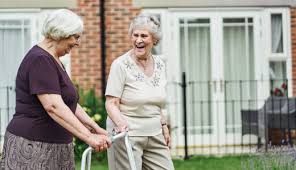 When a relative gets older, you'll have to have a serious discussion about their future. While there are a lot of options, such as supportive living or homes, most people want to stay in their own home as long as possible. So, how can you help them achieve this wish?
Adapt their home
Many homes simply aren't designed very well for older people or those who struggle with their mobility. If your relative bought the home many years ago, they may not have thought about things like getting around as they get older. Luckily, there are lots of adaptations you can make to make life more comfortable. Look for mobility & wellness aids in Australia for sale online, as there will be products for around the home, as well as ones that'll help your loved one to get out and about.
Some fittings you may want to add to their home could include:
* Rails in the bathroom

* A walk-in shower or tub

* A walker to get around the home

* Stairlifts

* An adjustable bed
The good thing is, with an ageing population, lots more gadgets are being designed to keep older people safe, which means there are solutions to all sorts of problems.
Use proper protection to prevent the spread of viruses
While COVID is hopefully starting to retreat, precautions do still need to be taken to stop the spread of the virus. Wearing the right mask to protect against viruses is key, and a lot of people are now using masks whenever they have a cold or flu now. If you're doing personal care or preparing food, you should make sure you wash your hands thoroughly before and after and keep things as clean as possible. Older people can be more susceptible to viruses, and something that's minor in a young person might be quite serious for an elderly person.
Help them manage their money
Another thing that can be a struggle for older people who live alone is managing their money.
Many older people find it hard to use online banking, and may get confused by modern banking processes, so it's worth finding out if they need help with balancing their bills. Also, you may want to look into the benefits available for older Australians to make sure they are claiming everything they are entitled to. Not all older people know that they can claim certain benefits, and this may help with care costs, or simply day-to-day expenses, so it's worth filling in a form.
While you may not agree with their choice, elderly people often want to stay in their home as long as possible. It's a good idea to look at ways that they can remain independent, such as adapting their current home so that they can get around. People are living much longer now, which means they're less likely to want to go into care homes for several years. Therefore, looking at ways to help them stay at home can make them happier and respect their wishes.