Written by

Tess Sanders Lazarus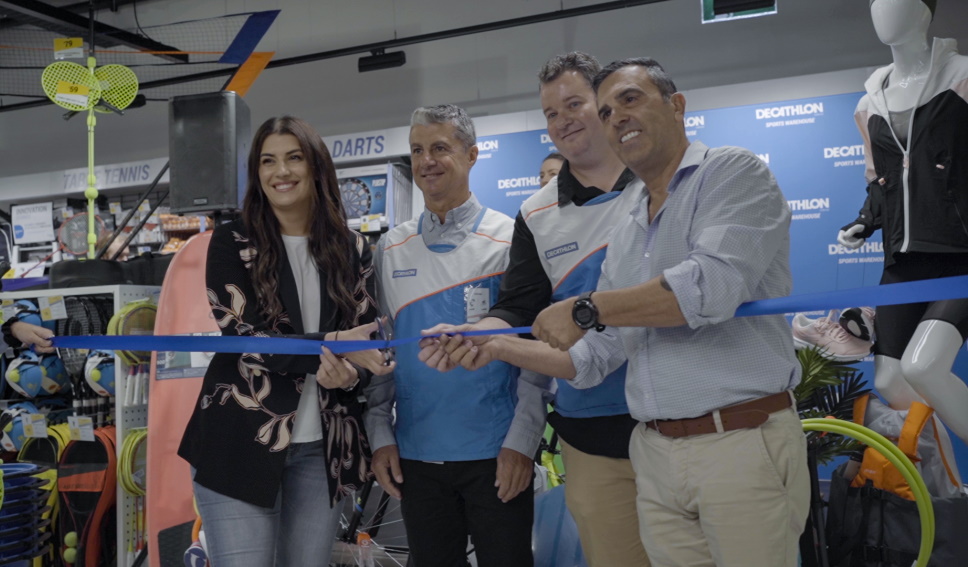 International sporting goods designer and retailer, Decathlon, has announced it will open its next warehouse store in Westfield Miranda on Saturday 16 April 2022.
The new store will feature all the latest innovations in store layout, products and format and the opening day will include amazing offers, giveaways and interactive displays and activities.
Continuing to expand its physical footprint across Australia at a cracking pace, the Westfield Miranda Decathlon Sports Warehouse will be the brand's seventh site in Australia. It has already opened four warehouse stores in Melbourne, and two in Sydney and the soon to open Miranda store will increase its Sydney stores to three. In addition, the brand's online presence is also growing at an exponential rate as hundreds of thousands of Aussies learn of Decathlon's unrivalled service, quality and affordability.
The Westfield Miranda Decathlon Sports Warehouse is the first site to be located within a shopping centre.
"Westfield Miranda is the perfect location for our next store. It is one of the largest hyper convenient shopping centres in the region," Decathlon Australia, CEO, Olivier Robinet said
"Aussies love shopping locally and value the convenience of shopping centres that provide them with the ability to access all the products, services and facilities they need under one roof. Decathlon exists to make sport accessible to the many and this means we need to expand our current destination and large format experience stores to include convenient shopping centre style locations.
"We are excited to be coming to the Sutherland Shire, a community with a love of sport, the great outdoors, adventure and some of the world's most beautiful beaches. We want to help create a unique experience for the local and customer to try our innovative and high quality products at affordable prices, supporting the local community to surf, swim, ride, snorkel, camp, hike and play more.
"Our Westfield Miranda Decathlon Sports Warehouse is going to offer all the very best and latest innovations in store layout, products and format including our newly launched Decathlon products, innovative experience zones and expanded sports ranges.
"We can't wait to be part of Westfield Miranda and the Sutherland Shire. Currently in the Shire, there is no other retailer offering over 70 sports under one roof, so this is a great opportunity for both the Decathlon brand and the community."
Trish Dullard, Westfield Miranda Centre Manager said, "Listening to our customers is at the heart of everything we do. We value our customers' feedback and continue to deliver a retail mix that caters to their evolving needs and interests.
"We are delighted to be welcoming Decathlon Sports Warehouse to Westfield Miranda, our first Decathlon location in the Westfield portfolio. Decathlon Sports Warehouse's diverse retail offer resonates with the active lifestyles of our customers and is an experience we know they will really value and enjoy."
Decathlon will open on Saturday 16 April from 9.30am to 6pm and the day will be filled full of amazing offers, giveaways, interactive displays and activities and much more.
Decathlon Miranda
Westfield Miranda
Ground Floor (next to JB HiFi)
About Decathlon
Decathlon's core focus is to make sports accessible to the many - supporting people to live healthy lives, connecting and engaging with others in their community. Products are expertly designed to help people keep active and they are tough and durable, ideal for the school environment.
Decathlon is a member warehouse and membership is free. Shoppers simply sign up in store or online. Anyone can visit Decathlon but they must be a member to purchase products.
The brand is one of the world's largest sporting goods designers and retailers originating from France. With over 1600 stores across the globe in 50 plus countries and more than 80,000 staff worldwide, Australia is now well and truly part of Decathlon's growing worldwide presence and has already made a significant impact in the Australian market with its own brand of high quality products at affordable prices.