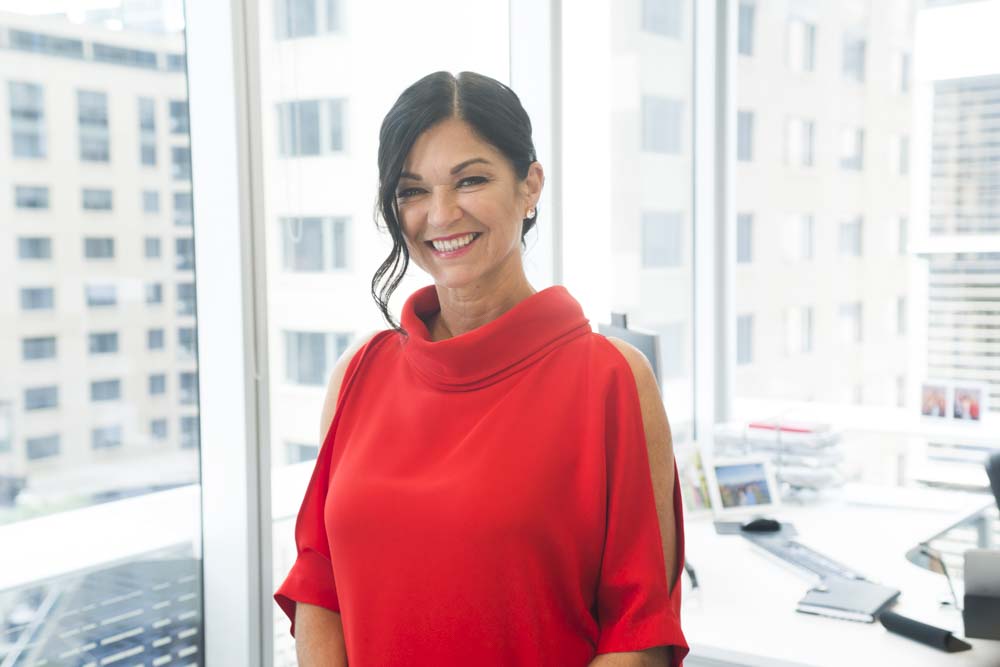 Founder and Managing Director of the Arriba Group, Marcella Romero, has won Managing Director of the Year at last night's The CEO Magazine's Executive of the Year Awards.

The CEO Magazine's Executive of the Year Awards celebrates the outstanding contributions made by the CEOs, managing directors and senior management who drive Australia's leading organisations. Twenty-four awards were given to CEOs, self-starters, tech pioneers and thought leaders across a number of industries considered to be the year's best Australian CEOs and C-suite executives.

A challenging childhood, including migrating to Australia from Chile at nine, didn't stop Ms Romero from fulfilling her dream of helping those most vulnerable. From her one-woman home office in Sydney's Hunters Hill 20 years ago to a flourishing business with more than 100 offices nationwide, the Arriba Group is reshaping the future of thousands of Australians through return to work, disability employment and NDIS allied health services. It is made up of three health companies - AimBig Employment, LiveBig, and Rehab Management.

"Since starting my career, my goal has been to help others, especially after overcoming adversity and racism as a child migrant," she shares. "This has guided me through all phases of my expanding business. I want to make sure that people with physical disabilities and/or mental health issues are treated with the same level of respect and have equal opportunities in workplaces and in the community."
"For this reason, I am incredibly proud to have been named Managing Director of the Year, especially given it has been one of the most difficult years on record," says Ms Romero. The health and workplace rehabilitation sectors have been particularly affected by COVID-19, with the pandemic having a major impact on both the provision of health and wellness services, and how employers manage the health of their employees."

"It is fantastic to be recognised among such a distinguished field and I would like to congratulate all of this year's winners and finalists. It is particularly inspiring to see a record number of women leaders represented and recognised for their incredible work."

Arriba Group now employs over 400 staff and manages a massive portfolio, working with some of Australia's largest organisations, including insurers (Allianz, GIO, EML, Boral, Apple, QBE, AIA and iCare) and government departments and agencies (Veterans' Affairs, Home Affairs, Services Australia (formerly DHS), Health, Education and the Australian Federal Police).

Ms Romero believes Arriba Group's razor-sharp focus on innovation and their clients has really paid dividends for the business and, most importantly, their clients.

"For us, it's about embracing innovation at every level, no matter who you are in our business. But it's no use innovating when nobody's going to use it. The best way to innovate is to listen to the client," continued Ms Romero.

"As an example, the biggest trend in 2020 is the rise of workplace flexibility and staff wellbeing/mental health as major predictors of business continuity and success. Poor mental health is Australia's second largest health problem. We foresaw this and drew on the expertise of our internal allied health professionals."

"This has not only led to impressive staff engagement and retention but fed into the development of two on–trend customer apps. The Arriba Digital Wellness Platform is a person–centric digitalised tool for care continuity for employers and insurers to support people at risk of a mental health issue - either independent of, or in addition to, a workplace or other injury."

On a personal level, by being authentic and true to herself, Ms Romero effortlessly inspires and leads by example.
"My secret weapon is being myself," Ms Romero says. "I've been told in many business and personal arenas that my inspiration and passion are infectious. I truly believe in what I say and what I do, and that drives performance and excellence."

The Executive of the Year Awards is judged by a panel of 13 highly regarded business professionals. This year's judges include: Colleen Callander, CEO Sportsgirl; Georgie Harman, CEO Beyond Blue; Suzy Nicoletti, Managing Director Twitter Australia; and Chris Dutton, Founder and CEO The CEO Magazine.

In addition to the recognition by The CEO Magazine, Arriba Group has been recognised for a number of prestigious awards recently including AFR BOSS Most Innovative Healthcare Company Award 2020; Women in Leadership Award - Australian Growth Company Awards 2020 (CEO Marcella Romero); Company to Watch – Australian Growth Company Awards 2020 (AimBig Employment)


About Arriba Group
Arriba Group has a family of companies that have been created to give people their best opportunity in life. The group was founded by Marcella Romero, a strategic, passionate and innovative leader who expanded a one-woman home office to three successful enterprises — Rehab Management, AimBig Employment and LiveBig — with over 400 diverse employees across 106 offices, all working to deliver quality services to its clients. Our business is a people business based on the absolute belief that every individual deserves a better future. Our success is predicated on this belief, it is at the heart of how we approach each business, challenging ourselves to ensure our service truly meets and exceeds the needs and requirements of our clients and innovations is the key to this.
https://www.arribagroup.com.au

Awards and achievements:
·       2020: The CEO Magazine Managing Director of the Year Award (Marcella Romero)
·       2020: AFR Boss Most Innovative Healthcare Company Award
·       2020: Women in Leadership Award - Australian Growth Company Awards
·       2020: Company to Watch – Australian Growth Company Awards
·       2020: Marcella Romero was recently selected from 9 countries across Asia Pacific (and 1 of 4 Australians) for the prestigious EY Entrepreneurial Winning Women global program for high-potential women entrepreneurs with know-how, connections, and community.
·       2019: Rehab Management were recipients of the ILC Economic Participation of People with Disabilities Grant through the National Disability Insurance Agency.
·       2019: Arriba Group was named the 8th most innovative health company in Australia for BusyBeans, a disability employment program promoted by AimBig.Error! Bookmark not defined.
·       2019: Marcella was a top 5 finalist in the Telstra NSW Business Women's Awards (Medium and Large Business)
·       2019: CEO Awards StartUp Executive of the Year finalist.
·       2019: Rehab Management was an iCare NSW CASE (Excellence & Innovation) Award Finalist.
·       2018: Health Executive of the Year Award CEO finalist (CEO Magazine) and a judge for the CEO Magazine Executive of the Year awards.
·       2017: A finalist in the Telstra NSW Entrepreneur Award
·       2017: Finalist in the CEO Magazine Executive of the Year Awards.
·       2017: Rehab Management was an iCare NSW CASE (Innovation & Customer Excellence) Finalist Awards.
·       2014: Winner of the Comcare WHS Award for the Rehab Management RMReach program.