Written by

Michael Gribben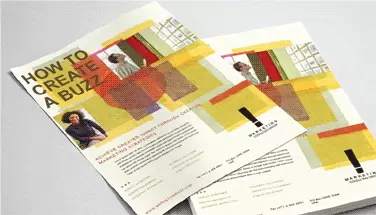 Among the three kinds of media used in advertising, print media is probably the most resilient one. Even with the emergence of audio-visual content and digital marketing, print still maintains a solid reputation and has proven to be useful in this technologically advanced day and age.
Although newspaper ads and billboards are classic choices, there's one more print medium that has become popular among business owners: custom printed foam board. This method was able to capture attention in print marketing because of its versatility and affordability. It has even expanded its reach across most – if not all – industries.
Aside from being cost-efficient, foam board prints are generally sturdy and lightweight, making them excellent for numerous situations in business and beyond. Be they wall-mounted or free-standing, laminated or matte, foam boards can be used just about anywhere.
Unsure about how and when to use foam board signs? This article covers four scenarios that are significantly improved thanks to the use of this type of marketing material, as well as the specific benefits that foam boards can offer businesses.


3 Benefits of Using Foam Board Signs
Using foam boards comes with a wide array of benefits for business. Aside from lasting longer than most materials, the foam board is also an excellent medium for high-quality photo printing, not to mention lightweight for ease of transportation.
A foam board allows for outstanding photo printing.
High-quality pictures can be printed on foam boards and these can be used in a variety of situations. In fact, foam board printing is an excellent choice for meeting presentations, advertising, and even art projects that require high-fidelity pictures and a superb finish. It can also be useful in decorating offices and provides versatility in stage set-up and design.
It gives your outdoor and mobile advertising an edge.
Since it yields high-quality images, foam boards can leave a solid impact on an audience. For example, retail companies that conduct on-site promotions can make use of this material as pop-up displays for higher point-of-sale revenue. However, what makes it a better choice is its usefulness in outdoor scenarios.
Because a foam board is lightweight and sturdy, moving it from one place to another is a breeze. This means you won't have to print several banners every time you move from one exhibit venue to another. These characteristics of foam boards are also useful in a school-based exhibit where children are allowed to move the material around.
You can print on both sides for cost-efficiency.
There are many benefits to be had from being able to print on both sides of a medium. Aside from targeting two directions to reach more audiences during trade fairs and conventions, printing on the two sides also allows more information to be placed onto the medium, as in the case of a foam board restaurant menu.

4 Ways to Use Custom Printed Foam Boards
Foam boards are great for reusable signages and customized hand-held business paraphernalia. Because of their portability and weight, transporting the boards from venue to venue is effortless. It is also safe for use around children and can even withstand wear-and-tear for an average of two years.
Not sure how you can use foam board for your business? Below are four situations or events that are made better with foam boards:
For Fairs and Conventions
Fairs and conventions offer opportunities to expand your market reach. During the planning process, you'll need to decide on the signages you would use during these gatherings. When doing so, it is wise to consider the advantages foam boards offer (mentioned above) for optimal results.
When combined with excellent copy design, a custom foam board's high-quality photo output can appeal to the event's attendees and present your business offering in the best possible light. This allows brands to attract attention easily, even amidst a sea of competitors.
Whether you're looking to expand your network, sell products or services, or hire new employees, you are definitely one step ahead of the competition with eye-catching foam board signs. Just make sure that the logo, contact details, and other pertinent information about your brand are visible in the design.
For Use in Restaurant Menus and Retail Price Lists
Other industries that can make the most use of custom printed foam boards are retail and food service.
In retail, foam boards are used to list down the product's name, price, and other details to help consumers as they shop. Keep in mind that reducing the need for customers to ask about your offering can save a lot of time, both for your staff and the client.
It can also improve customer experience significantly by streamlining the decision-making process. This is the very reason why mobile vendors and pop-up booths during events opt to use this marketing medium.
As for restaurants and other food service establishments, foam boards can also be used as a menu. Whether it's hand-held or mounted near the food checkout counter, foam board menus help guests make quick decisions for their meals.
For Presentations, Meetings, and Seminars
Due to the quality of photo print that they can provide, foam boards can also serve as excellent visual aids during seminars, company meetings, and presentations.
For most companies, presenting reports and proposals is always done with the help of laptops and projectors. However, it can be a bit more challenging to deliver the message across a big audience using these tools when the meeting is held outdoors.
With foam board signs, you can present charts and key metrics, summarize main points, and share any other information that requires visual aids without bringing additional equipment. You also have the option to set up a series of these customizable boards in an outdoor venue for an instant portable exhibit.
For Use in Studio Décor and Set Design
Beyond corporate settings and the retail and food service industries, the foam board has also made a mark in entertainment and design.
Since the boards can be printed with a high definition image and even customized to fit oddly shaped spaces, they can be used to create backgrounds to suit every photo or video scene. They can also adorn an art studio or serve as pieces for a wall mural to enhance the interior design of both commercial and residential buildings.

The Takeaway
From sales signage to visual aids, foam board printing has proven to be a useful tool for businesses. To ensure that you make the most out of your foam board sign, choose only the best printing service provider to customize it for you.
AUTHOR BIO
Michael Gribben specializes in Marketing and Product Development at King Printers Co. Ltd in Osaka, Japan and is the spokesperson for Print Arabia, the first Japanese online printing company in Dubai, UAE. Print Arabia offers hassle-free offset and digital printing, as well as large format, novelty and T-shirt printing services.