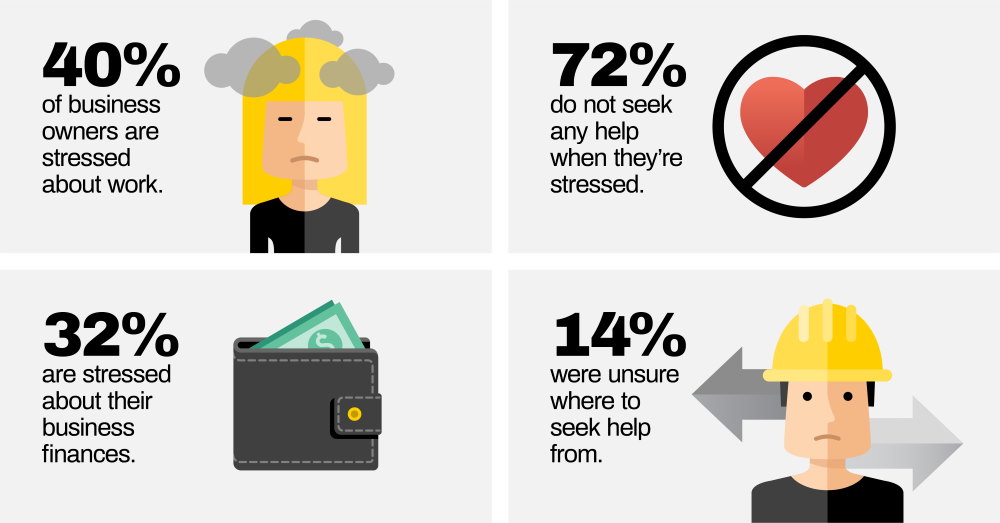 Almost half of Australian small business owners feel stressed or anxious about work every day, yet most don't seek help, according to a recent survey by Yellow.
Yellow surveyed 100 small business customers across the country from a wide range of sectors and found 40% of respondents are stressed about work, but an alarming 72% do not seek any help. This was most prevalent among small business operators aged 51 or above.

The survey investigated the impact of running a small business on the mental wellness of SMB owners, and how they cope with it.
Three quarters of the survey respondents have been running their business for more than 10 years, a tell-tale sign that managing work-related stress does not come any easier for seasoned SMB operators.
Managing business finances (32%), juggling multiple responsibilities (26%) and no work-life balance (16%) were cited as the top stressors. Half of those surveyed say they work more than nine hours per day – significantly higher than the daily average of 7.6 working hours.
One in five say not only their productivity takes a hit as a result of their work anxiety, but they also feel the brunt of it on their personal relationships. Despite this, 22% cite not wanting to be a burden to others as a deterrence from seeking help, while 14% say they are not sure where or who to seek help from.
"Running your own business can be hugely rewarding but it comes with high pressure and often small business owners find it hard to switch off from work after hours," said James Ciuffetelli, Yellow Executive General Manager.
"Having worked with Australian small businesses for more than four decades, we understand the challenges that come with being a small business owner. With Mental Health Week raising awareness of the issue this week, we want to remind all small business operators to take the first step of reaching out to someone – whether that's a friend, a partner or a family member – and start a conversation about their mental wellbeing."



Yellow has produced a mental health handbook for small business owners in partnership with RUOK?, which is available for download here.
About Yellow
Yellow helps everyday Australians find, choose and connect with the best local businesses Australia wide. Yellow is the longest standing business directory, helping consumers solve their everyday life admin pressure and get things done. As the digital marketing experts, Yellow also champions Australian small to medium businesses Yellow has an extensive range of digital marketing solutions including Yellow SEM, Yellow SEO, Yellow Digital Display, Yellow Social Ads, Yellow Websites and Pocket Office. Yellow is a division of Sensis – Australia's leading marketing services company. Other Sensis brands include White Pages, Sensis Data Solutions and Skip. Consumers can find.choose.connect at yellowpages.com.au. Businesses can find out more at yellow.com.au
About Sensis
Sensis helps Australians connect and engage through our leading platforms. We help create and manage valuable connections via our digital consumer businesses (Yellow, White Pages, True Local, Whereis and Skip), search engine marketing and optimisation services, website products, social, data and mapping solutions, and through our digital agency Found. Sensis is also Australia's largest print directory publisher including the Yellow Pages and White Pages. Find out more at www.sensis.com.au