Written by

Imogen Conyers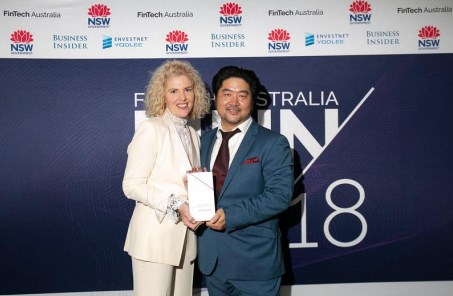 Civic Ledger has been awarded 'Emerging FinTech Organisation of the Year' at the 2018 Finnie Awards, hosted by FinTech Australia and NSW Government's Jobs for NSW, in Sydney last night. 
Founded in 2016, Civic Ledger is an Australian civic-focused blockchain company that works with governments to solve complex business problems by digitising operations and services using blockchain technologies. 
"We are very honoured to be recognised by FinTech Australia and the NSW Government as the Emerging FinTech Organisation of 2018," Katrina Donaghy, co-CEO and co-Founder of Civic Ledger. 
The company has been working with government clients including, the Queensland Government, the Australian Department of Agriculture and Water Resources and IP Australia, to explore how blockchain technology can make interactions with citizens easier, faster, more secure and transparent to deliver efficiencies and reduce costs.
"We are focused on using blockchain to build viable solutions that improve people's interactions with government for the longer term. 
"Building a community is central to blockchain technology. Self-organising, self-managing peoples' transactions with government to create economic and social benefits is at the heart of Civic Ledger's blockchain applications," added Ms Donaghy.
Victor Jiang is the Founder and Executive Chairman of Sapien Ventures, a fintech focused venture capital firm working with Civic Ledger. 
"Civic Ledger is involved in a number of world first pilots across a number of blockchain use cases in the government services space," said Mr Jiang. 
"It is also the only blockchain company in Australia with any meaningful commercial traction in this area, won through open market competitive tenders. We are therefore extremely optimistic about its market position in this emerging blockchain era," he added. 
The 2018 Finnie Awards recognises individual and business excellence and contribution across the rapidly growing fintech industry in Australia. A total of 23 awards were announced including FinTech Organisation of the Year, Outstanding FinTech Leader of the Year, Female Fintech Leader of the Year, Emerging Fintech Leader of the Year and Emerging Fintech Organisation of the Year. 

Image L-R Katrina Donaghy, Co-CEO and Co-Founder, Civic Ledger and Victor Jiang, Founder and Executive Chairman, Sapien Ventures

About Civic Ledger 
Founded in late September 2016, Civic Ledger is an Australian civic-focused blockchain company with a purpose to help governments globally to solve complex business processes by digitalising operations and services using blockchain technologies where advantaged over traditional legacy systems.   
At Civic Ledger, we are a team of public and financial sector experts, software engineers, and venture know-how inspired to solve business process challenges faced by public sector markets. We also have strong business backgrounds, which have firsthand experience in bringing companies to life.  This diversity in backgrounds and skill sets allows us to see the potential of blockchain technologies and smart contracts to enable citizens and organisations to self-manage the speed, convenience, and control over their transactions within digitalised societies.   
Our mission is to make people's interactions with governments globally easier, faster, more secure and transparent. It is Civic Ledger's vision is to have its blockchain based applications used by some of the world's largest governments to underpin its transactions with citizens and organisations to improve the customer experience in a digitalised society. 
Civic Ledger's business focuses on four main blockchain-based platforms: issuance of entitlements, registries, trading platforms and exchanges.