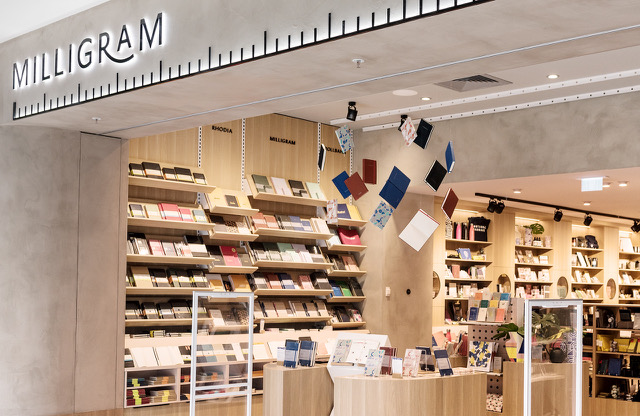 In November 2017, Milligram opened their first bricks-and-mortar store in Melbourne Central. On their physical and virtual shelves you'll find stationery, office and lifestyle accessories — tools for living from around the globe. Since inception ten years ago, Milligram (formerly e-commerce site NoteMaker) have brought to Australian authentic brands that have a strong heritage, quality and a story behind them to share with design lovers.
Milligram's parent company, 
Telegram Co.
 are the exclusive Australian distributor of over 35 designer brands including Moleskine, LAMY, Rifle Paper Co., Rhodia, Delfonics and their own in-house designed brand, Milligram Studio. This allows Milligram to provide an extensive range from these leading brands as well as a curated selection from additional global and national ranges including Kate Spade, Leuchtturm1917, Marimekko, ystudio and many more. 
Milligram pride themselves on excellent customer service and product knowledge, attention to detail and are passionate about everything they do. They hope to inspire those who like to "do" — create, write, craft, design or draw — by presenting truly special and worthy stationery and lifestyle products.
The Milligram store is designed by Melbourne's award-winning Studio Y and was built by MIC Projects. The store aims to reflect both the modern aesthetic and creative community focus of Milligram.  The store has recently been nominated for two design awards: 
2018 Melbourne Design Awards
 and the 
2018 Australian Interior Design Awards
.
Their Melbourne Central store located on level 2 has an impressive 8.6 metres frontage and provides a space for their brands to sit together and for their customers to play, interact and engage in a customer experience that the online platform cannot provide. In Central Melbourne is is easy to 
find stationery, office and lifestyle accessories
close by.
The store provides an interactive experience…
- An official LAMY shop-in-shop has been designed in-store with a different aesthetic to provide the LAMY experience, where specialised staff can assist in explaining the design details and benefits of each pen family, ranging from the LAMY noto (RRP $19.95) to the LAMY imporium (RRP $819.00)


- There are two interactive touch screens mounted on the walls where customers can browse the full range online and to find out more about each item. 


- A gift wrap station featuring an iPad where customers can select their gift wrap of choice. This makes gift wrapping accessible to customers.


- Notebooks, diaries and pens are open for display so customers can touch, feel and experience. 


- 150 mesmerising ink swatches have been created to inspire customers to experiment with new colours, pick up a fountain pen while bringing back the art of handwriting and note-taking to a new and inquisitive audience. 


- Roving iPads assist customers with their purchases, making it no longer a necessity to stand in a queue.
https://milligram.com/