Written by

Sommer Kapitan, Senior Lecturer in Marketing, Auckland University of Technology
If social media engagement rates determined which parties form the next government, New Zealand's parliament would soon look a lot different.
With its daily social media interactions commanding an average 7.7% engagement rate, Advance NZ (incorporating the NZ Public Party) would be streets ahead of Labour and National.
Opposing the COVID-19 Public Health Response Act 2020, 5G and the United Nations, and promoting anti-lockdown protests, might only get them to 1% in opinion polls — but it is a winning formula online.
Advance NZ's livestreamed anti-lockdown march in August netted 255,600 views — 86% of them generated by only 4,793 people who shared the posted video.
That's a higher engagement rate than many posts by the acknowledged Facebook champion of New Zealand politics, the prime minister and Labour leader, Jacinda Ardern, whose own posts routinely attract between 120,000 and 500,000 views.
Politics in the attention economy
Across the political spectrum, parties have seen the greatest boost in visibility when they post about hot-button issues: taxation, lockdowns, economic stress, mask wearing — even tobacco prices.
A photo meme of New Zealand First leader Winston Peters pledging to remove tobacco excise tax was among the highest-performing posts, gaining 24 times the party's usual number of comments, likes, shares and views.
The platform algorithms reward posts that outperform a party page's usual engagement rates. In a kind of snowball effect, high-performing posts are pushed higher into news feeds and deeper into the minds of voters.
Read more: The Facebook prime minister: how Jacinda Ardern became New Zealand's most successful political influencer
Social media algorithms are proprietary and tweaked often. But their purpose is clear — to read the user's searches and interactions in order to serve them more related content and keep them continually engaged.
With this persuasive power built into the technology and our attention now a commodity to be bought and sold, no politician can ignore social media nowadays.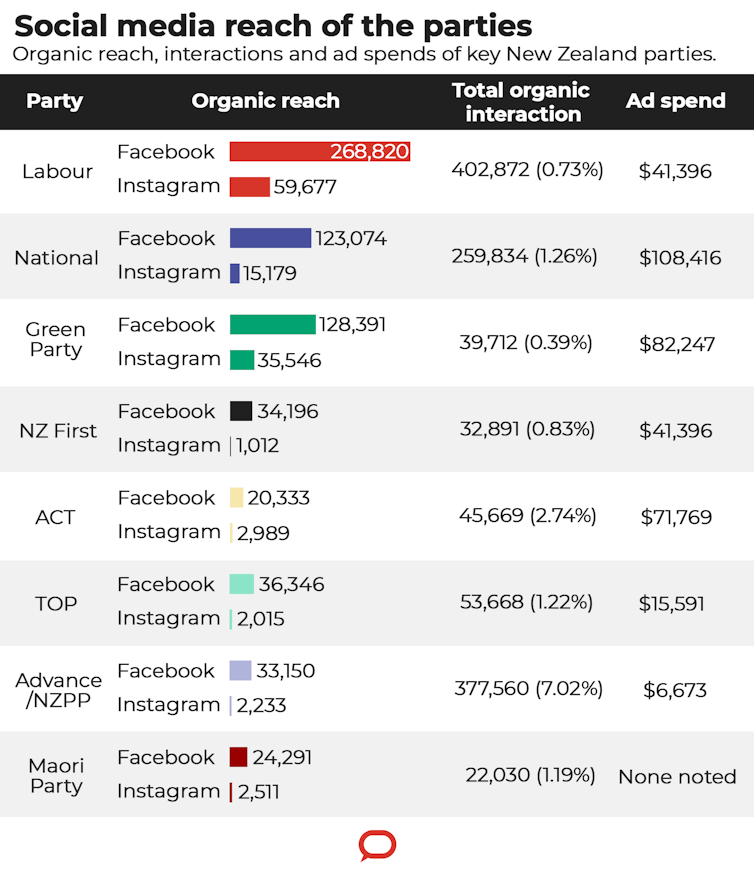 Authors: Sommer Kapitan, Senior Lecturer in Marketing, Auckland University of Technology
Read more https://theconversation.com/click-like-share-vote-whos-spending-and-whos-winning-on-social-media-ahead-of-new-zealands-election-144486