Written by

Adam Kamradt-Scott, Associate professor, University of Sydney
The number of reported global weekly COVID cases is falling and has dropped nearly 50% this year, the World Health Organization (WHO) said overnight. This incredibly encouraging news shows the power of public health measures — but we must remain vigilant. Letting our guard down now, when new variants are emerging, could easily reverse the trend.
According to a WHO press release:
"Last week saw the lowest number of reported weekly cases since October", Tedros Adhanom Ghebreyesus, Director-General of the World Health Organization (WHO) told journalists at a regular press briefing in Geneva.

Noting a nearly 50% drop this year, he stressed that "how we respond to this trend" is what matters now.

While acknowledging that there is more reason for hope of bringing the pandemic under control, the WHO chief warned, "the fire is not out, but we have reduced its size".

"If we stop fighting it on any front, it will come roaring back".
Jean-Christophe Bott/AP/AAP
Read more: Are vaccines already helping contain COVID? Early signs say yes, but mutations will be challenging
This welcome news shows that when governments respond rapidly by putting in place public health measures, we reap the benefits even before widespread vaccine rollouts. That's a really important message now, and for when the next pandemic hits (and another one eventually will).
As good as this news is, though, we are still seeing infections in fairly large numbers worldwide. And, as we have regrettably seen in the past, subsequent waves of infection can easily emerge.
We also now have a series of variants to contend with. Even as begin to understand how the variants now circulating will affect the effectiveness of current vaccines, it's possible we could see yet another new variant emerge that would reverse the downward trend. This remains a real risk when there are still so many new infections worldwide and when so few countries have been able to start vaccinating.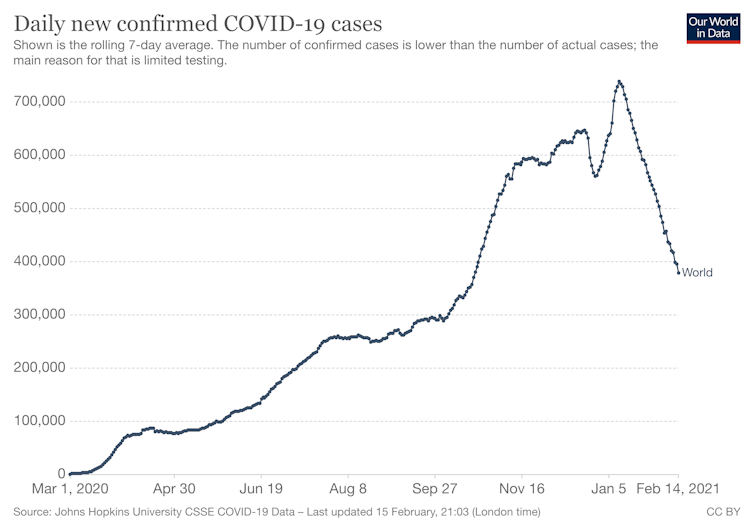 Authors: Adam Kamradt-Scott, Associate professor, University of Sydney
Read more https://theconversation.com/global-weekly-covid-cases-are-falling-who-says-but-if-we-stop-fighting-it-on-any-front-it-will-come-roaring-back-155355