Written by

Rebecca Giblin, ARC Future Fellow; Associate Professor; Director, Intellectual Property Research Institute of Australia, University of Melbourne
Many culturally important books by Australian authors are out of print, hard to find as secondhand copies, and confined to the physical shelves of a limited number of libraries. Effectively, they have become inaccessible and invisible — even including some Miles Franklin award winners by authors such as Thea Astley and Rodney Hall.
To ensure these works can be read, a team of authors, librarians and researchers are working together on Untapped: the Australian Literary Heritage Project.
By digitising out of print books and making them available for e-lending, the project will create a royalty stream for the authors involved, as well as income for the arts workers we are employing as proofreaders.
Commercial publishing lists, such as Text Classics and Allen & Unwin's House of Books, do a great job of breathing new life into some of Australia's lost books. But they often focus on literary fiction, to the exclusion of genre fiction, children's books and non-fiction, which also need to be preserved.
Here are 10 of our favourites we're excited to digitise so you can borrow from your local library straight to your e-device. We expect these and other books in the project to be available in the first half of 2021 – and you too can nominate a book for inclusion in the collection here.
Working Bullocks (1926) by Katharine Susannah Prichard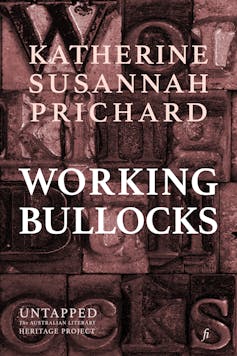 Authors: Rebecca Giblin, ARC Future Fellow; Associate Professor; Director, Intellectual Property Research Institute of Australia, University of Melbourne
Read more https://theconversation.com/10-lost-australian-literary-treasures-you-should-read-and-can-soon-borrow-from-any-library-150280