Written by

Julie Green, Principal Fellow, Murdoch Children's Research Institute
Daylight saving will begin this weekend across most of Australia, signalling warmer weather, longer days and new opportunities for children to make the most of time outside.
It can also mark the start of a rough patch in the sleep department. Children's body clocks can struggle to adjust as the hour shift forwards means they aren't tired until later.
There are things parents can do to ease the transition to daylight saving and planning ahead is key. And if things get wobbly, there are also strategies to get them back on track.
But first, let's look at where the problem starts.
Read more: Spring forward, fall back: how daylight saving affects our sleep
Children's body clocks
The body clock – also known as our circadian rhythm – controls when we sleep and wake.
Several environmental cues affect our body clock, the most common of which is the light-dark cycle. When it's dark, our bodies produce more of the hormone melatonin, which helps bring on sleep. And when it's light, our bodies produce less, so we feel more awake.
When daylight saving begins, children's bodies aren't getting the usual environmental signals to sleep at their regular time.
But a later bedtime means getting less sleep overall, which can impact on their concentration, memory, behaviour and ability to learn.
So, how do you plan for the daylight saving switchover?
1. Take a sleep health check
This is a good opportunity to look at how your child is sleeping and whether they're getting enough sleep overall. Individual needs will vary but as a guide, here's what you should aim for: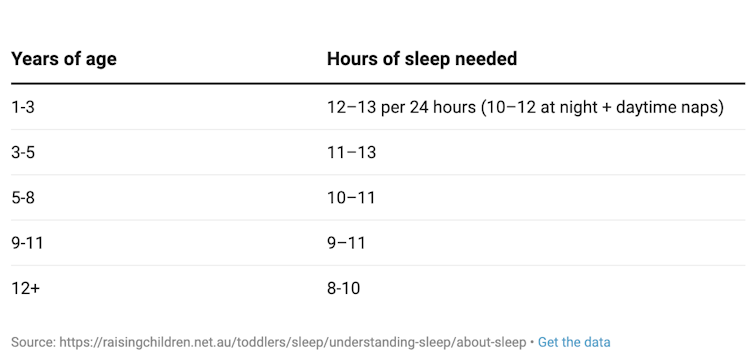 Authors: Julie Green, Principal Fellow, Murdoch Children's Research Institute
Read more http://theconversation.com/6-ways-to-stop-daylight-saving-derailing-your-childs-sleep-123871