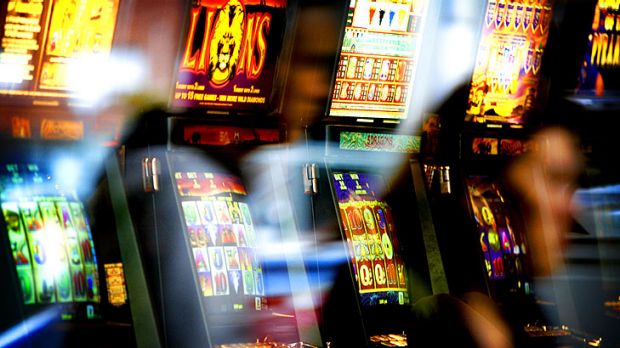 Tasmanian MP Andrew Wilkie is doing his best to outlaw poker machines in Tasmania and other parts of Australia.
This week,
Wilkie has repeated accusations
that Woolworths spies on customers while they are using that business' poker machines. Wilkie, a socialist leaning politician often considered to be aligned with left dedicated, Greens policies, has led a one man campaign in parliament and the media, with a view to banning poker machines.
Wilkie has a back up plan which is to limit the amount of money that can be bet on each spin of a poker machine.
In Australia, poker machines are able to bet in values of one cent, five cents, ten cents, fifty cents, one dollar and two dollars. Denomination bets can be multiplied by values such as ten credits so a person could bet ten times two Dollar credits. That would make each push of the button on a poker machines a bet of $10.00.
Wilkie has allegedly requested that a maximum bet of $1.00 be implemented.
Venues that host and make money from poker machines complain about the cost of altering machines, losing income and having customers treated like the lowest common denominator in society by being deprived of free choice will lead to losses.
Nonetheless, Wilkie and other advocates for
gambling reform
, persist with their campaign allegedly for the common good but as a spin off it provides a platform on which to seek re-election.
Anyone over the age of 18, in Australia can play slot games online without interference from politicians with an agenda. You can
find some licenced slot games online here
.
Most of the population consider a visit to a hotel or licensed club where poker machines are installed, entertainment. It is for many, their recreation of choice and an opportunity to meet with friends, enjoy a meal, listen to music, watch pay TV or to maybe win on poker machines. It is a tiny minority of the population who cannot control a gambling addiction and bet more than they can afford in the hope of a "big win" that will recover their losses and change their lives.
The reality is that most people use common sense when betting online or at a gaming venue.
Some reforms may be necessary and the federal parliament will make decisions on that.
Some of Wilkie's attacks on poker machines include:
"These are shocking revelations about the way that Woolworths spies on its poker machine customers without their knowledge," Mr Wilkie said. "And they share this information in a secret database and use it to encourage increased gambling."
"This isn't just basic information. It's things like jobs, times people come in, favourite drinks, favourite football teams, whether they have a partner and what their preferred bet level is. This is all so staff can better bond with patrons and keep them onsite and gambling longer.
"This makes a mockery of the Love Your Local campaign in Tasmania which tries to paint these venues as lovable little pubs. The fact is that Woolworths has five venues in Tasmania which take $10m a year from poker machine users. And now we know that all of the Tasmanians who are losing money at these five venues could be having their sensitive personal information shared with every other venue in the country.
The Australian Leisure and Hospitality Group, which is majority owned by Woolworths, has roughly 12,000 poker machines across about 400 venues.