Written by

Arabella Stubbs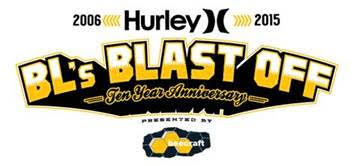 As the action of the Hurley Pro at Trestles CA heats up, Founder and CEO of Hurley International, Bob Hurley has announced that he will visit Australia later this month to cheer on more than 360 young suffers as they hit the waves for the Hurley BL Blast Off event from September 21-24.
Presented by Beecraft, this will mark the 10th anniversary of the hugely popular event founded by former World Champion Barton Lynch.
Staged across four days from Monday September 21 till Thursday September 24, the event will be staged at Whale, Avalon and Palm Beaches – with the daily location determined by surf conditions. Going mobile with the venues adds fun and a sense of anticipation for the young surfers.
The Hurley man himself, will be hanging beachside checking out the new wave of Aussie grommets.
"I am excited to be in Australia for the 10thanniversary of the Hurley BL Blast Off and join Barton in inspiring the next generation of young surfers. 

The Hurley BL Blast Off event has a fantastic track record of discovering and fostering junior talent.  Hurley's own Cooper Chapman is just one of the world's best young surfers to come through the Blast Off ranks.  I know it'll be a fun few days on the beautiful Northern beaches with Barton and I look forward to sharing the excitement with surfing's future leaders," said Hurley.
"I'm honoured that Bob is coming to Australia for the Hurley BL Blast Off event.  Hurley have supported and helped grow the event since day 1, and I know the kids will be stoked to meet someone who is such a legend in the industry.  The calibre of talent they will be able to access and learn from is incredible, with Layne Beachley, Tom Carroll, Rabbit Bartholomew, Damien Hardman, Harley Ingleby, Terry Richardson, Russell Bierke, and of course Bob Hurley, all supporting us and sharing their knowledge with the participating kids.  I can't wait for it to kick off," adds Barton Lynch.
The first 14 and under surf event and coaching program of its kind in Australia, Hurley BL Blast Off is all about providing the best pre-junior surfing experience for groms.
With the warmer spring weather kicking in, the Hurley BL Blast Off surf festival is a great way to keep kids active in the school holidays, and budding junior surf pros will get the chance to show off their skills and talk to the some of the best surfers in the world.



Kids 14 years and under (with some surf experience) will take part in the jam-packed four-day surfing festival full of activities, games, competition and coaching.  
The event features a unique format that focuses on coaching and performance improvement rather than wave scores. In the spirit of improvement and enjoyment, all kids are offered advice and coaching no matter their age, experience or their placement in a heat in a supportive and fun environment.
The event itself is broken up broken up into age and gender categories from 6yo to 14yo (although kids as young as 3 and 4 also participate), with everyone receiving a Commemorative Hurley Blast Off T-shirt and a goodie bag after participating, and awesome prizes for those ranked 1st -6th.    
The divisions are 14s, 12s, 10s, 8s, and 6s for both girls and boys with the judging and coaching panels made up of ex pros, coaches and expert surfers to give participating kids the best advice and direction to take their surfing into the future.
Entry to be part of the Hurley BL Blast Off is available at www.blblastoff.com.au
The cost is $77/child.   
Major sponsors for the event are Hurley and Beecraft, with supporting sponsors including GoPro, Surfing World, Health Space, Amazon Power, Coastal Watch, Electric California, The Perfect Wave, Lost Surfboards by Mayhem, Stacey, Future Fins, Street Boardz, Kommunity Project and Beach Without Sand.


ABOUT BARTON LYNCH
Intellect and an irrepressible social conscience combine to make Barton Lynch one of the most formidable figures in surfing of the last three decades.
He refined his competitive act into a near flawless, fluid routine of vertical manoeuvres that brought him immediate success on the Association of Surfing Professionals (ASP) world tour. He spent 13 consecutive years in the elite top 16 rated surfers, earning a reputation as a tactical competitor as well as a forthright and articulate spokesman for the sport.
His greatest competitive moment could not have been more perfectly scripted, as he surfed the perfect tubes of Hawaii's famed Pipeline, to take out the 1988 Billabong Pro and the World Title. He retired from competition in March 1998, after 15 years on the ASP tour and a total of 17 WCT victories.
Barton received the Association of Surfing Professionals' (ASP) Sportsman Award in 1995, the ASP Service to the Sport Award in 1997, was inducted into the Australian Surfing Hall of Fame in 1998 and into the Australian Sporting Hall of Fame in 2000. www.bartonlynch.com

ABOUT BOB HURLEY
Cheerful but razor-sharp surfwear magnate from Huntington Beach, California; Billabong USA president from 1983 to 1998; founder and CEO of Hurley International. Hurley was born (1955) in St. John's, Newfoundland, Canada, the son of an air force staff sergeant, and spent his early years growing up on or near military bases in Rhode Island, Texas, and Japan. He moved with his family in 1963 to Orange County, and began surfing at age 13.
At 21, Hurley learned how to shape surfboards, and in 1978—after shaping for Infinity, Wave Tools, Lightning Bolt, and other labels—he opened Hurley Surfboards, a small factory-retail outlet in Huntington Beach. He was still making boards when, in 1983, he bought the US license for Australia-based Billabong surfwear, which at the time was unheard of in America; Hurley paid $40,000.
Hurley proved to have a first-rate business mind, with a particular talent for marketing, as he assembled a crackerjack surf team (including world tour pros Sunny Garcia and Richie Collins), sponsored a number of high-end pro surf contests (including the Billabong Pro in Hawaii, one of the premier world tour events of the '80s), and produced or coproduced a series of popular surf videos, including Surf into Summer (1987), Pump (1990), and Sik Joy (1995).
In mid-1998, when Hurley suddenly announced he was leaving Billabong to form his own company, Surfing magazine called it "the biggest surf industry news in two decades," while the Los Angeles Times business section, in a two-column article, noted that Hurley was largely responsible for Billabong being carried in Nordstrom and other mainstream stores. Hurley took many of Billabong USA's best designers, marketers, and team riders with him when he left the company, as well as some of the Billabong USA patents. The aggressively marketed Hurley International, like Billabong, produced surfwear and wetsuits, and immediately became one of the sport's hottest lines. Footwear giant Nike bought the company in early 2002 for an estimated $120 million. As of 2013, Hurley continues to head the company's operations.
Hurley was named by Surfer magazine in 2002 as one of the "25 Most Powerful People in Surfing." In 2006, Hurley was induced to the Surfer's Hall of Fame. Jeff Hurley, the oldest of Bob Hurley's three children, was the national collegiate surfing champion in 1997 and 1999, as well as the 1999 Pacific Surfing Tour of America champion.



ABOUT HURLEY
The essence of Hurley is based on our love of the ocean and its constant state of change.  With deep roots in beach culture, we are all about inclusion and positivity. 
Our brand was started with the idea of facilitating the dreams of the youth.  Music and art are the common threads that bring us all together. 
We are passionate about freedom of expression and the individual voice.  We place a premium on smiles.  Welcome to our world, imagine the possibilities http://www.hurleyau.com
Or http://facebook.com/HurleyAus
ABOUT BEECRAFT
Beecraft was established in 1981 and is predominately a residential building & landscaping company who have carried out countless projects in Sydney for over 30 years. 
The company has grown steadily since its inception, their core values of innovation, integrity, quality and builder/client relations have never been compromised and are the cornerstone of the business.
Numerous members of the team enjoy living on the northern beaches and the beach culture that goes with it. We are proud to have been associated with Barton & 'Blast Off' over the last few years and are excited about our new role as presenting sponsor.'
For more check out-  http://www.beecraft.com.au
http://beecraft7am.tumblr.com  http://beecraftlife.tumblr.com
EVENT PARKING
Pittwater Council have reminded that "pay and display" fees at the beach apply for this event and are applicable to anyone who doesn't have a valid Pittwater resident parking permit.