Written by News Feature Team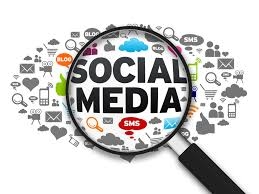 This post is brought to you by The Canvas Factory, a technology driven company who know the value of achieving excellence in the digital marketing battlefield.


Over the years, we have witnessed a significant growth in social media penetration. These days, almost everybody with access to the Internet spends some time every day on a social media platform. Did you that in a world of 7.395 Billion people there are 3.419 Billion internet users? The fun part in all this is the fact that of these internet users there are 2.307 active social media users. And that's why most businesses are taking a keen interest in social media marketing. The question is; what is the relationship between social media and business?


Well, you should know that social media marketing has become a critical factor in the determination of a business' success both online and offline. Yes! Nowadays, social media is more than just posting images, Facebooking and tweeting your time away. It can be used as a very powerful marketing tool. Most businesses have embraced this tool and are reaping the benefits. You may be wondering; what benefits? Below is a rundown of the ten benefits of social media for business;
1. Building your brand and customer loyalty.


Since its inception, the primary purpose of social media has remained clear; that is to CONNECT. That's building a social media presence for your business helps your customers to connect with your business. With the advent of content sharing in social media sites, it has been easier to increase brand awareness while, at the same time, strengthening your customers' loyalty.
2. You get access to helpful target group insights.


Every second, minute or hour of the day massive amounts of very critical information about social media users is generated. This information can be very helpful to businesses if interpreted in the right way. You can use the information gathered to tailor your products and services to suit your target group which can be highly beneficial for you and your business.
3. Get real-time results with your ads. 


The best part about social media marketing is the fact that you can run targeted ads. This is made possible by the availability of detail-specific functionalities. This means that you can post ads aimed at a particular age group, gender, locality, profession among other factors. That way, through social media your business ads can target a larger number of relevant clients with real-time results.
4. Social media presence offers better customer experience.


It is no secret that a business' success depends heavily on their clients' satisfaction. Seeing as most people always turn to social media whenever they need assistance, most successful companies often tend to their customers using social media in a quick, simple and efficient manner that leaves their clients happy and satisfied.
5. Get more lead conversions.


Another key benefit of using social media for your business is that it is highly likely to generate a higher number of lead conversions that any other marketing strategy or platform. This is because more than 90% of internet users are active social media users. This, in turn, increases the chances of getting lead conversions.
6. Get more traffic to your business website. 


Most social media platforms always have links that redirect users to your site. This is an impeccable form of Search Engine Optimisation. 
7. Easy and fast content dissemination.


Unlike in the past, these days social media has eased the process of sharing content and media files about your business. Content sharing is by far the most efficient way of raising awareness about your business.
8. Helps you gain a competitive advantage.


Social media can be very beneficial in terms of gaining a higher market share. This is because through social media you can be able to spy on you competitors. That way you can gather enough data to help you to come up with better strategies hence giving you a competitive advantage.
9. Geo-targeting becomes easy for you.


If you are looking for a way to target an audience in a particular geographical location, then using social media simplifies that for you. Social media platforms often have tools that help businesses to reach target groups in particular localities.
10. Lastly, Social Media helps your business to grow healthy and long-term relationships with your clients. This is because you get to connect with them on a more personal level which in turn builds your business' reputation and stability.
These are the ten benefits of social media for business that every entrepreneur should know about. Remember that social media, if used in the right way, can propel you business to success both online and offline.